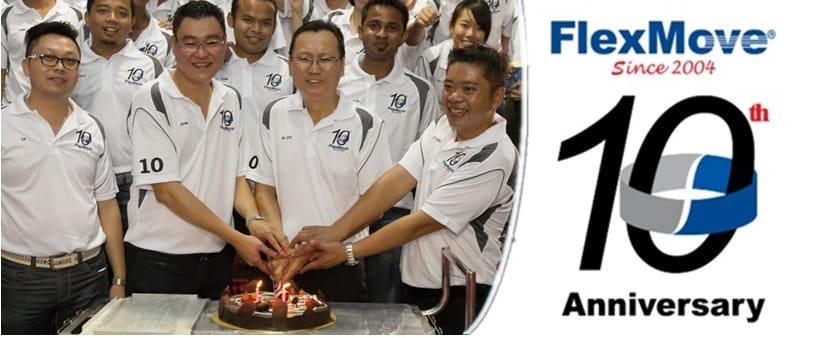 FlexMove System (M) Sdn Bhd, a pioneer in the conveyor industry celebrated its Grand Opening of its new factory in conjunction with the 10th Year Anniversary on 13th December 2014. It is a historical day as it held the mark of FlexMove conveying a decade of excellence in all industries since 2004.The conscientiousness, dedication and the everlasting competitive spirit of FlexMove over the past years have earned FlexMove® its fame both locally and internationally.
This memorable yet exhilarating celebration is joined Board of Directors, fellow FlexMove employees and their families as well as invited vendors. The event started off with a ribbon cutting ceremony by the VIPs followed by a simple speech given by the CEO, Mr BL Ooi.
"10 years is not a very long time in the life of an organization. But it seems appropriate on this occasion for us to mark the milestones and review our amazing journey and achievements together. We have achieved some remarkable achievements throughout the past 10 years," said CEO, Mr BL Ooi. "Looking back 10 years when we established FlexMove® in 2004, I feel content to see our achievements and success throughout the years. There have been a lot of ups and downs, highs and lows for the past years but I am really glad that we made it through to get to where we are today. I would like to thank our employees, our vendors, our suppliers who stood by our side, hand in hand to face all the challenges that come our way, fighting this war with us and share the happiness when we reached out goals together. I would like to take this chance to express my deepest gratitude towards our brave comrades, without you, we will not be as successful as we are today," he added.
It is not a smooth journey in the first 5 years of establishment of FlexMove where the market does not know FlexMove and the trust on FlexMove products has not yet been established. Through the BPG grant granted by MITI, FlexMove participated in numerous international exhibitions which in turn created brand awareness and is well known in today's competitive market.
FlexMove successfully innovated and developed 15 series of products with over 1500 components and modules. These series has been serving in various industries all around the world, ensuring all the industrial needs it met. However, this does not stop FlexMove from developing new products and series. A dedicated team of engineers work around the clock, finding new ideas and solutions to meet the ever growing industries. FlexMove continued to introduce new products each year, making its catalogue bigger by the year.
Starting off from as small company in just one shop unit 300m away from its current new factory, it is a remarkable achievement for FlexMove to be able to expand to a factory nearly 20 times bigger. FlexMove successfully exported its product to 5 continents and more than 30 countries around the world. FlexMove also established FlexMove Americas 2 years ago, dedicated to serve the North America market by providing them with the best solutions.
Following the ceremony, the guests were invited to a buffet style dinner as they enjoyed the music played by a live band.
"A journey of thousand miles begins with a single step" – LaoZi