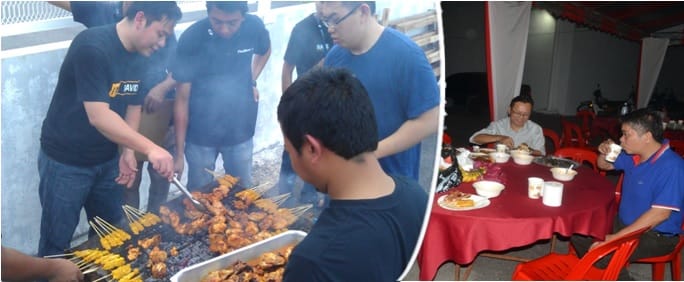 On a fine night of September the 12th, FlexMove® held a BBQ in their new factory as a general gathering to strengthen the bonds between the employees. The employees distributed the jobs of preparing the pits and the food among themselves, showing their cooperativeness as well as their care for each other which brings them closer together.
The BBQ session starts from 6pm to 10pm, with various foods served during this hour. Among the food served during that night include Ayam Bakar (BBQ chicken), Satay (Chicken Skewers), Ikan Bakar (Grilled Fish), not forgetting a pot full of Laksa and a platter full of fresh fruits. Much laughter can be heard throughout the night accompanied by the aroma of the food being barbecued as well as the smell of burning charcoal. It is a heart-warming sight to see everyone get along regardless of their background and enjoyed themselves that night.
As the enjoyable event comes to an end, it's time to clean up the site and return it to the original condition. It wasn't surprised that all Flexmove employees also helped maintain the cleanliness of the ground, making sure that all the waste goes to the appropriate place.
Overall, it was an enjoyable, memorable and fun night for all of us.