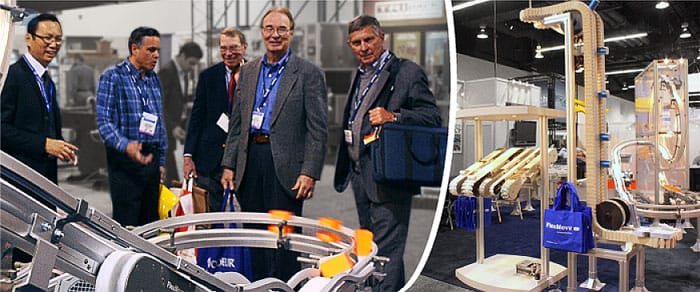 The ATX West 2010 was a success, with over 1,200 visitors at our booth during the 3-day expo. It was an excellent opportunity to showcase the FlexMove® Intelligent Transportation System™, to build awareness for the brand and to strengthen our presence in the US.
The FlexMove® booth welcomed a record number of visitors at ATX West 2010, including some industry peers. Fascinating audiences was the stellar performance of the FlexMove® conveyor system in a roller-coaster-style run, enhanced by box flipping sequences. Visitors were impressed by the speed, flexibility and low operation noise of our system..
Also on show were demonstrations of our pallet assembly system, which offers sorting capabilities and unlimited options of automation integration; a wedge conveyor that provides continuous vertical elevation within a compact footprint; as well as the infinite possibilities of the FlexMove® chain systems.
We look forward to seeing you at the next exhibition!