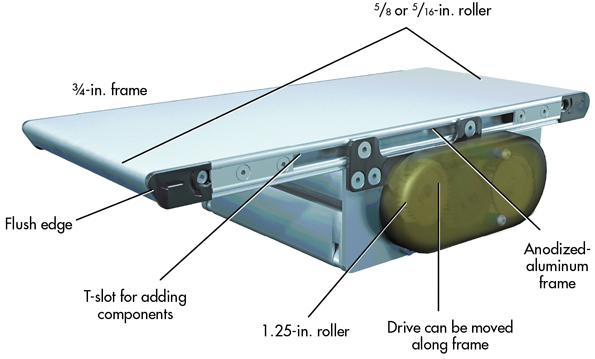 Machine Design magazine published an article in their June issue about our new 1100 Series conveyors. Here's a sneak peek at what they had to say…
The 1100 Series conveyor platform from Dorner Mfg. Corp., Hartland, Wis., offers OEMs and factory owners the thinnest frame in North America. It measures just ¾-in. tall and can fit in tight spaces or free up room for other machines or workers. The conveyors have anodized-aluminum frames, FDA-approved plastic tail plates, and stainless-steel fasteners, letting it qualify for Cleanroom Class 100 certification. This makes them suitable for medical, pharmaceutical, and life-science applications, as wells industrial use.
You can read the entire article on page 14 of Machine Design's current issue or on their website.