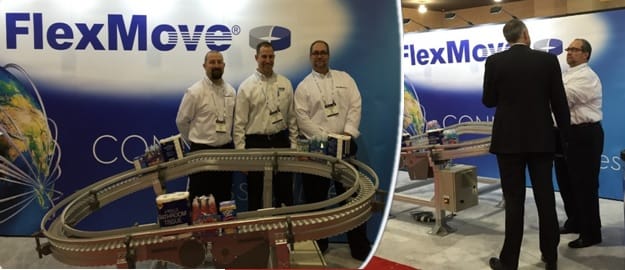 Pack Expo 2015, from 16th to 18th February debuted near FlexMove America's headquarters in Souderton, PA. The show exceeded expectations on several fronts, reporting more than 6,500 attendees, 386 exhibiting companies and 92,413 net square feet of exhibit space, according to show owner and producer PMMI, the Association for Packaging and Processing Technologies.
The FlexMove® booth welcomed visitors, manufacturers, and distributors at Pack Expo 2015, including some industry peers. Visitors were impressed by the speed, flexibility and low operation noise of our system. A variety of FlexMove products presented had impressed the crowd with potential applications, and there was very strong interest in learning more about FlexMove Americas.
It was an excellent opportunity to showcase the FlexMove® Intelligent Transportation System™, to build awareness for the FlexMove brand and to strengthen our presence in the United States. We look forward to seeing you at the next exhibition!