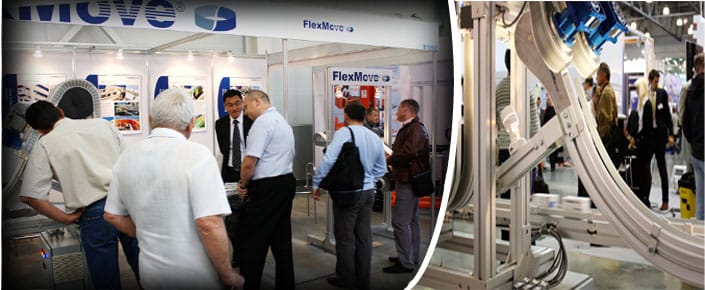 Rosupak Expo is an International specialized exhibition of machinery and equipment, materials and technologies for manufacturing of package. ROSUPAK is the largest event in the post-Soviet space and Eastern Europe showing the progress achieved by the industry in the recent decade and tendencies in the global packaging market as well.
The 15th ROSUPAK Expo 2010 in Crocus Expo, Moscow, Russia attracted over 20000 visitors with over 650 exhibitors from 25 countries participated in this year show.
The FlexMove® booth welcomed visitors, manufacturers, distributors at ROSUPAK 2010, including some industry peers with the fascinating performance of the FlexMove® conveyor system in the form of the Wedge Conveyor. Visitors were impressed by the speed, flexibility and low operation noise of our system. Comprehensive and variety of FlexMove products presented had impressed the crowd with potential applications.
It was an excellent opportunity to showcase the FlexMove® Intelligent Transportation System™, to build awareness for the FlexMove brand and to strengthen our presence in Russia.
We look forward to seeing you at the next exhibition at Motek and Pack Expo!