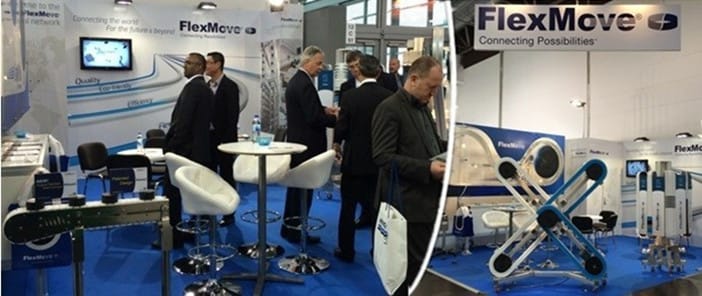 Interpack 2014 was characterized by an outstanding atmosphere prevailing among the approx. 2700 exhibitors and visitors number "cracks" the 175,000 mark in the 19 halls of the completely booked Düsseldorf Exhibition Center (Messe Düsseldorf) from 8-14 May 2014. Some 75% of the exhibiting enterprises were headquartered outside Germany, with this, Interpack has confirmed its reputation as the world's leading trade fair for the packaging sector. Boasting as much as 66% of foreign visitors from 120 nations, Interpack 2014 has set a new record for itself again.
FlexMove® is proud to be one of the top companies participating in this prestigious 7-days trade event.
In this edition, FlexMove® hosted a grand number of visitors, trade partners and potential customers from all around the globe, namely Germany, France, Japan, Italy, USA, Netherlands, UK, Spain, Australia, Turkey, Brazil, Mexico, China, Taiwan, India, Egypt, UAE, etc.
Visitors are captivated by FlexMove® modern-minimalist-themed booth and the showcase of our gorgeously designed high speed, 360 degree Conveyor, FlexMove® GrandPrix and FlexMove® X-Infinite. Also in the exhibit is our new product FlexMove® KleanZ® Stainless Steel Hygiene Conveyor. Over 500 new contacts were exchanged through this prominent fair.
We are excited and confident about the future of the industry from the great success in Interpack 2014.