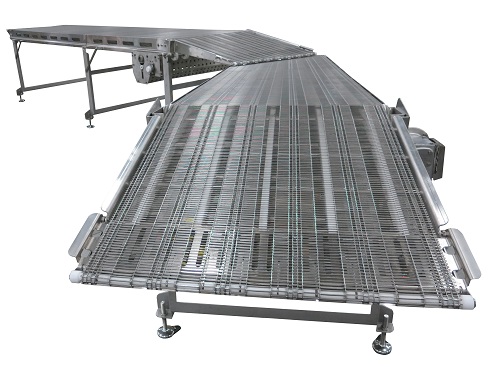 For a recent application, a customer needed to move cooked foods between machines but needed to address issues such as product temperature, sanitary requirements and maintaining product orientation. The customer was moving cooked sausage patties and sausage links from the oven and delivering them to a spiral freezer unit.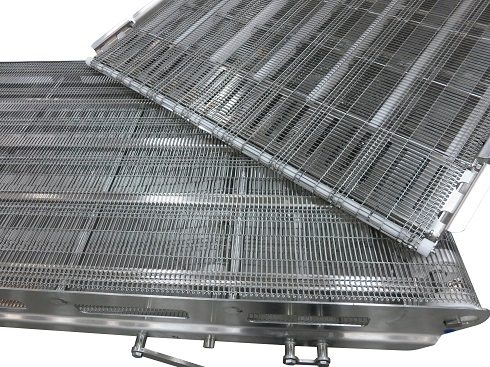 A stainless steel wire belt was used for this application due to the need for the belt to withstand the high temperatures of the product coming out of the oven. The wire belt also allows for oils and grease to drain from the product and is easy to clean and sanitize.
&nbsp
The layout of the customer's machines required the conveyors to move the product at a 45-degree angle. To accomplish this, Dorner built two 7400 Ultimate conveyors that transfer the product between them with a small diameter nosebar tail. The nosebar tail provides a smooth, consistent transfer while maintaining product orientation.
The long nosebar tail has a tool-less, easily removable tail cartridge and ¾" diameter rollers that can be disassembled for cleaning. The design of the transfer tail has the ability to twist so that it matched the adjacent conveyor's compound angle. The conveyor that is receiving the product is inclined to accommodate the freezer infeed height.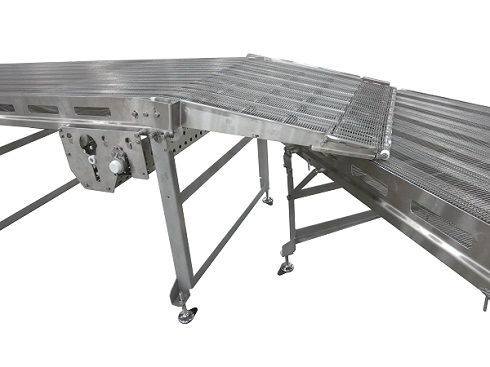 These AquaPruf 7400 Ultimate Conveyors have continuous welds, #4 polish and FDA approved materials throughout, making them ideal for a sanitary environment.
Learn more about Dorner's AquaPruf 7400 Ultimate Conveyors.