As we approach 4th of July weekend, I can't help but think about all the fun summer traditions that will be enjoyed by so many people over the next few months. No matter where you're from or what your hobbies are, everyone can appreciate summer. And, everyone has their own way of letting loose and taking advantage of the nice weather and high energy that summer brings.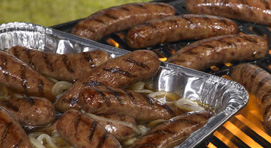 We want to know what your summer plans are. . . what special things will you be doing to make the most of your summer? Comment below.
Living in Wisconsin, land of the "Frozen Tundra", you learn to fully embrace the short summer months while they last. This means jam-packing your weekends with things like golfing, fishing, camping, cookouts, boating, going to the beach, bike rides, and you-name-it. This weekend, many Wisconsinites will be going "up north" to enjoy the outdoors, visiting Summerfest (world's largest music festival, located in Milwaukee), going to a 4th of July parade, watching fireworks, cheering on the Brewers, and most importantly, spending time with family and friends around the grill with a cold beer and a bratwurst.
These are just a few of the many local summer traditions. Let us hear some of yours! Have a safe and happy 4th of July.