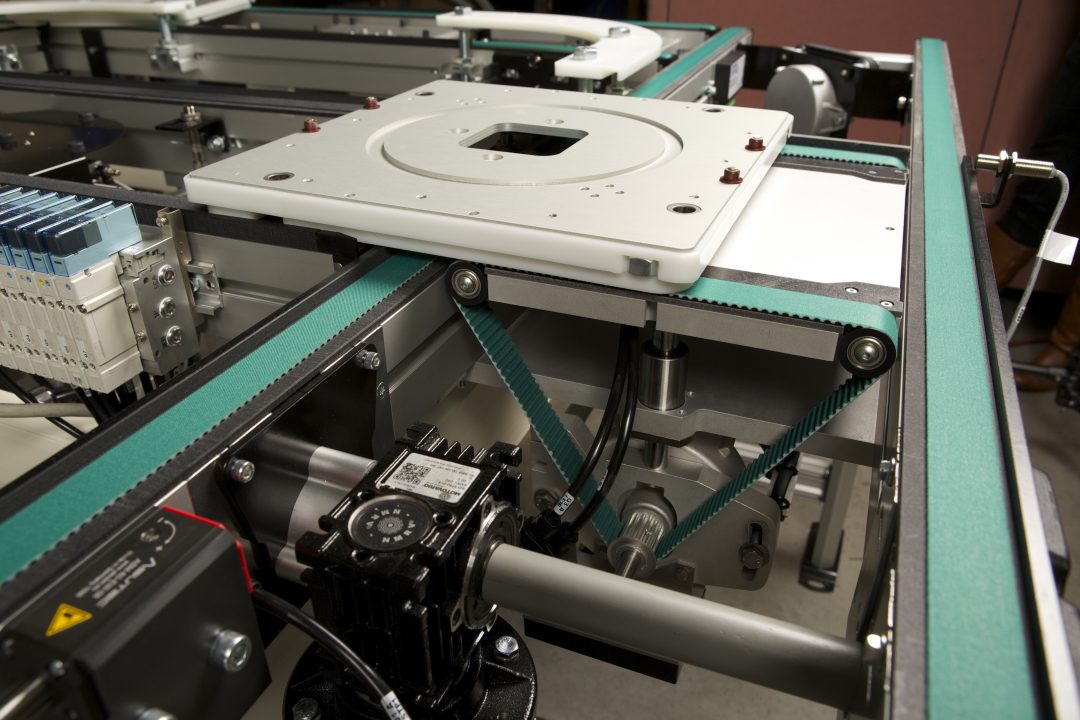 Dorner is exhibiting its 2200 Precision Move Pallet System conveyor, along with other platforms aimed at automation and robotic applications, in booth No. 7732 at Automate 2019, April 8-11 at McCormick Place in Chicago.
The Dorner's 2200 Precision Move Pallet conveyor is designed to provide accurate positioning and routing of parts for assembly, robotic and inspection applications. The 2200 Series Precision Move Pallet System is now available with new features including heavy load corners, tight turn corners, low-profile lift and locates, elevators and more.
Attendees can watch the dual belt 2200 Precision Move Pallet System operate while integrated with a Universal Robot (UR) robot to move and orientate products using an elevator, passing over a lift and locate station and navigating through a 180° heavy load corner. Additionally, Dorner and its 2200 Series conveyor are now a certified UR+ Solution partner that simplify robot and conveyor integration for a wide variety of automated applications.
Easy programming, fast set-up, and flexible deployment make the Dorner 2200 Series ideal for systems that need an infeed and discharge to a Universal Robot.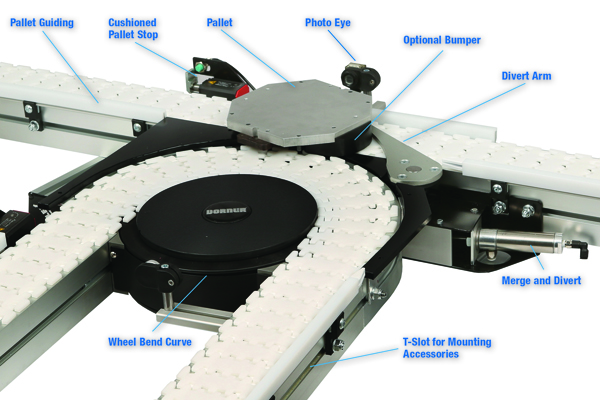 Other conveyor platforms on display for Automate 2019 attendees include the SmartFlex® Pallet System conveyor, which is engineered for product routing, control, and inspection in small- to medium-size assembly automation applications. SmartFlex® components, sold as completed assemblies or as kits, offer users layout flexibility and the ability to implement conveyor system design changes easily. Components include merge and divert modules, lift and locate stations, cushioned pallet stops and a unique pin tracking system to guide pallets through 90° turns; all of which attach directly to the conveyor frame, without the need for modifications. Customers can purchase SmartFlex® mechanical components separately or as part of a complete electrical solution.
Dorner is demonstrating the capabilities of its 3200 Series Conveyor with Intralox Activated Roller Belt™ (ARB) Technology and FlexMove conveyors. Conveyors with ARB Technology uses low- and high-friction angled rollers within the belt to help smoothly guide and align items of all sizes in merging, diverting and aligning applications. FlexMove is a flexible chain conveyor system for the assembly automation, packaging and other industries. This demonstration highlights an application where a case needs to be flipped 180° within a short distance – and the flipping mechanism is actually the conveyors themselves. One conveyor starts as the bottom conveying surface and gradually twists perpendicular to the new conveying surface, while the second conveyor starts perpendicular and gradually twists to become the bottom conveying surface.
To see how these conveyor platforms can help your automation applications, make plans to visit Dorner in booth 7732 at Automate 2019.