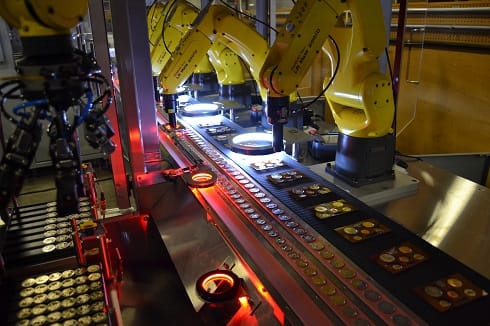 As more companies look to automate their processing lines, they are relying on conveyor manufacturers for an assist – here's why…
By Mike Hosch
Vice President, Industrial Products Group, Dorner Manufacturing
New waves of technologies are transforming not only the way products are produced and packaged, but manufacturing facilities as a whole. Flexibility and connectivity are the names of the game when it comes to equipment, and that's certainly the case for conveyors.
Conveyors today have become integral components in all phases of the automation, assembly and industrial markets. And while some of the dominant global brands have been the early adopters to embracing the full potential of conveyors, more companies of all sizes are taking a closer look at how they too can better integrate conveyor systems to ultimately improve the entire line.
Pallet System Conveyors
The manufacturing environment inside facilities is much different than what it was a generation ago. Automation is now a prime driver behind the way products are being produced.
Many applications include both manual processes and robotic interaction, and as such, conveyors today need to be engineered to meet these challenges. That's why pallet system conveyors have become a popular choice.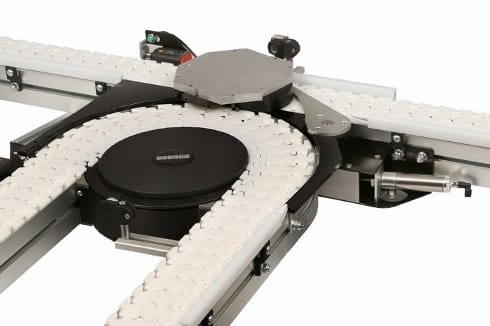 Pallet system conveyors are ideal for many automation-focused applications that require exact movements and positioning of parts, as they can be setup or programmed to start and stop at specific intervals to sync up with robotic interaction or other processes.
These types of conveyors dominate in automotive component manufacturing, as well as other industries including medical devices, electrical and electronics, and product testing/inspection that call for automated and manual assembly or handling of products.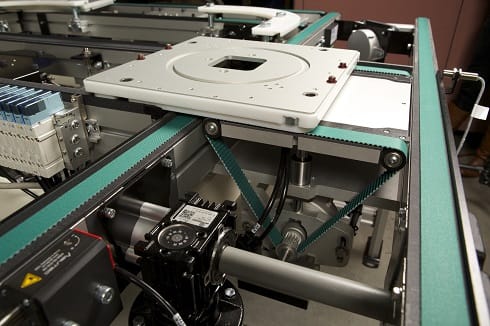 Pallet system conveyors typically come on three different platforms to convey the pallet, either a dual belt configuration powered by a common drive, on a flexible plastic chainbelt design, or a linear motor.
The pallets can stop, and raise up off the belts, and rotate the pallet 90° or 180° to reposition product as necessary. Companies using a pallet system conveyor are also doing so for the accuracy.
They need their product at an exact location, and the conveyor's lift and location station delivers repeatability of 0.002". Pallets can come in either square, rectangle or octagon shapes, can make tight turns, and travel up inclines or down declines.
Flexible Chain Conveyors
Some application designs dictate product to be moved in and around equipment and machinery. To accommodate this need, conveyors need to be flexible and make tight turns – which is ideal for flexible chain conveyors.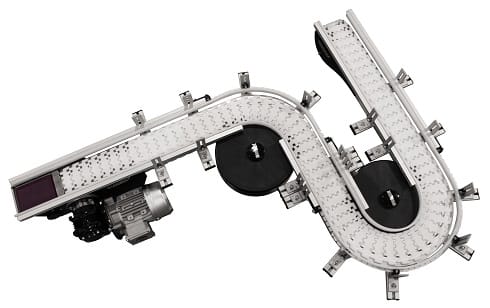 Automation applications within the processing and packaging, industrial, medical, life sciences and health and beauty industries, and operate in an environment that has tight spaces or elevation changes are good uses for flexible chain conveyors.
The flexibility of these conveyors extends past the platform itself. Their ability to twist, turn and snake around tight places gives design engineers and plant managers the flexibility to easily integrate the conveyor with existing equipment.
Precision Timing Belt Conveyors
Many industrial automation, product assembly, manufacturing and packaging applications require product to be in an exact spot on the conveyor at the right time. The right choice here is precision timing belt conveyors.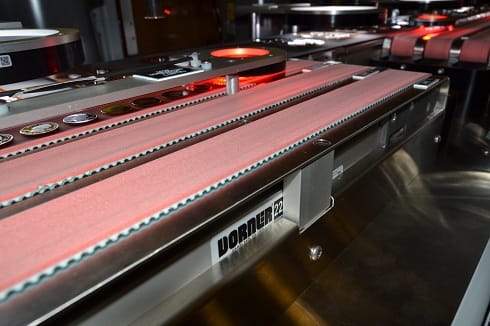 Powering the conveyor to deliver accurate alignment of time and distance are servo motors that provide indexing repeatability of +/- .040", all at a rate of 100 indexes per minute. This level of precision is critical, especially for robotic applications.
Selecting the Right Conveyor System
As you can see, there are many conveyors engineered for automation-type applications, but the trick is to select the right one for your needs. Conveyors today are built to your specifications to improve efficiency and output of your production line.
There's no reason to settle for a conveyor that's being shoe-horned into your application, especially when a system can be engineered to seamlessly integrate into a larger process.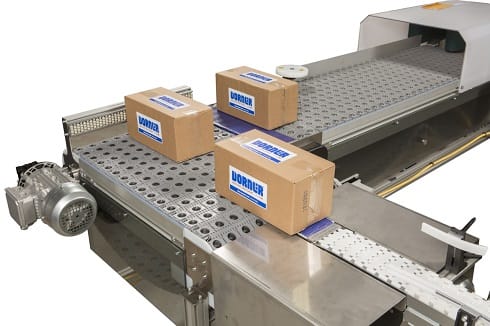 But to do that requires an understanding of what the goals and expectations are for your conveyors – in other words, what do you need your conveyors to do? Knowing this upfront will set you up for success with a conveyor system that's designed to perform – and perform well.
Whether you're an OEM or integrator, a small family-owned shop or a multinational business, everyone has the same concerns regarding their new conveyor system. A good place to start is by considering these questions:
How do you see the conveyor system integrating with what you're trying to build?
What is the height, weight and shape of the product(s) being moved?
What's the targeted rate of production?
How much space is available for the conveyors?
Is space likely to be tight, requiring conveyors to make sharp turns or go up inclines?
Is the machine/production line manual or automated?
Is the anticipated flow of production linear or oval?
Knowing this information upfront helps define the scope of the project and allows the conveyor supplier to streamline the quotation process by gaining a more complete picture of the application.
Application Expertise
You should consider these questions to help you envision how the conveyors should interact with the processing line or project they're integrating with. All components within an assembly automation application, including conveyors, should work together to best augment the overall operation.
Answering those questions will help you take a critical look at your conveyor system to determine where improvements in product flow and handling can be made. Your analysis may determine no improvements are necessary, and that's great.
But if your planned conveyor system isn't quite matching with the other components in the application, or targeted output is in jeopardy, it's time for review. This is where a reputable conveyor supplier proves their worth.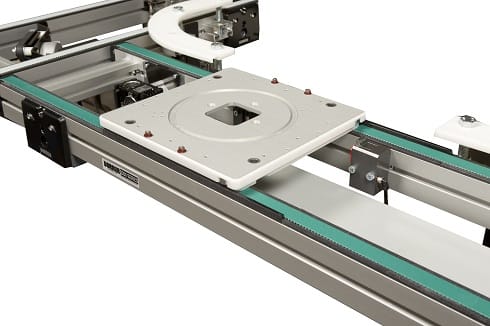 Perhaps more valuable than the actual conveyors are a supplier's knowledge and experience of material handling and industrial automation in designing a system that integrates with other components of a project.
Having a collaborative discussion with a conveyor supplier to learn about the project and talk through issues that may cause a roadblock is a great way to start. A supplier will accept that responsibility and do the heavy lifting for you by delivering a conveyor system that's designed specifically for your application.
Of course, this collaboration won't necessarily result in a custom solution, as custom often equates to more expensive. A supplier's recommendation is typically based on using standard products as much as possible, while integrating custom designs when necessary to provide the reliability and flexibility that the job calls for.
That's why a one-size-fits-all conveyor isn't always the best choice. The goal of a well-designed conveyor system is to fit your process, rather than the process fitting the conveyor.
Conclusion
Automation demands efficiency, and conveyors are one way you can enhance the productivity of your processing line. Integrating a new conveyor system that becomes an integral component of a larger process can be a daunting task. But you don't have to do it alone.
The first step is to evaluate your application and determine the expectations for your conveyor system. There are a number of resources available to assist you in this. The right conveyor system is out there, it's just waiting to be designed.