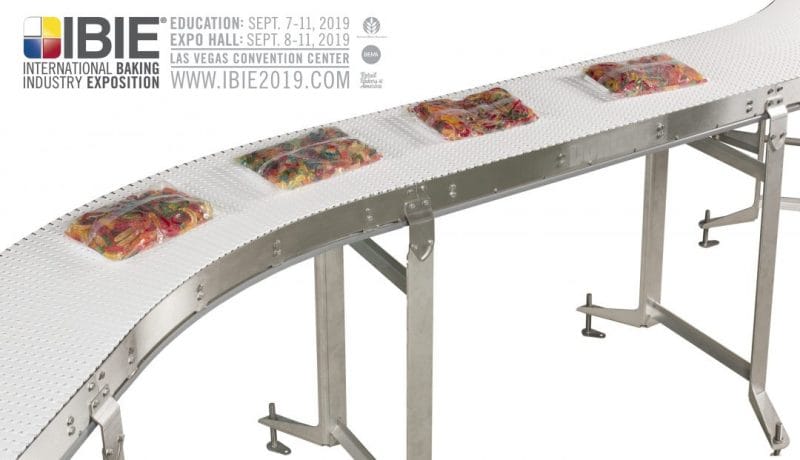 Dorner is showcasing several conveyor systems that are designed to make baking and food processing/packaging applications safer and more efficient, including the newly redesigned AquaGard 7350 V2 Series, in booth No. 4559 at the International Baking Industry Exposition, Sept. 8-11, at the Las Vegas Convention Center.
IBIE attendees can see the belted, modular belt and positive drive models of the AquaGard 7350 V2 Series conveyor, which includes the safest, most advanced modular curve chain sanitary conveyor in the industry today. The modular belt curve conveyor has no openings greater than the international standard of 4mm, even within the curves, which increases safety by eliminating pinch points for operators. Added safety measures are also achieved by covering the upper and lower chain edges, and fully containing the drive system, which reduces catenary belt sag and conveyor noise.
Space reduction is another improvement on the AquaGard 7350 V2. The modular belt conveyor system is designed to maximize available plant space by keeping the footprint as compact as possible. Infeed and outfeed sections are a compact 18", further saving valuable floor space.
The conveyor comes with an improved tail design for superior drive support. The addition of a tip-up tail on the modular belt (straight) gives greater access inside the conveyor for cleaning.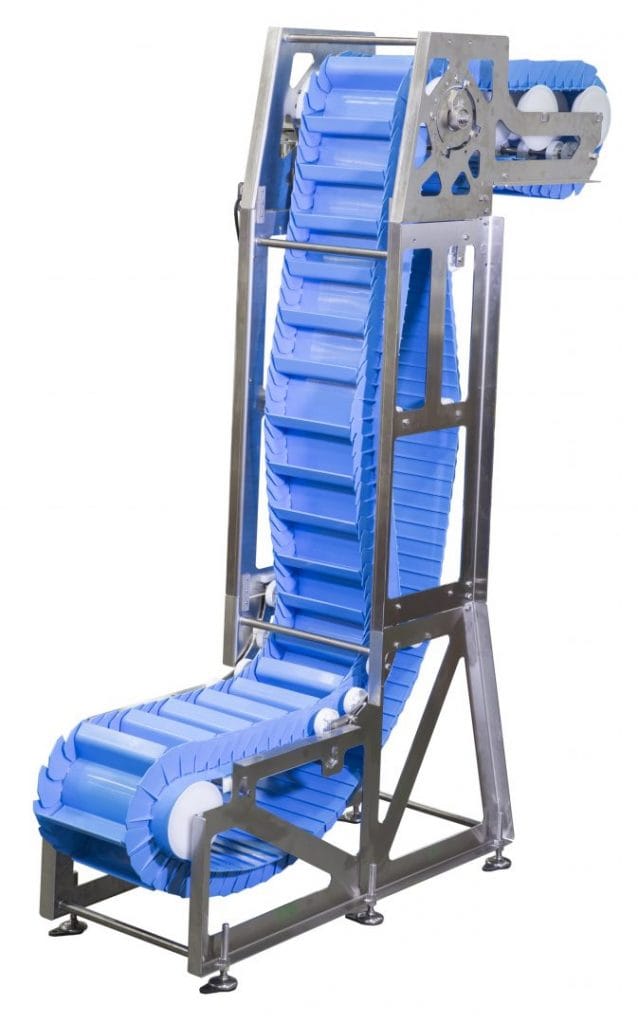 Another conveyor on display at IBIE is Dorner's AquaPruf VBT (Vertical Belt Technology) Conveyor, a completely sanitary platform with an open-frame design for quick cleaning and more effective product changeover. The AquaPruf VBT is ideal for the food and baking industries the call for moving bulk products in straight-up 90° sanitary applications. Featuring a proprietary belt design, the AquaPruf VBT Conveyor comes with a staggered sidewall belt that improves product release and allows for fast and effective sanitation. The conveyor is perfect for elevating bulk products in applications including elevation for walk-thru, hopper feeding, weigh scale feeding, general bulk handling and sanitary environments.
To see how these two conveyor platforms can make your baking and food processing applications more efficient, make plans to visit Dorner in booth No. 4559 at IBIE 2019. For more information on Dorner's conveyor platforms, visit www.dornerconveyors.com.
Connect with Dorner on Facebook at www.facebook.com/dornerconveyors
Follow Dorner on Twitter at www.twitter.com/dornerconveyors
Subscribe to Dorner on YouTube at https://www.youtube.com/user/DornerConveyors
Follow Dorner on LinkedIn at www.linkedin.com/company/dorner-mfg-corp