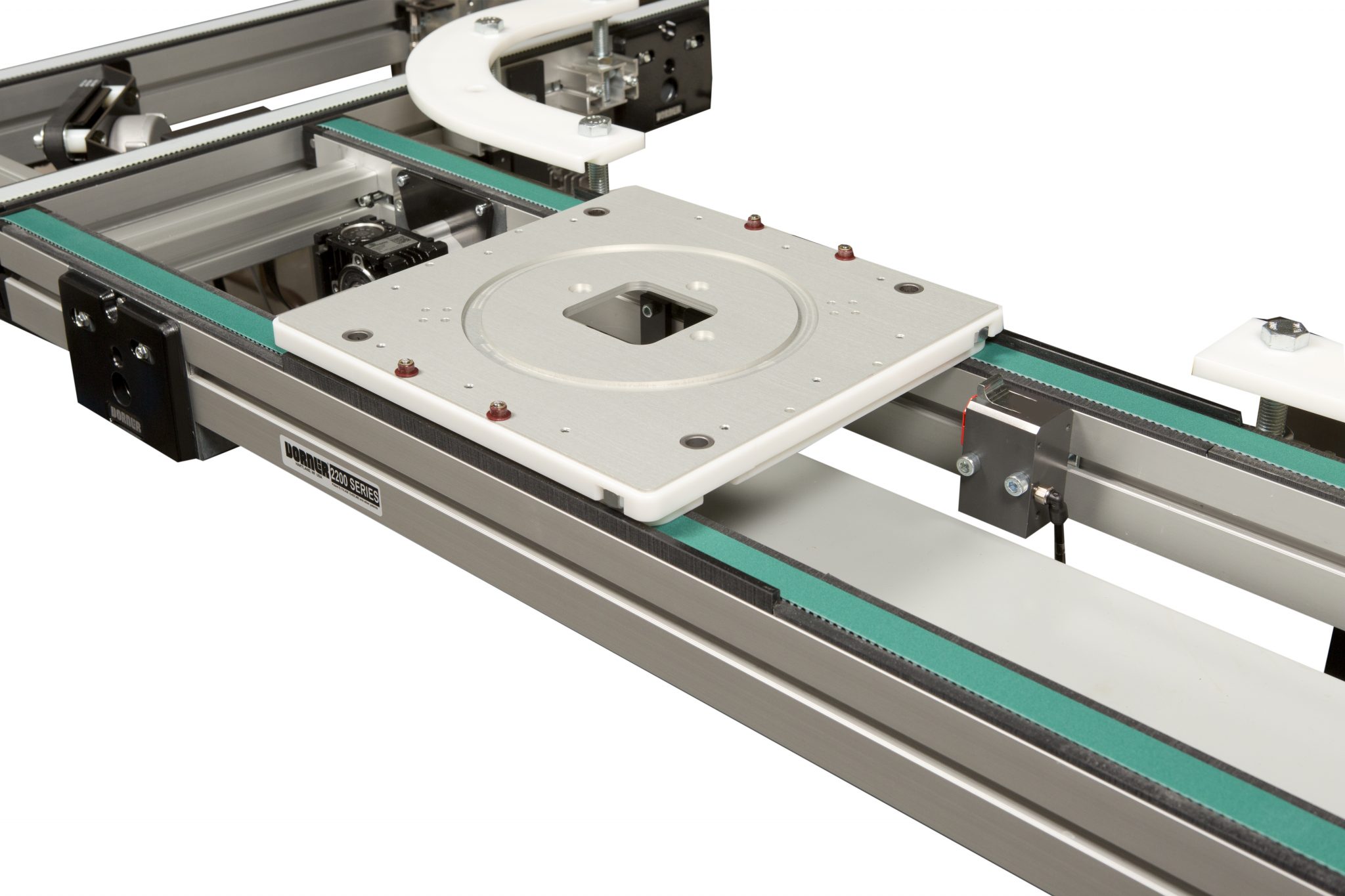 Dorner Mfg. continues its push into the assembly automation market with the debut of its new 2200 Series Precision Move Pallet System conveyor.
Dorner's 2200 Precision Move Pallet Systems are the latest advancement in pallet traffic management. With a unique pin tracking system to guide pallets through 90 turns, and a fast belt change capability without the need to remove the conveyor from the system, Dorner's 2200 Precision Move Pallet Systems are designed to increase efficiency and reduce downtime in various assembly automation processes. Coupled with fast delivery of less than 20 days, this conveyor platform is perfect for the assembly automation, manufacturing and packaging industries. Ideal applications include :
Automated Assembly
Manual Assembly
Product Testing and Inspection
The pallets on this conveyor range from 160 mm to 480 mm, giving the customer the flexibility to select the proper size to move the product. During operation, pallets move on twin dual strand timing-belt conveyors. This design provides many benefits to end users, including:
Added load capacity in a small platform; up to 250 lbs accumulated
Quick belt change without the need to remove conveyor from system
Widths: 160, 240, 320, 400 and 480 mm
Lengths: up to 24' 7" (7,500 mm)
20 days or less delivery time
Clean Room Class 100 Certification on the conveyor
These engineering designs position the 2200 Series Precision Move Pallet conveyor as the go-to platform for applications in machine integration, robotic pick-n-place, precision indexing, accurate part positioning, timed conveying, and inspection.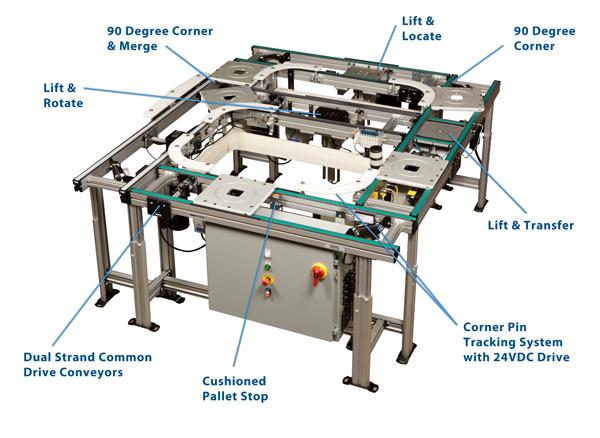 Performance specifications of the 2200 Series Precision Move Pallet conveyor include :
Lifting Modules
Lift and Locate:
Adjustable height lift from center of conveyor
Provides 200 lbs of lift capability at 90 psi
Accuracy of +/- 0.002"
Lift and Rotate:
Pneumatic lift from center of conveyor
Pneumatic rotation with adjustable positioning
Rotation angle: 90 to 180 degrees adjustable
Includes cushioned lift stroke
Lift and Transfer:
Changes product orientation
Uses dual strand timing belt conveyors and pneumatic lift
70 lbs load capacity
Simple Powered Corner Modules
90 Degree Corner:
Uses pin tracking in pallet
Maintains product orientation through the turn
Includes 24 VDC drive mechanism to drive the pallet around the corner
90 Degree Corner and Merge:
Uses pin tracking in pallet
Inside guide is mounted to pneumatic cylinders to transfer pallet around corner
Straight guide with pneumatic cylinder is mounted across perpendicular conveyor to guide pallets straight through the merge area
Includes 24 VDC drive mechanism to drive the pallet around the corner
Pin Tracking System
Simple and cost-effective method of tracking pallets through the turns
Used on 90-degree corner and 90-degree corner and merge modules
For more information on the 2200 Series Precision Move Pallet System conveyor, visit the Product Page