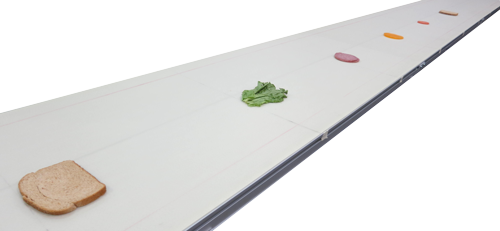 While the video of our "sandwich maker" conveyor is just for fun, there is some serious technology being used to make the sandwich.
The sandwich is being made on a Dorner conveyor set up with a series of overhead photo eyes, which connect to an indexing drive that moves the conveyor belt back and forth for each layer of the sandwich.
The photo eyes let the drive know when each part has passed by so that it reverses back in time to catch the next piece. The indexing program and controls were all designed by Dorner engineers for a real-life application, but then slightly modified for this video.
Another thing to point out is the blue micropitch chain used on the upper conveyor. It's called a micropitch chain because it is flexible enough to go around a 0.31 nose bar, which is ideal for handling small parts when you need to reduce the transfer gap between two conveyors or a conveyor and another piece of equipment.
Conveyors Designed to Your Taste
You can literally order a Dorner conveyor exactly how you like it. With the widest range of pre-engineered conveyors in the industry, you can order a conveyor to fit your unique needs by specifying everything from belt type, frame height, frame material, belt width and even belt length to the nearest 1/8″.
Our standard conveyors are made with the highest quality components pre-engineered to fit together and perform at the levels you expect to accomplish your product movement.
Best of all, our standard, built-to-order conveyors ship in as little as three days. Just like your favorite sandwich, whether panini, hoagie or pita, we make sure your self-specified conveyor lives up to the hype.