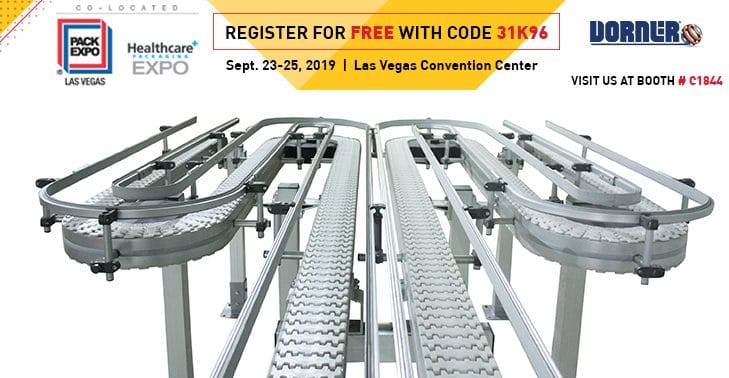 The ability for conveyors to make tight turns in and around existing equipment is paramount as floor space continues to shrink in manufacturing and packaging facilities. The answer is Dorner's FlexMove conveyor platform, which will be on display in booth C-1844 at PACK EXPO 2019, Sept. 23-25, at the Las Vegas Convention Center in Las Vegas.
Dorner's FlexMove flexible chain conveyors are designed for effective horizontal and vertical product movement capabilities when floor space is limited. FlexMove conveyors are engineered for numerous applications, including:
Packaging
Automation
Part handling
Product transfers
Machine conveyance
Elevation changes
Tight spaces
FlexMove conveyors allow for horizontal turns and elevation changes on a continuous run driven by a single gearmotor. Styles include Helix and Spiral that feature continuous 360° turns for moving product up or down in a vertical space; Alpine design features long inclines or declines with tight turns; Wedge design conveys a product by gripping the sides; and Pallet/Twin-Track Assembly works by moving the palletization of products with similar sides.
FlexMove conveyors are available in three purchasing options based on the customer's application and situation. With FlexMove Components, customers can order all the necessary parts and components to build their FlexMove conveyor onsite. FlexMove Solutions builds the conveyor at Dorner, is tested then disassembled into sections and shipped to the customer for installation. Finally, the FlexMove Assembled Onsite option features the Dorner installation team assembling the conveyor onsite at the customer's location.
Another platform on display at PACK EXPO 2019 is Dorner's new AquaGard 7350 Modular Curve Chain conveyor. The newest iteration of Dorner's AquaGard 7350 V2 conveyor, the modular curve chain option is the industry's
safest and most advanced conveyor in its class. It's the only side-flexing modular belt offered in North America to meet the new International Standard for maximum 4 mm openings; the upper and lower chain edges are covered for added safety. Furthermore, its innovative features include an 18" wide belt that eliminates gaps between belt modules, while also simplifying belt disassembly and re-assembly.
Additionally, the stainless steel center bearing chain brings added performance, including the ability to have more curves per motor, all while carrying a greater load capacity.
To see how these two conveyors, as well as Dorner's other conveyor platforms on display at the show, can help your automation, food and packaging applications, make plans to visit Dorner in booth C-1844 at PACK EXPO 2019. For more information on Dorner's conveyor platforms, visit www.dornerconveyors.com.
Connect with Dorner on Facebook at www.facebook.com/dornerconveyors
Follow Dorner on Twitter at www.twitter.com/dornerconveyors
Subscribe to Dorner on YouTube at https://www.youtube.com/user/DornerConveyors
Follow Dorner on LinkedIn at www.linkedin.com/company/dorner-mfg-corp