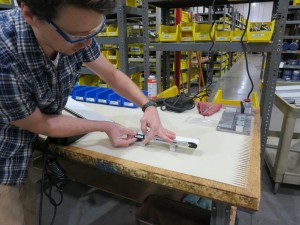 Things are certainly speeding up at Dorner. In fact, Dorner is now delivering its 1100 Series conveyor platform in five fast days – a 66 percent improvement from its original 15-day lead time just last year.
The faster lead time is in response to strong customer demand for the 1100 Series conveyor platform, which has a compact design featuring a 3/4″ frame height, making it the smallest low profile conveyor available in North America. This low profile enables the conveyor to fit into the tightest of spaces in a variety of medical, pharmaceutical, and industrial applications. To lower lead times, Dorner has worked closely with its vendors to more efficiently stock product and supplies to help expedite manufacturing.
Additionally, Dorner launched a second shift this month to further expand production across all of the product lines and meet customer demand.
"Adding this second shift really allows us to improve upon our industry-leading deliveries," said Randy Meis, director of operations, Dorner.
These two steps will better position Dorner to maximize facility capacity and more efficiently meet customer needs, improve lead times to all of its major conveyor platforms, and enhance customer service and responsiveness overall.