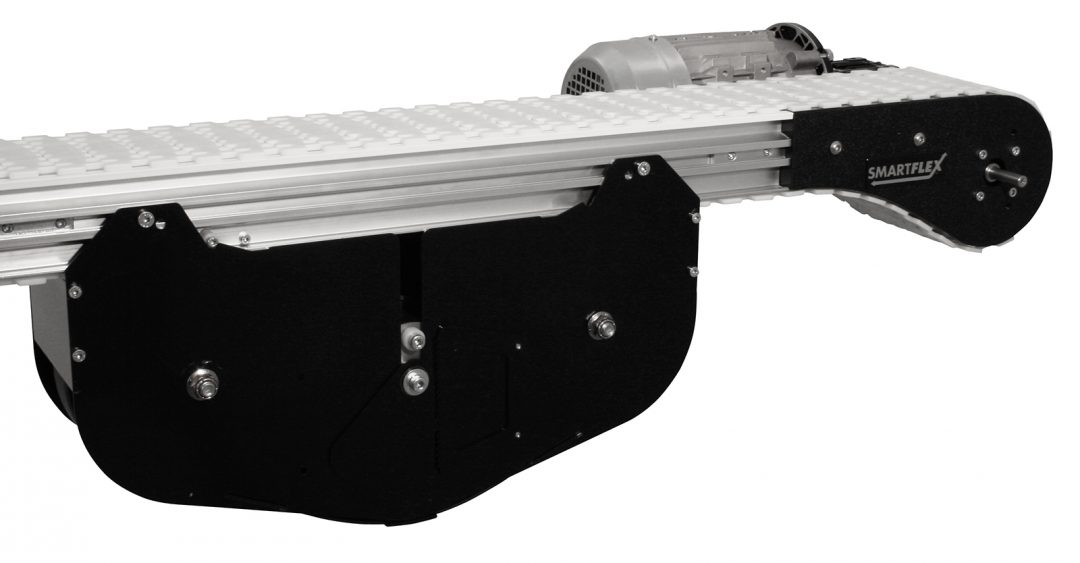 There's no doubt that catenary sag is a real drag when it comes to conveyor belts. But that's not an issue with Dorner's newest flexible chain conveyor platform – the 2200 Series SmartFlex.
To help prevent catenary sag, SmartFlex Conveyors come with a weighted take-up module to help prevent the plastic chain belt from sagging underneath the conveyor during operation. Having sag in the conveyor belt is a safety issue as it creates potential pinch points in the system.
The weighted take-up module is designed with an adjustable slot which compensates when the conveyor is operating to remove sag in the belt. By removing sag, the belt can interface with the frame more easily, allowing for smoother belt tracking while reducing the risk of jamming or other faults. The module can also be positioned in various locations along the conveyor.
Designed for the packaging, food, medical, industrial, and assembly industries, the 2200 Series SmartFlex can be engineered to exact customer specifications in minutes and available in about five days.
One of the many strengths of the 2200 Series SmartFlex is product transfers. Accessories such as infeed and exit power transfers allow for smooth end transfers for products as small as 3" diameter. The 2200 Series SmartFlex is engineered to easily integrate with Dorner's other 2200 and 3200 Series low-profile conveyor platforms – an advantage that gives customers the ability to select Dorner for all its mainline and support conveyor systems.
Specifications, features, and benefits of the 2200 Series SmartFlex include :
Ideal for the food, medical, assembly, industrial, automation and packaging industries
Aluminum single-piece frame
Navigates very tight corners with wheel and plain bend options
Multiple product transfer options for end and side transfers
Available widths of 65 mm (2.6"), 105 mm (4.1") and 150 mm (5.9")
Speeds up to 250 feet per minute
Load capacity up to 600 pounds
Multiple chain types including low friction, friction insert, conductive, cleated, roller top and magnet top
For more information on the 2200 Series SmartFlex conveyor platform, visit the SmartFlex page on Dorner.com