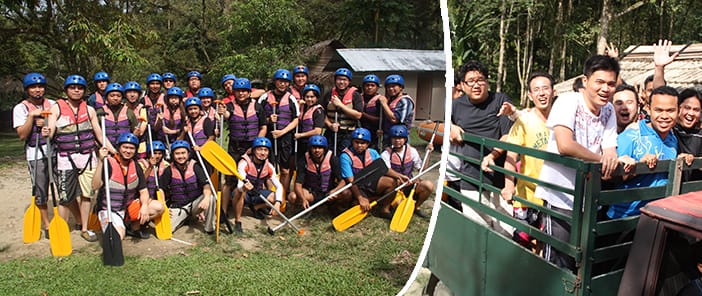 Gopeng is a small town, which is just around 2 hours away from Penang. It was once flourished with tin mining industry, and now Gopeng is flourished with eco-tourism and outdoor adventure.
Gopeng is surrounded by jungles, rivers, waterfalls, mountains, caves, ponds, and villages. This makes My Gopeng Resort a great adventure destination!
On 15th September 2012, FlexMove® took a 2 Days 1 night off to this magnificent resort to have team building activities. Almost all of the employees had come to enjoy this trip.
Upon reaching the resort, one can enjoy the green scenery and tranquility which cannot be found anywhere in the hustle and bustle of the city. Expect the cool and refreshing breeze and the originality of the surroundings in this resort as it is designed to be environmental friendly and make people to be close to the nature and make people love the nature.
Not only that, the activities is as exciting as well. These includes: White-water rafting along the most interesting rafting river in Malaysia — Sungai Kampar, challenging and exciting Water abseiling from the breathtaking & unpolluted Geruntom Fall, shoot among colleagues in the Paintball war game, experienced the mysterious atmosphere during the Night jungle trekking, and so on.
The trip was feel with fun, joy and excitement. Definitely a must not miss lifelong experience!