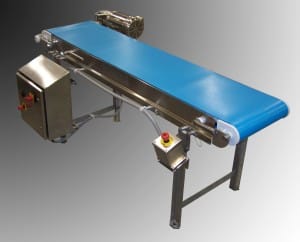 Keeping Conveyors Sanitary and Workers Safe
By AJ Naber
Dorner's AquaPruf Ultimate series of sanitary conveyors have been designed for fast and effective sanitation in the most demanding of environments. In these environments, withstanding high pressure spray sanitation and eliminating horizontal surfaces for complete drainage are musts for sanitary conveyors.
Another requirement of every Dorner conveyor regardless of sanitation level is providing a safe work area for operators. A simple and effective means of increasing the overall safety of individual conveyor is to utilize an in-line cord emergency stop kit.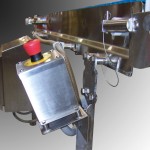 Dorner just delivered an order for a 7400 Ultimate that combined the highest level of sanitation with an emergency stop setup. Each one of the control components was chosen with the AquaPruf philosophy of sanitation in mind. The features and benefits of the sanitary E-stop assembly were:
Angled to shed water
Stainless steel/NEMA 4X for resistance to cleaning chemicals
Pushbutton and markings adhere to national and international standards
Self-monitoring contact block ensures switch will work when pressed
Dual, series arrangement for maximum accessibility
Mounted to standoffs to limit laminated surfaces
At times sanitation and safety can be at odds with one another, but Dorner engineers have amassed considerable knowledge and experience over the past several years to provide a sanitary and safe design to our customers whenever the need arises.