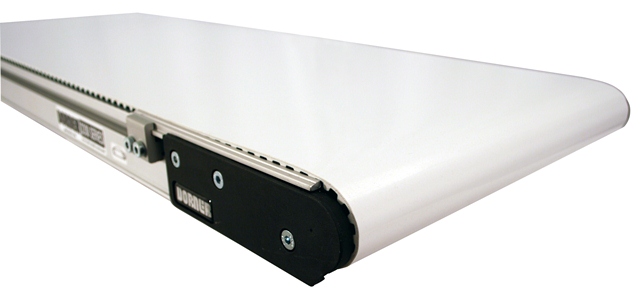 Dorner's 2200 Series low profile belt conveyor with the latest advancements in belt and drive technology increases its weight carrying capacity to a 200-pound maximum load. The 2200 Series is able to move these heavy load while maintaining a 1.4″ diameter pulley for optimal part transfer and machine interface. This compact design allows the conveyor to fit into tight spaces where other conveyors simply can't.
What gives the 2200 Series the added weight capacity is its engineered cogged belt with teeth that engage and grip the two sprocket pulleys on each end of the conveyor. The action of the teeth on the back of the belt engaging the sprocket pulleys prevent slippage, which means the conveyor can carry a much heavier load. These engineered features increased the carrying capacity to more than 65 percent. In addition, the conveyor can handle this weight capacity while pushing or pulling the load.
The 2200 Series with an advanced belt and drive technology is ideal for product assembly, manufacturing and packaging processes. Specific applications for the 2200 Series include machine integration, robotic pick-n-place, indexing, accurate part positioning, timed conveying, vision inspection, sheet or wide-part handling.
Features of the 2200 Series include :
12-tooth T10 profile
Positive drive no-slip belting
Compatible with Dorner standard drive conveyors
Performance specifications of the 2200 Series include :
Loads up to 200 pounds
Belt speeds up to 370 feet-per-minute
Belt widths between 1.75″ to 24″
Conveyor lengths between 1.5″ to 30″