Move Fast. Move Smart. Move Small.
Have to move a small or lightweight product? Have part transfer issues? Have an extremely tight space that requires a conveyor? Dorner Mfg. Corp. has the answer.
Dorner's new 1100 Series conveyor platform has a compact design featuring a 3/4″ frame height, making it the smahttps://www.dornerconveyors.com/Products/1100-Series.aspxllest low profile conveyor available in North America. This low profile enables the conveyor to fit into the tightest of spaces, freeing up valuable machine or worker space. The 1100 Series is designed for lightweight or very small product movement and is Clean Room Class 100 verified*, making it ideal for medical, pharmaceutical and life sciences applications.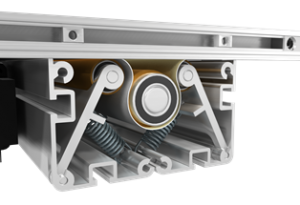 The 1100 Series comes with several engineering designs for optimal performance in small part handling. The belt conveyor has a 5/8″ roller transfer tail for accurate and efficient small part end transfers; the conveyor belt is nearly flush with the frame for ease of side transfers, and patent-pending pinch drive allows for 15-pound load without the need for high belt tension.
The pinch drive offers worry-free conveyance utilizing three different belt tracking methods: cam, frame and pinch drive. Simply position the conveyor in the machine and let it run. If belt change is required, the unique drive package separates in two halves with just four fasteners, allowing for faster belt changes. Lastly, the 1100 Series ships completely assembled and ready to run.

Design features:
End drive or mid drive models for enhanced application flexibility
Anodized aluminum frame with FDA approved plastic tail plates and stainless fasteners; Clean Room Class 100 verified* for medical/pharmaceutical applications
T-Slot for fast mounting of automation components or accessories
Pinch drive separates in two halves for quick belt change
Available with fixed speed AC and brushless DC gear motors
Performance specifications:
Brushless DC offering enables forward and reverse, as well as 60 indexes per minute for maximum application flexibility
Belt speeds up to 70 feet-per-minute
Belt widths: 1.75″, 3.75″, 6″, 8″ and 10″
Conveyor lengths: 10.5″ to 60″ in 1/8″ increments
5/8″ diameter drive and idler pulleys; 5/16″ diameter nose bar transfer option
(3) FDA approved belt options: low, medium and high friction
User values:
Worry-free operation (belt stretch/belt tracking/belt change)
Frees up valuable machine or worker space
Focus on their core business, not the conveyor
Standard product with DTools support
Saves labor (ships assembled)
Ships as parcel for fast and cost-effective delivery
1100 Series conveyors can be built to exact customer specifications and shipped in about a week. For more information on Dorner's new 1100 Series conveyor platform, visit our product page.
*To verify clean room requirements, an unloaded base conveyor was tested and did not generate particulate that would be beyond the specified standards. However, the verification does not provide assurance that any or all applications will meet this requirement. Application testing is recommended to ensure clean room standards are being met. Dorner takes no responsibility in the clean room performance of the final conveyor or application.