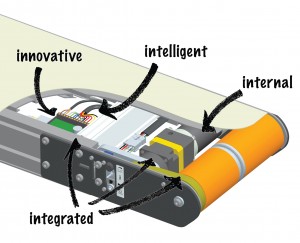 The new generation of iDrive, the 3200 Series iDrive belt conveyor makes its debut in booth No. 3854 at Pack Expo, Oct. 31 – Nov. 3 in Chicago.
HARTLAND, Wis., (Oct. 31, 2010) Faster speeds, increased weight capacity and indexing capabilities are the characteristics driving Dorner's new 3200 Series iDrive belt conveyor.
The iDrive Series, which debuted last year on Dorner's 2200 Series conveyors, represents the latest in conveyor innovation: integrating the motor, gearbox and motor controller all within the frame of the industrial conveyor. The sleek, space-saving design allows our small conveyor to fit into the tightest of spaces without worry.
Seen as the big brother to the 2200 Series iDrive, the 3200 Series iDrive conveyor is designed for more heavier-duty industrial and packaging applications. Its robust frame and motor can carry more weight, operate at faster speeds and is available in larger sizes. The small conveyor also comes with indexing capabilities to handle more sophisticated conveying applications. This new addition from Dorner gives customers greater flexibility in selecting the right conveyor to meet their exact application needs. Plus, both series are designed for making automation better and years of worry-free operation.

The 3200 Series iDrive comes with three control options and is ready to use for quick integration into existing packaging and processing lines. Side controls allow the operator to adjust speed and direction of the industrial conveyor with ease, and an internal brushless DC motor is maintenance free.
Performance specifications of both the 2200 Series iDrive and 3200 Series iDrive conveyors:

Length and width of both the 2200 Series iDrive and 3200 Series iDrive conveyors:

The 3200 Series iDrive incorporates many of the same user-friendly features found on Dorner?'s main 3200 Series platform including:
V-guided belts for maintenance-free tracking
Rack & pinion belt tension
Built-in tension indicators
Two T-slots for fast mounting of automation components
Quick 5-minute belt changes
The 3200 Series iDrive conveyor can be built and shipped within 5 days of order. For more information on the new 3200 Series iDrive conveyor, visit our website.