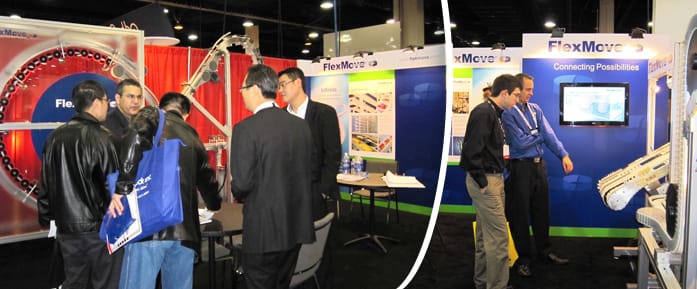 PACK EXPO's exhibition, which opens from 31st of October 2010 to 3rd of November with approximately 1900 exhibitors, is positioned to deliver packaging professionals the tools they need to bust out of the economic doldrums. It was an opportunity for FlexMove® to showcase the new FlexMove® 's Packaging Solution System, to build awareness for the brand and to strengthen our presence in the US.
An estimated 45000 attendees from across the globe spent the time and resources to visit this year's PACK EXPO.
The FlexMove® booth welcomed visitors, manufactures, distributors at PACK EXPO. Visitors were impressed by the speed, flexibility and low noise operation of our system. We have visitors from Chile, Argentina, Ecuador, Peru, Brazil and Mexico showing great interest in FlexMove® products.
FlexMove® are Looking forward to increasing market share in South America.
We look forward to seeing you at the next exhibition!