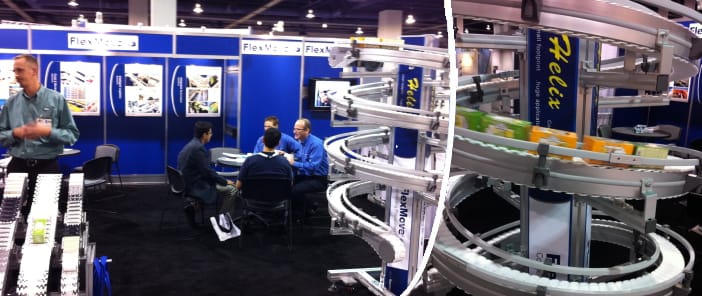 Pack Expo Las Vegas 2011, from 26th to 28th September is broke the record and delivered the largest and the most comprehensive packaging and processing trade show experience in North America this year.
Pack Expo Las Vegas 2011 attracted more than 25000 professionals and 1633 exhibiting companies in the halls of Las Vegas Convention Center.
The FlexMove® booth welcomed visitors, manufacturers, and distributors at Pack Expo 2011, including some industry peers with the fascinating performance of the FlexMove® conveyor system in the form of the Helix conveyor. Visitors were impressed by the speed, flexibility and low operation noise of our system. Comprehensive and variety of FlexMove products presented had impressed the crowd with potential applications.
It was an excellent opportunity to showcase the FlexMove® Intelligent Transportation System™, to build awareness for the FlexMove brand and to strengthen our presence in the United States.
We look forward to seeing you at the next exhibition!