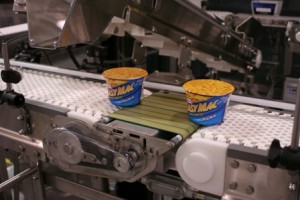 Transferring products between conveyors or machinery can sometimes be a challenge. Especially, when handling small products on large conveyors since they tend to have large pulleys or end rollers. There are several solutions to this problem, including static transfer plates, roller transfer plates, and using smaller nose bar tails.
Each of these solutions work in certain scenarios, but they also have potential short-comings. Static transfer plates help close the gap between conveyors but do not maintain motion/speed through the transfer. Roller transfers maintain motion through the transfer, but not speed, which could potentially lead to product backup at the transfer point. Nose bar tails are a great option for transfers but can limit the type of conveyor belting compatible with the small rollers – especially when dealing with plastic chain belting.
This is why the Powered Transfer makes for an ideal solution when moving small products on large conveyors. Finally, a belted transfer in a compact space saving design, which incorporates precision timing belts for maintaining tracking and speed. Plus, the Powered Transfer is virtually maintenance free since it's slave driven from the main idler roller, which makes installation easy. Timing belts smoothly travel over 1/2″ nose bars for a near-seamless product transfer. The innovative transfer module can be added to our stainless steel AquaGard conveyors or ordered as an individual conveyor add-on as Ryson International, Inc. has done with their spiral conveyors.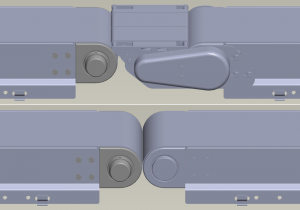 Working together with Ryson, we helped them integrate our Powered Transfer module with their chain slat spiral conveyor, which has provided gentle handling of products as small as 3 inches long through a reliable and seamless low profile product transfer. Read more about their solution at their Vertical Conveyor Solutions Blog.