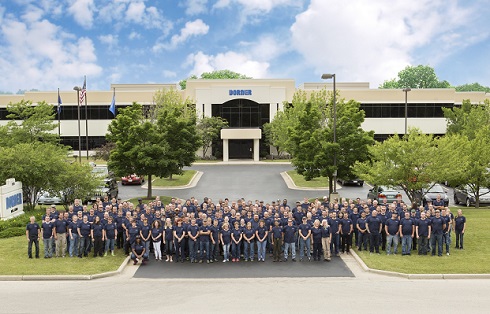 As we begin 2017 we are humbled by the successes of the last year.
From launching 4 new products to hosting several major industry events and most notably, celebrating our 50th Anniversary, 2016 was truly an unforgettable year at Dorner.
We would like to express our appreciation to our valued customers, channel partners, and associates. We sincerely thank you for your business and for growing with us.
Major 2016 Accomplishments Include:
Completed a 25,000 Square Ft. Building Addition
Added a New Laser and Press Brake for Additional Manufacturing Capabilities
Launched a New Universal Drive for 2200 Series Conveyors
Launched the Re-Innovated 2200 Series Belted Conveyor
Acquired Geppert-Band in Germany
Launched New 2200 Series LPZ Conveyors
Celebrated our 50th Anniversary Including a Channel Summit, Open House, and Employee Celebration
Received 4 New Clean Room Certifications
Launched a New Website for our Sister Company, FlexMove
Exhibited at 4 Major Industry Trade Shows
Launched the Re-Innovated 2200 Series Modular Belt Conveyor
Hosted the Paranet Factory Crawl
Co-hosted the PMMI Annual Meeting
Launched the New 3200 Series with Intralox ARB Technology
Most recently we debuted a new, unified brand for the Dorner Holding Portfolio, including new logos and taglines for us as well as our sister companies: FlexMove and Geppert-Band.
And while 2016 was amazing, the best is yet to come. We have many more exciting things ahead and we are grateful we can share these experiences with you. The Dorner Holding Company portfolio is focused squarely on transforming the conveyor automation market. Our brand promise is to develop and provide innovative, quality products at industry best lead times, with best in class service and support.
We thank you for being a part of our journey and look forward to continued success in 2017 and beyond.
Best wishes,
Dorner Mfg. Corp.