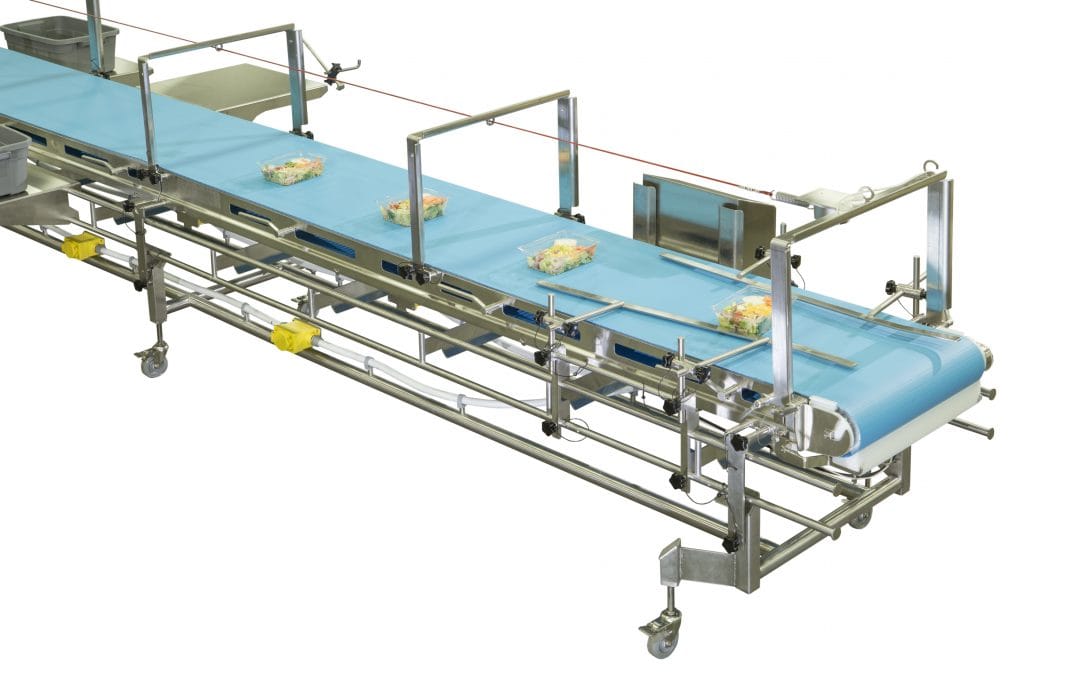 Food manufacturers are faced with growing demands for Ready-to–Eat foods and ever-changing consumer tastes. This requires nimble and scalable food production operations, often at off-peak hours to guarantee the freshest RTE product. This is even more challenging when combined with a set of complexities including labor shortages, frequent product change-overs, cross contamination concerns, and food safety and sanitation requirements.
To increase throughput, maximize flexibility, reduce changeover and exceed food safety standards, Dorner has engineered an innovation in RTE production; the creation of a modular flexible hygienic RTE conveyor system. This unique solution creates RTE assembly lines that are customizable, ergonomic, hygienic, and allow for ease of sanitation meaning thorough cleaning is completed in less time without sacrificing worker safety. Each system is designed to conform to a wide range of certifying standards.
The RTE System features hygienic base conveyor with unique mounting system that provides ultimate flexibility so that ingredient totes, work tables, and staging fixtures for packaging materials can be swapped out quickly and safely to meet the ever changing production requirements.
Quickly re-configure add on components providing the prep area the fastest changeover for different products and staffing requirements. Simply configure the System for the consumer and product needs of today without sacrificing future capabilities with modular base design and future accessory add on capability.
Dorner's modular Ready-to-Eat conveyor systems help alleviate pressing operational challenges in food preparation.
Quickly and easily reconfigure processing lines to adapt to customer demands and product changes
Maximize production time with tool-less disassembly designed for fast and effective cleaning and sanitation
Be confident of SSOP validation and verification with hygienically designed conveyor systems and accessories
Create ergonomic work stations for efficiency and safety by utilizing a wide variety of available accessories
To learn more about Dorners Ready-To-Eat Conveyor systems contact us today check out our new video and brochure.