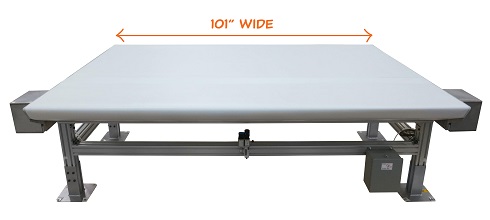 Dorner recently worked with a customer who required a 101" wide conveyor. The conveyor needed to accept three side-by-side stacks of light-weight product that were up to 30" wide apiece. The challenge was, Dorner's widest standard offering is the 52" wide belt on the AquaGard 7360 platform. The application did not require stainless steel construction, so Dorner's Engineered Solutions Group recommended a unique solution using the 3200 Series platform and overcame two engineering challenges along the way.

The base conveyor design started off as a 3200 series belted conveyor using a pneumatic center drive tensioning system. There was not much design modification required for the frame or the pneumatic center drive other than to extend the width of each of these items.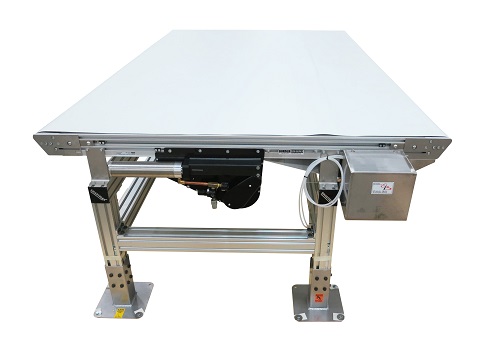 This conveyor incorporated a nose bar design. Although typically nose bars are used to allow for tight transfers between conveyors, they served a different purpose here. An engineering challenge came from concerns of deflection of the 3" diameter tail spindles due to the large width that the tail needed to span. The nose bar tail design enabled additional structure behind the many smaller spindles to prevent deflection of the tail.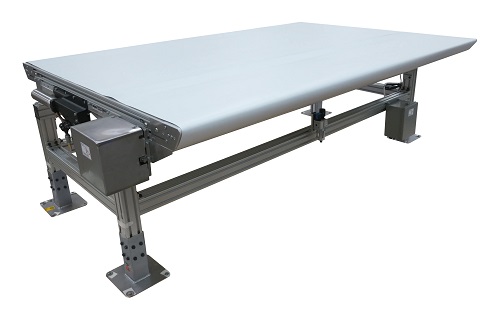 Another engineering challenge was how to track a wide conveyor belt. Dorner typically recommends v-guide tracking which enables a glued on strip on the underside of the belt to run through a grove in the conveyor frame and spindles, thus providing continues tracking of the belt along the length of the frame. The challenges were twofold in terms of applying the v-guide to this wide conveyor belt and then coming up with a way to create the customer specified endless finger splice with the v-guided in place.
In the end a solution with a non v-guided belt was designed in conjunction with an automatic belt tracker. The automatic belt tracker was installed on the underside of the conveyor and has the non v-guided belt in contact with a roller. The automatic belt tracker then monitors belt position using a photo eye and uses pneumatics to change the angle of the tracker roller which in turn gently steers the belt to one side of the conveyor or the other while running.­­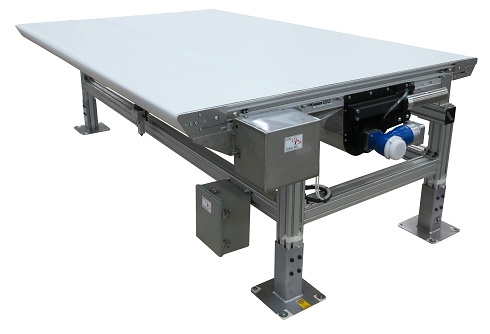 Find out more about Dorner's Engineering Solutions Group.