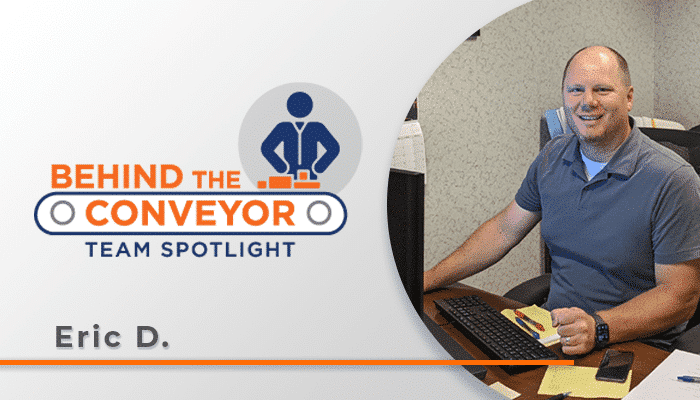 Behind the Conveyor – Team Spotlight
Dorner has become a global brand in conveyor automation – and that's all thanks to our team. In this blog series, we highlighted talented professionals whose dedication and passion are making a positive impact on your conveyor systems. These are the faces behind the brand who are helping to transform conveyor automation … and having fun doing it!
Meet Eric Dorner
Although the three Dorner brothers, Werner, Wolfgang and Horst, who founded the business 55 years ago have long since sold the company and retired, Eric Dorner still carries on the family name.
Eric is the engineering manager for the Engineered Solutions Group, which gives extra attention to building conveyor systems with unique dimensions and performance characteristics above and beyond Dorner's regular conveyor platforms. He's worked at the company for the past 17 years.
"The best part of working here is all the people, it's always been that way," he said. "There's always been a unique family feel to the company. Dorner is growing and getting bigger, but it still has that small company feel to it. From the shop to the offices, everyone works well together. It's a good team effort … a good aura, and that's my favorite part."
Eric believes Dorner is well-positioned for growth, especially in the area of automation with the integration of robotics and other systems.
"We hear a lot from our customers that they're putting in production lines because it's difficult to find the labor to do some of these jobs. For many of these instances, automation is the way to go, and that's right in Dorner's wheelhouse," Eric said. "Dorner is very diversified with the conveyor platforms we have and the markets we're in. I see nothing but huge growth potential for Dorner.
For him and the ESG team, every day is a new challenge. "Talking to customers and seeing how we can interface our conveyors within their facilities and equipment, and how we can solve their problems, that's very exciting for us."
It's professionals like Eric that go above and beyond each and every day. Our global workforce takes pride in partnering with our customers to optimize efficiency and productivity in their applications. We accomplish this through the design, manufacture, support and distribution of high-quality conveyor systems that meet our demanding standards.
That's the Dorner Difference.