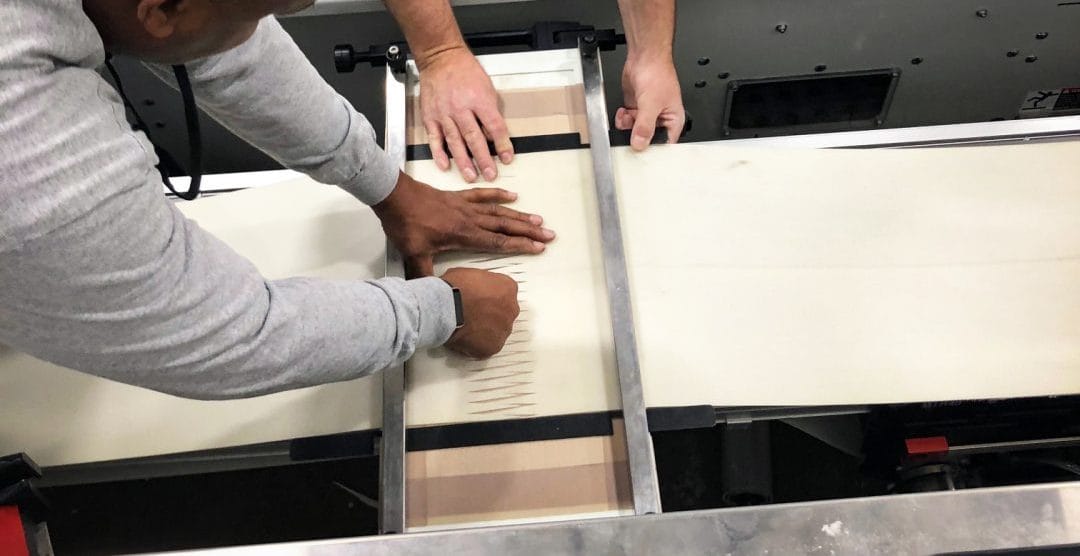 Dorner Service Manager, Steve Kuczowski and an OEM service manager quickly work to weld together a belt splice directly on the conveyor in the field.
Dorner recently dispatched Steve Kuczkowski, Service Manager, to complete a belt repair at a customer location. Upon arrival, Steve immediately realized the equipment was nested close together preventing Steve and an OEM service manager (sent by Dorner's customer responsible for system integration), with the ability to change the belt in place. The conveyor was over 65 /ft in length and could not be removed from its location.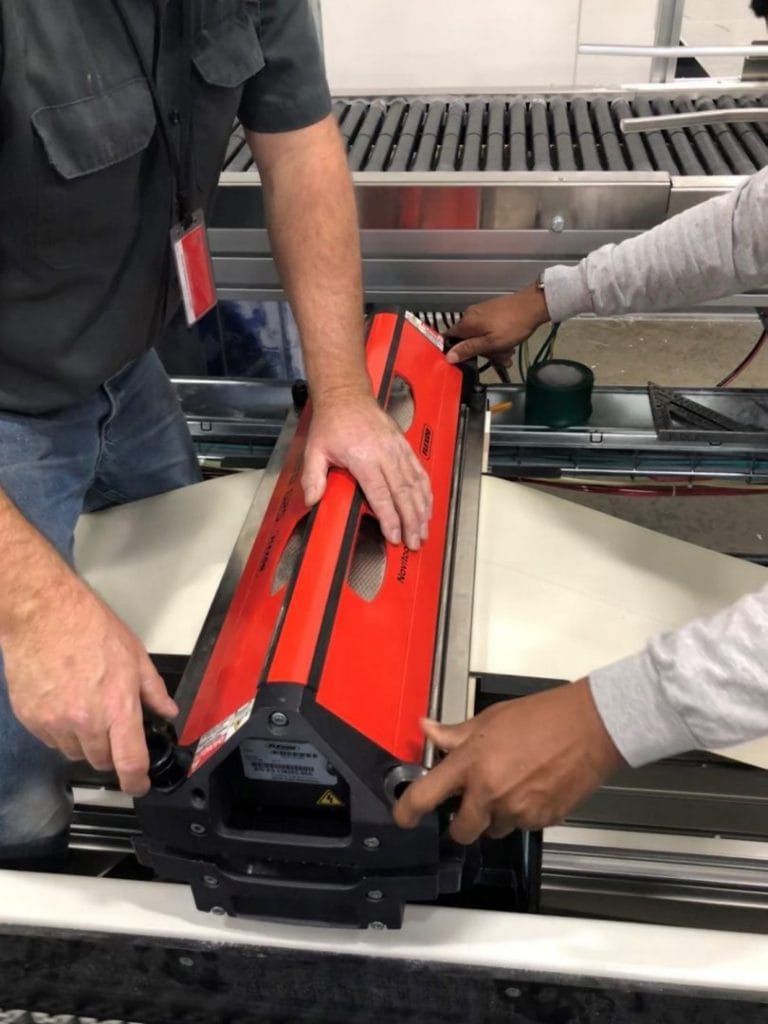 The customer was very anxious to get the conveyor back into production as quickly as possible. Steve acted fast and arranged for a replacement belt to be made at Dorner first-thing the next
morning. Dorner has multiple mobile heat presses that can be applied to repair belts in the field. The heat presses are designed to accommodate Dorner's unique V-guide permitting the V-guide to be welded through the splice. This operation can be completed at the customer's location and directly on the conveyor frame saving time and minimizing the need to remove to tool-room or the time required to strip away guiding and other automation components in order to remove a belt.
Another advantage is the new belt can be taped to the old belt then pulled through the length of the conveyor. This saves an enormous amount of time and provides for quick and easy belt replacement in the field.
30 minutes later the heat press operation was complete and the belt was welded on the conveyor. The center drive was properly tensioned and the conveyor running. The belt tracked flawlessly and the customer was back in operation after minimal downtime. More important, the rest of their operation wasn't interrupted by conveyor tech's moving equipment further irritating a customer disappointed with their reduced production quotas while the conveyor was out of service.
Dorner encourages all customer's operating in 24/7 work environments to have the proper replacement parts on hand. We recommend critical spares be stocked and accessible at primary manufacturing locations. Dorner can provide a quote for all critical spare parts including replacement belts, tail kits, and drive components. If caught underprepared, Dorner can often ship replacement parts within 24 hours.
Learn more about Dorner's Parts Auditing Program where you can request a Dorner technician visit or inspection and adjustment of all your belts, pulleys, bearings, drive train, gearmotors, and accessories. Dorner also offers parts kits to help ensure you have the necessary key parts on hand for quick repairs and reduced downtime, or you can request a replacement part today.