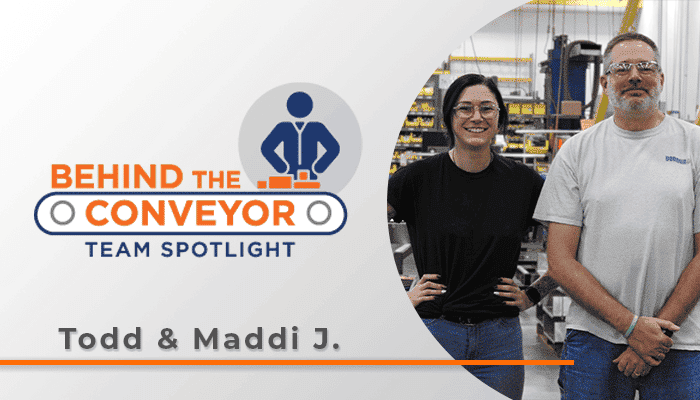 Behind the Conveyor – Team Spotlight
Dorner has become a global brand in conveyor automation – and that's all thanks to our team. In this blog series, we highlighted talented professionals whose dedication and passion are making a positive impact on your conveyor systems. These are the faces behind the brand who are helping to transform conveyor automation … and having fun doing it!
Meet Todd and Maddi J.
Maddi J. always knew what she wanted to do for a career, and that was to work with her dad at Dorner.
"Ever since I was younger, they had events where family could walk around the shop floor. From those moments, I knew I wanted to work with my dad," said Maddi.
In high school she took welding classes and was hooked on seeing her handiwork come to life. Following graduation, she was hired as a welder and BTO technician. Five years later, her career at Dorner is going strong. She is also back in school and hopes to earn her degree within the next two years.
"I really like the challenges this job gives me," she said. "Working in two different departments (7X and BTO), you find yourself picking parts and building parts. I enjoy the work and this environment. I like to learn new things every day."
The man that instilled the love of manufacturing and skilled trades in his daughter is Todd J., a material coordinator who has been at Dorner for 37 years. Like many long-time employees, Todd has worn several different hats.
"I like change; change is good," he said. "The work is challenging, and that's something I like."
Todd said a bonus of inspiring his daughter to follow in his footsteps is that they get to spend a lot of extra time together. They both currently work in the same 7X department.
"I like working here," Maddi added. "It is a good job, the people and my managers are awesome, plus I get to work with my dad. What more could I ask for?"
The Dorner Difference
It's professionals like Todd and Maddi that go above and beyond each and every day. Our global workforce takes pride in partnering with our customers to optimize efficiency and productivity in their applications. We accomplish this through the design, manufacture, support and distribution of high-quality conveyor systems that meet our demanding standards.
That's the Dorner Difference.