Superior Conveyor Performance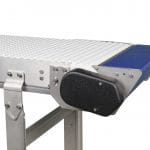 Dorner is transforming conveyor automation by providing cutting-edge solutions with best in class support. Dorner offers a range of precision solutions with sleek, low profile designs that handle your products carefully without losing orientation, spacing, or location.
In addition to increasing your uptime with products that install faster and more accurately, we design conveyors that are suited for every industry, such as our line of sanitary conveyors, which cater to Baking & Confectionery, Dairy & Cheese, Meat & Poultry, and other food handling industries. This and other series possess various certifications and adhere to the highest industry standards and protect the quality of your products from start to finish.
---
Newly Redesigned Sanitary Conveyance Solution
Our new, redesigned AquaGard 7350:V2 sanitary conveyor has the only side flexing belt in North America with chain opening less than 4mm and no pinch points, making it the safest choice for line operators. In addition, the AquaGard 7350:V2 features:
Use of modular curve chain, which is the most advanced in the market
Wipe-down applications instead of high-pressure washdowns
Ability to handle loads up to 750 lbs
Ability to move at speeds up to 91 m/min
Hard chrome coated bearings
FDA approved belting
Tip-up tails that are more rigid and provide less fluctuation of the conveyor
Reduced horizontal surfaces = less product accumulation
Addition of a positively driven belt, flatter side surfaces, and improved access for internal cleaning
Download our ebook to learn how you can increase Overall Equipment Effectiveness through the use of precision hygienic conveyors that are specifically designed to be low maintenance and deliver products accurately.