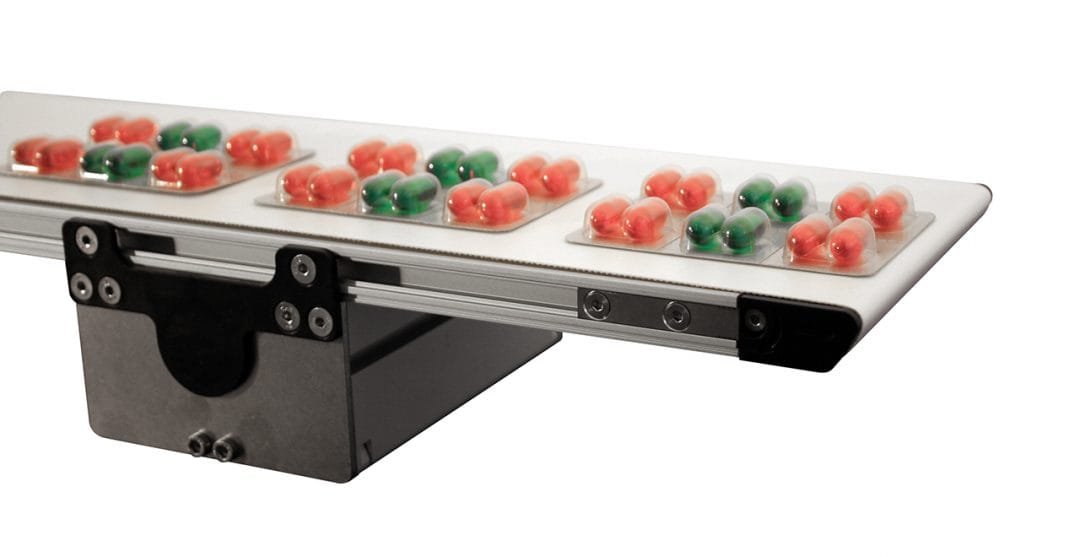 The pharmaceutical industry is constantly evolving to meet new demands and patient needs, while still striving to operate as safely and efficiently as possible. However, with recent challenges posed by supply chain issues and COVID-19, pharmaceutical manufacturing and distribution have fundamentally changed over the past few years.
PMMI has published a report on the changes the pharmaceutical industry is experiencing, and how partners of the industry can make their own changes to meet these needs as they fluctuate and change. In particular, the need for increased automation tools, sanitary production, packaging lines, and the use of robotics and AI to increase efficiency are at the forefront of the industry's changes in recent years.
At Dorner, we understand how important it is for pharmaceutical manufacturing and packaging partners to adapt their products to meet customer needs. Our engineering, fabrication, and assembly teams are constantly working to develop new products and custom solutions for pharmaceutical companies to solve conveyance and packaging issues, and create a more efficient, streamlined process.
Automation

Technological improvements combined with significantly increased demand for pharmaceuticals have created a necessity for automated processed within pharmaceutical manufacturing and packaging. Not only do automation capabilities increase efficiency, but they also help to reduce – or in some cases eliminate – human error which can be costly or even life-threatening when it comes to pharmaceuticals.

With the precise conveyance capabilities of Dorner's belted or pallet conveyor systems, pharmaceutical companies can track products through the entire packaging process and take advantage of robotics and AI for inspection and packaging.
Increased Sanitation Standards
PMMI reports an increased demand for injectable pharmaceuticals, which significantly increases the need for high sanitation standards, as any contamination can prove catastrophic. Again, automation and the use of robotics can help improve sanitary conditions during the packaging process, as the product is handled less by people, reducing the risk of accidental contamination.
Additionally, the use of specific machinery that is designed for sanitary conditions can be paramount for pharmaceutical companies. For example, Dorner's sanitary conveyor systems allow staff to easily clean the belt and frame of all conveyors. Additionally, all conveyor frames, stands, belts, and motors can be manufactured to meet pharmaceutical facilities' high safety and sanitary standards.
Turnkey Solutions
Labor shortages and supply chain issues are huge challenges for many companies today, especially those in the pharmaceutical industry. Automation helps to solve some of this trouble, but the equipment and machines that provide the automation also require knowledgeable staff to install and properly maintain.
Because skilled labor is in high demand and short supply, turnkey solutions are essential for any pharmaceutical company that wants to stay ahead. Dorner's engineering team specializes in developing custom products that are easy to install, clean, and maintain for pharmaceutical companies' on-site staff.
Custom Solutions for the Pharmaceutical Industry
The Dorner team can create complete conveyance systems, or innovative conveyor elements to seamlessly integrate into any pharmaceutical packaging process. With our high-quality standards and skilled team, you can be sure that every conveyor we provide is stringently tested and built to meet your company's needs.