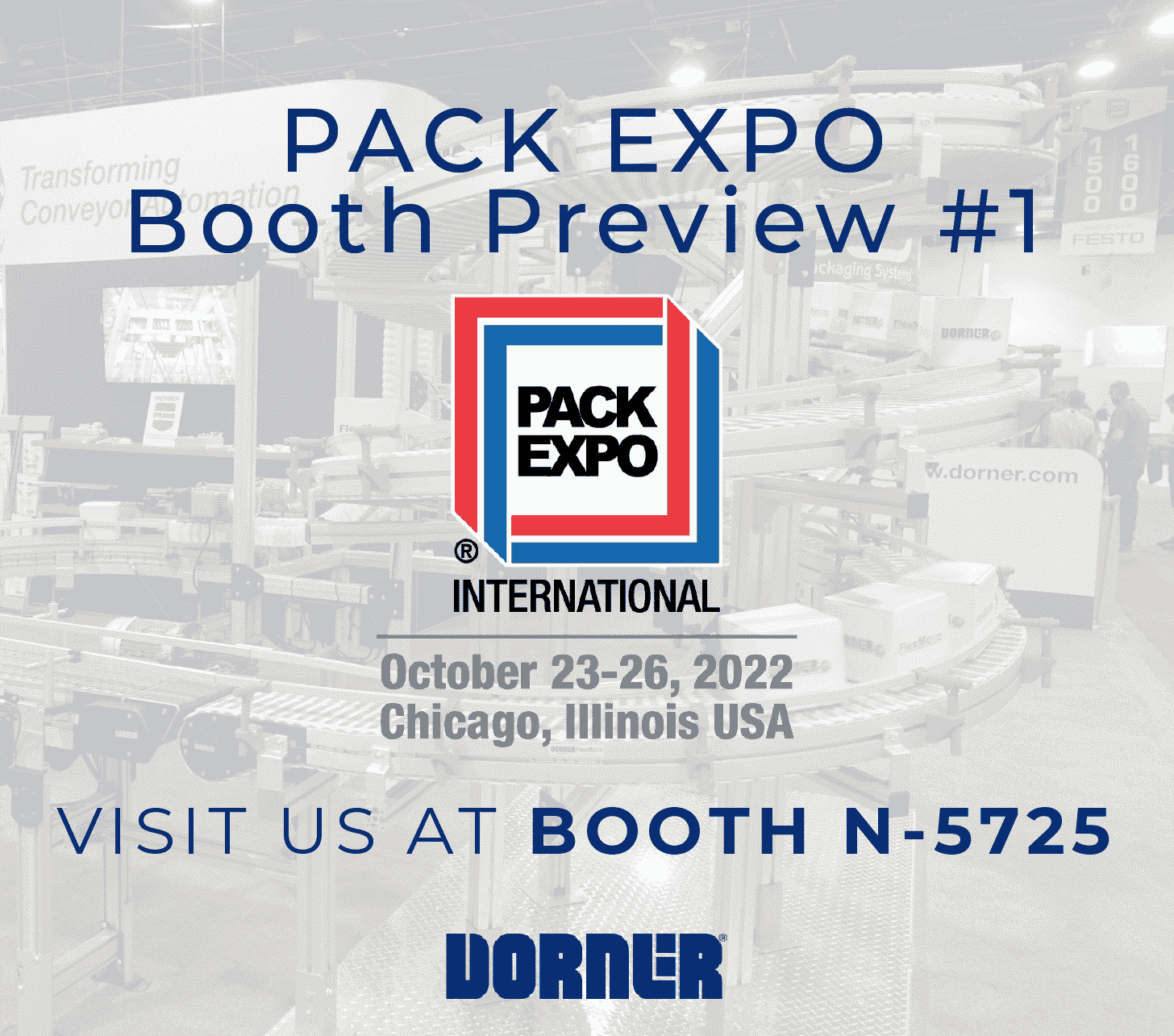 Dorner is excited to be once again attending Pack Expo International! We have numerous demonstrations this year, so in the weeks leading up to the Expo, we will be posting sneak peeks of the conveyance technology that will be on display.
Packaging and processing touch just about every commercial industry, which is why Dorner will be bringing technology designed for industrial packaging, food packaging, material handling, logistics, and more!
Industrial Loop
Our industrial display loop features three modular belt conveyors that are ideal for a wide range of applications, from indexing and sorting to assembly, de-pucking, and more!
3200 Modular Belt Conveyor
Dorner's 3200 modular belt conveyor combines the heavy-duty power of our 3200 line with the flexibility of a plastic chain belt. Capable of curves and elevation changes, this conveyor system offers the precision needed for packaging, sorting, inspecting.
Specs:
Belt widths: 6″ (152 mm) to 48″ (1219 mm)
Conveyor lengths: 36″ (914 mm) to 999″ (25,375 mm)
Loads up to 1000 lbs (455 kg)
Belt speeds up to 400 ft/min (122 m/min)
Available in straight, z-frame, curve, nose-over, and horizontal to incline configurations
Helix
The FlexMove Helix conveyor perfectly displays the versatility of Dorner's FlexMove line. With a unique flexible chain belt capable of up to 180-degree turns, this conveyor system can come in a range of sizes down to 55in diameter helix. This is a great option for buffering product or changing elevations in your production line while still maintaining a small footprint.
Our FlexMove Helix can be configured to different inclines and with custom belting options to meet the needs of your product and application.
Specs:
Widths: 85 mm, 180 mm and 260 mm
Minimum infeed height: 450 mm (18 in)
Maximum outfeed height: 3450 mm (132 in)
Maximum number of tiers: 4
Incline angles up to 7° with flat top chain and up to 10° with friction top chain
Spiral diameter: 1400 mm (55.12 in) at center-line
Wedge
The FlexMove Wedge is a unique elevation conveyor that utilizes parallel rubber-cleated belts to firmly grip product for smooth elevation changes to higher or lower conveyance lines. The cleated belt design easily grips product of almost any shape and materials including metal, plastic, and cardboard.
Additionally, the flexible wedge cleats accommodate products with slight differences in size without having to adjust the conveyor. For larger ranges of product sizes, our wedge conveyor is designed to be easily reconfigurable to different widths with little to no line downtime.
Specs:
45 mm, 65 mm and 85 mm belt widths
Minimum lower height: 457 mm (18 in)
Maximum upper height: 6096 mm (240 in)
Maximum individual product weight: 4.6 kg (10 lbs)
Maximum total weight: 90 kg(200 lbs)
Speeds: Up to 52.2 m/min (171 ft/min)
Visit Dorner at Pack Expo!
Pack Expo 2022 will be held in Chicago, from October 23rd to 26th. If you have not registered yet, you can use code 88K41 for a discount at registration. Be sure to visit Dorner at booth N-5725 for live demonstrations of our conveyor systems.
We have many more conveyor systems on display this year, so stay tuned for more previews of our booth!