Engineered Solutions
Inline Labeling and Printing Conveyors
When it comes to applying labels and printing onto products or packages, our inline labeling and printing conveyors provide a highly-accurate and efficient solution for quickly identifying, tracking, or labeling products.
Our labeling conveyors can be programmed for precise placement of product identification at virtually any point in your production line. Whether you need a single label or multiple labels applied sequentially, our team can create a conveyance solution that meets your needs.
Quickly and accurately add labels, tags, and other information to your products during the manufacturing process with inline printing and labeling conveyors from Dorner. 
Applications of a Conveyor System Labeling Solution
Labeling conveyor systems can be used in a variety of markets. In the printing industry and packaging/shipping operations, accurate and efficient labeling is essential. Our team can work with you to design a reliable, automated system that meets your specific requirements to ensure accuracy when marking products and packages.
In the printing industry, efficiency is key, and conveyors are a great way to streamline the printing process. Our conveyors allow you to quickly and accurately apply text, graphics, and more during the printing process.
A combined conveyor belt automatic box label system is great for packaging and shipping processes. You can quickly and accurately label products, packages, boxes, and more with our labeling conveyors, making it easier to sort, ship, and track orders.
We can help you customize your conveyor system to fit your specific needs, whether you need a standard or custom solution. Our conveyors can be used for a variety of applications, from printing barcodes and expiration dates on perishable items to affixing RFID tags and labels to products. 
Your Industrial Printing and Labeling Conveyor: The New DCMove
The DCMove industrial conveyor is a versatile and reliable product and material handling system. It was designed to provide maximum productivity and flexibility, ideal for a wide range of uses in the industrial, commercial, and consumer goods markets.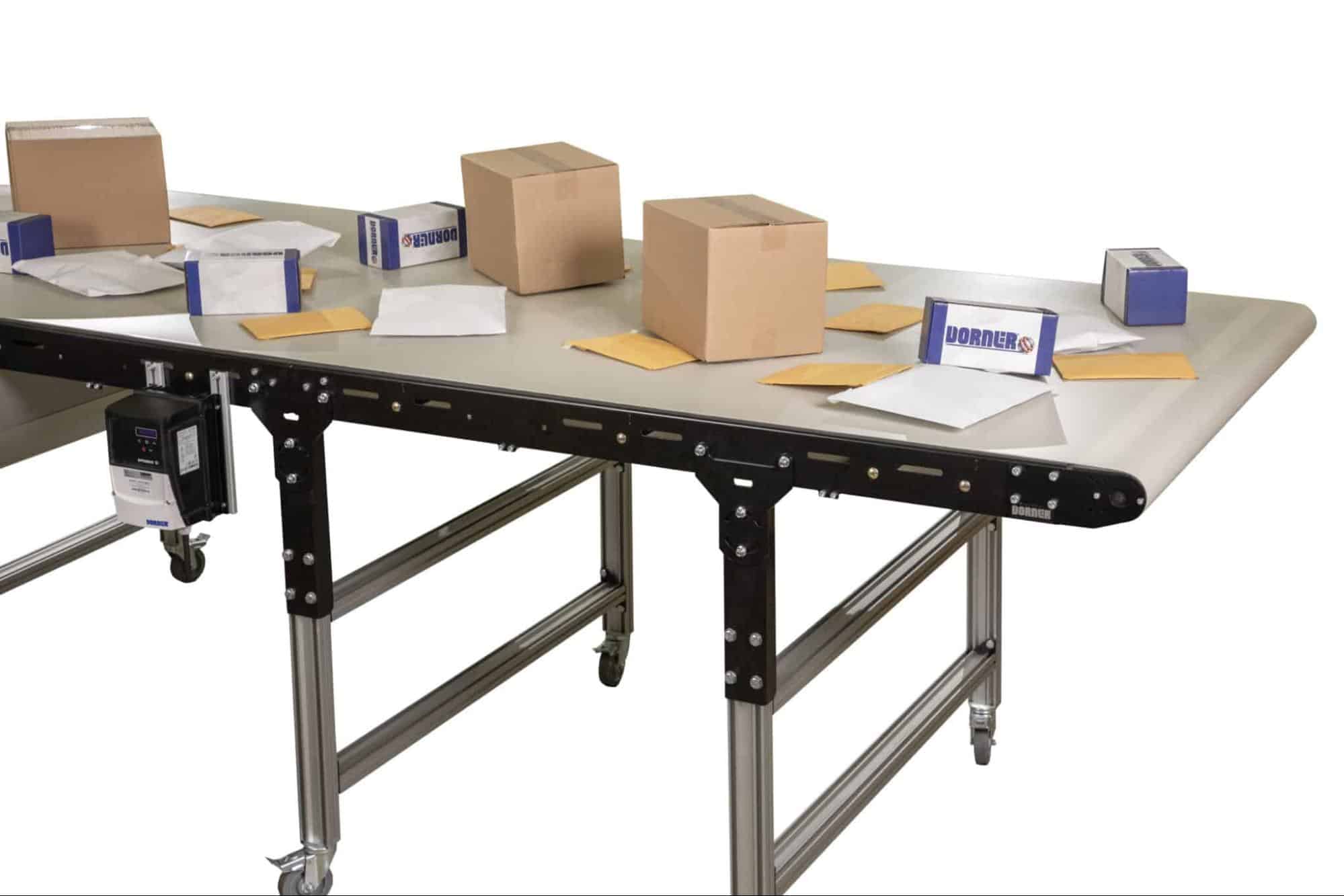 With our standard v-guided belt tracking, precise rack and pinion belt tensioning, and a load capacity of up to 181 kg (400 lbs), the new DCMove conveyor is ideally suited for accurate product placement across a variety of industries, including printing, material handling, and packaging. We can customize the length, width, and belt type (flat or cleated) of your DCMove conveyor system to suit your specific needs and space limitations.
960 to 12,000 mm (38 to 40 ft)
254 to 1,219 mm (10 to 48 in)
Up to 183 m/min (600 ft/min)
Ideal for product assembly, applied printing and labeling, and other material handling applications, the DCMove is suited for a range of industries and applications, including: 
Product Assembly
Product Sortation
Palletizing
Packaging
Distribution Centers
Industrial Material Handling
What Matters Most for Label Print and Apply Conveyor Systems
At Dorner, we understand that every conveyor system should be tailored to your specific requirements. We design our conveyors with the end user in mind, making sure they are easy to use, maintain, and expand as needed.
Our team is committed to helping you find the best conveyance solution for your unique needs, whether you're working with an automatic label printer and applicator or in industrial printing.
When investing in print and label conveyor equipment, the best solution provides the following advantages: 
Whether you're applying text and graphics to paper goods or RFID tags and labels to products or packages, accuracy in placement can make all the difference in product tracking and identification. In-line labeling requires hyper-accurate precision to ensure products are manufactured, labeled, and distributed correctly.
The ability to easily adjust the conveyor for speed and placement of labels is essential in keeping production running smoothly. Paired with your print and apply label systems, our high-speed conveyors are designed to be easily reconfigured when production needs change.
Conveyor systems are the backbone of your production line, so you need dependable equipment that can keep up with the demands of your high-speed, high-accuracy operations. Our conveyors are built for maximum reliability to ensure they perform reliably in even the toughest industrial environments. 
We strive to design our conveyors with the highest levels of efficiency and productivity in mind. With a conveyor system engineered for maximum throughput, speed, accuracy, and flexibility, you can maximize the throughput of your automatic label applicator while minimizing downtime.
Why Precision Is Critical for Print and Apply Labels and Conveyors
Precision is the key to success in all print and apply labeling systems, especially in high-volume e-commerce environments. We understand that accuracy in placement and speed are critical components of successful printing and labeling applications.
If your in-line labeling equipment or printing system does not meet your precision and accuracy needs, you could face a number of costly challenges, including delayed shipments, incorrect labeling, and loss of productivity.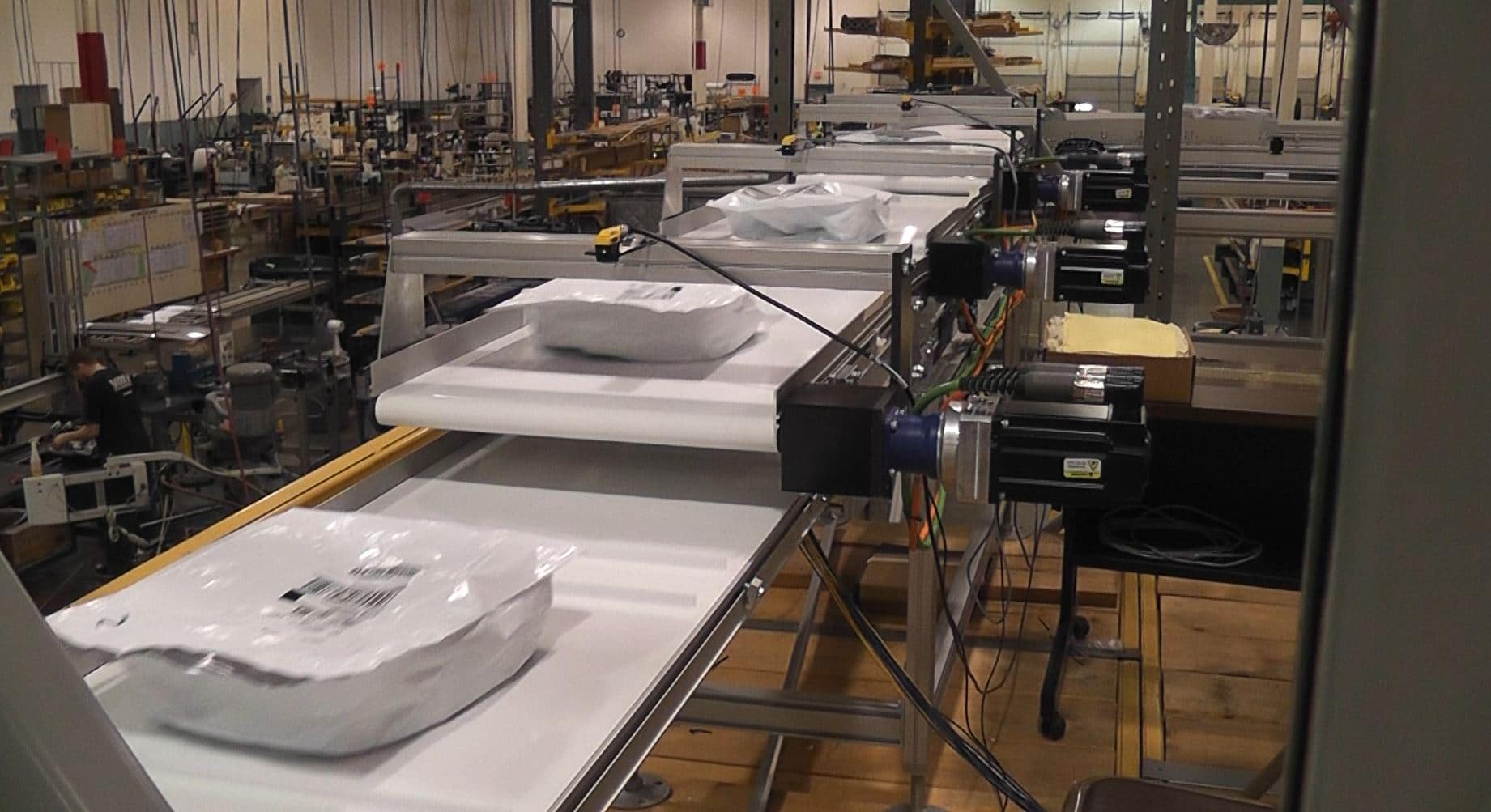 Delivery Delays & Reshipping Costs
When product labels aren't accurate, delays in fulfillment and shipping are practically inevitable. Remedying these issues often entails costly reshipping fees.
If products or packages aren't positioned correctly on a production line, you'll end up with a large volume of mislabeled items, significantly slowing down your operations and increasing costs. 
Customer Confusion & Frustration
In addition to reshipping fees, incorrect labels can lead to frustrated customers and a loss of brand reputation. Customers who receive mislabeled products, as well as those who experience shipping delays firsthand, may be confused or frustrated by incorrect product labeling.
Prompt, accurate delivery of products is essential to customer satisfaction and loyalty, and failing to meet these standards could result in your customers taking their business elsewhere. 
Wasted Product, Time & Materials
The time and materials invested in mislabeled products are wasted resources. When labels are incorrectly applied or incorrect information is printed, your products will have to be reworked or disposed of, leading to additional material costs and further production delays.
Products You Can Process With Print and Apply Labeling Conveyors
Print and apply conveyor systems are versatile and can be used with a variety of products, across industries. For packaging and fulfillment operations, accurately applied printing and labeling solutions are top priorities for the following items: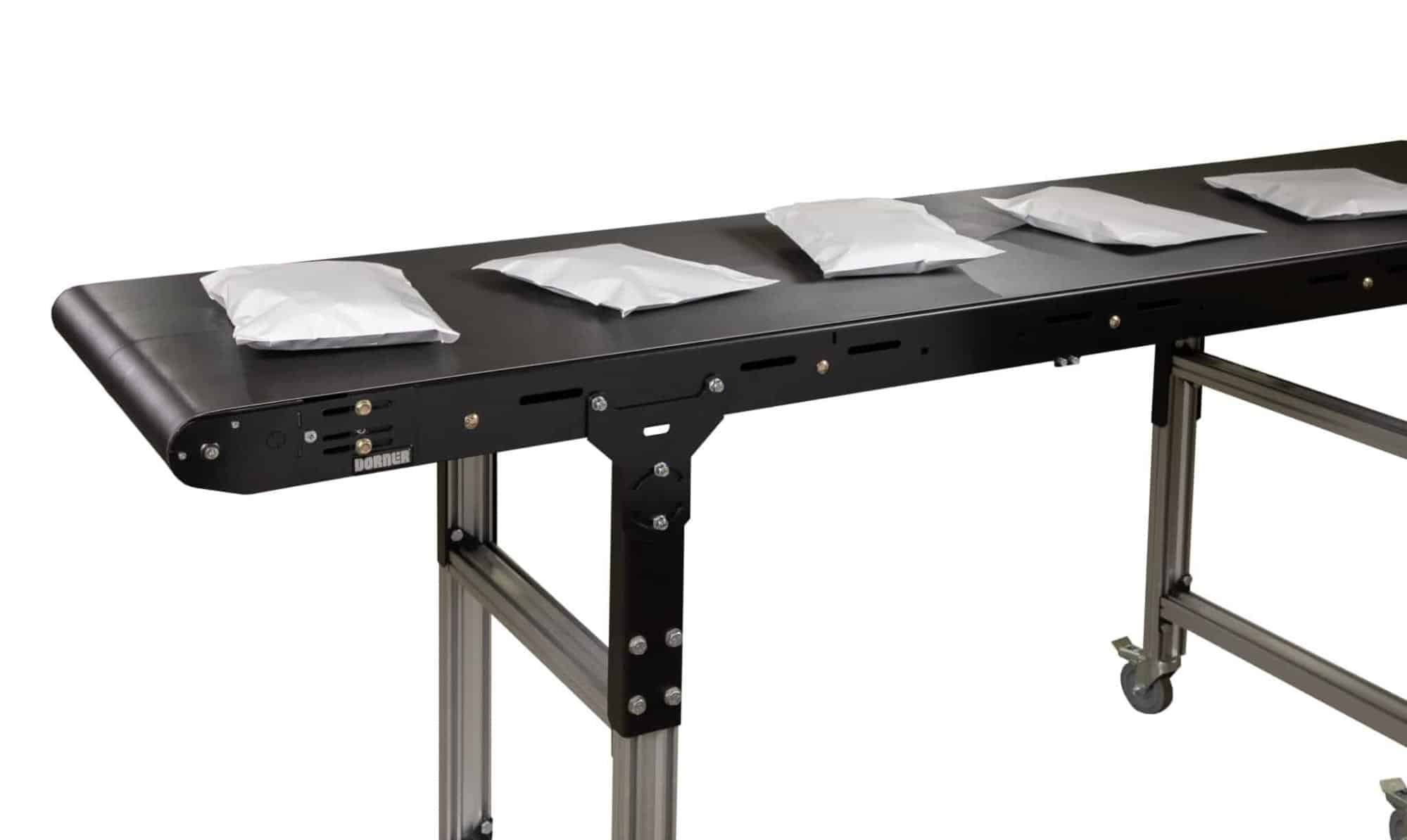 Packaging goods accurately and efficiently is key for seamless order fulfillment. You can combine your label machine with conveyor belt packaging solutions to increase accuracy and efficiency. 
Whether you're automating the process of packaging products for delivery and applying shipping labels or you're bundling items together for distribution and adding barcodes or RFID tags, conveyors are essential parts of the process.
From printing specific information on boxes for product identification to externally labeling them for tracking, you'll need conveyors with enough power and precision to keep up with the demands of your production line. 
Combined with box labeling machines, a high-speed, high-precision conveyor system helps you keep your labeling operations running quickly and accurately.
With a conveyor system designed for speed and precision, you can ensure that your automatic label applicators perform reliably, placing labels in the correct place with the right amount of pressure. This helps to improve both accuracy and efficiency, ultimately reducing errors and saving you time and money. 
Bottles, Jars, & Containers
When you need to label bottles or containers quickly and accurately, you'll need a labeling system designed to handle your unique product while maintaining just the right speed and precision that can keep up with your production line. With label print and apply solutions combined with conveyors, you can maintain the accuracy and speed necessary to securely apply labels to glass and plastic containers. 
For products that require folding cartons, such as food items or retail products, you'll need a print and apply labeling system and conveyor belt solution that can meet the specific speed and accuracy requirements of your production line.
A reliable and efficient fold carton labeler machine combined with conveyors will ensure that your orders are assembled, labeled, and organized correctly. 
What to Look for When Selecting Conveyors for Your Automatic Labeling Machines
If you need to improve, upgrade, or replace your current print and label operations, finding a suitable conveyor system is essential. Depending on your production needs, you should look for specific features when selecting conveyors for your labeling operations, such as: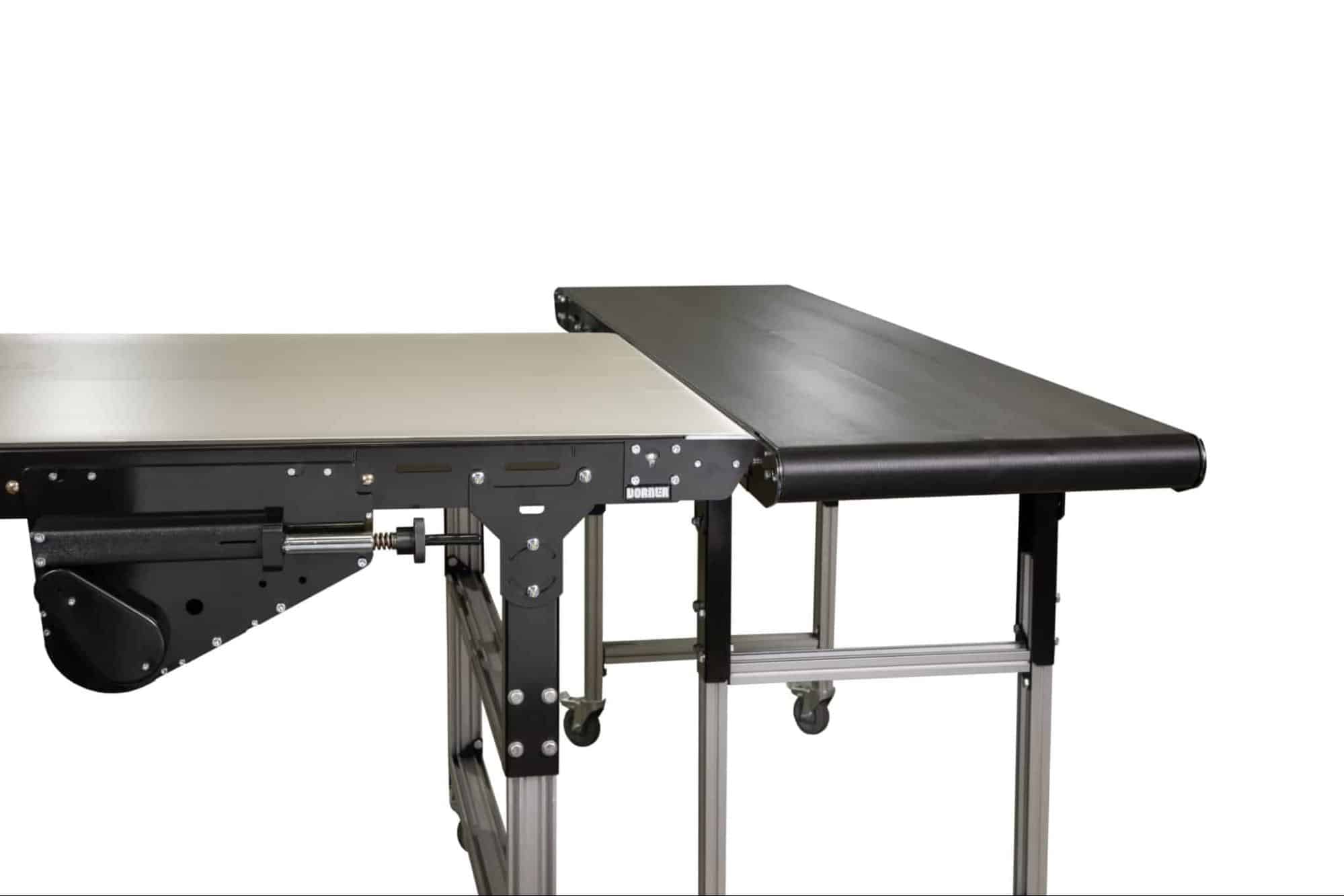 Compatibility with Labeling Machinery
It's important to make sure that the conveyor you choose is compatible with your high-tech printing and labeling machines. You'll need to ensure that the speed and accuracy of both your print and apply label machine and conveyor are aligned, as this will help you avoid any potential errors or mislabeled products. 
If you're processing heavier items or large quantities of items at once, be sure to take into account the conveyor's weight capacity. You want to be able to trust that the conveyor system you choose is powerful enough to reliably handle the products you're labeling. 
Size and Length of the Conveyor
Smaller operations may require a shorter label machine conveyor, while larger ones can benefit from longer, heavier duty systems. The space you have available in your facility will also impact your options.
At Dorner, we understand that space is a premium, and we offer a number of space-efficient, compact, or flexible conveyors to suit your needs. 
Adaptability and Expansion Capabilities
Depending on your specific applications and growth initiatives, finding a conveyor that can easily adapt and expand as you grow is key. Our conveyor systems are designed to meet the changing needs of any industry, allowing you to add or remove modules without replacing your entire setup.
Having reliable, high-precision conveyors is essential for efficient operations, especially if you need to make adjustments to your print and apply label applicators. If your system handles products or packages of varying shapes and sizes, the ability to adapt to different items without detracting from the accuracy of label placement is critical for maximum efficiency. 
How Print and Label Conveyors can Enhance Your Warehouse Labeling System
Using a print and label conveyor system in your warehouse can help you ensure that all labels are accurately applied to each product. This helps reduce the risk of incorrect labeling while streamlining process flow, and providing increased efficiency and accuracy.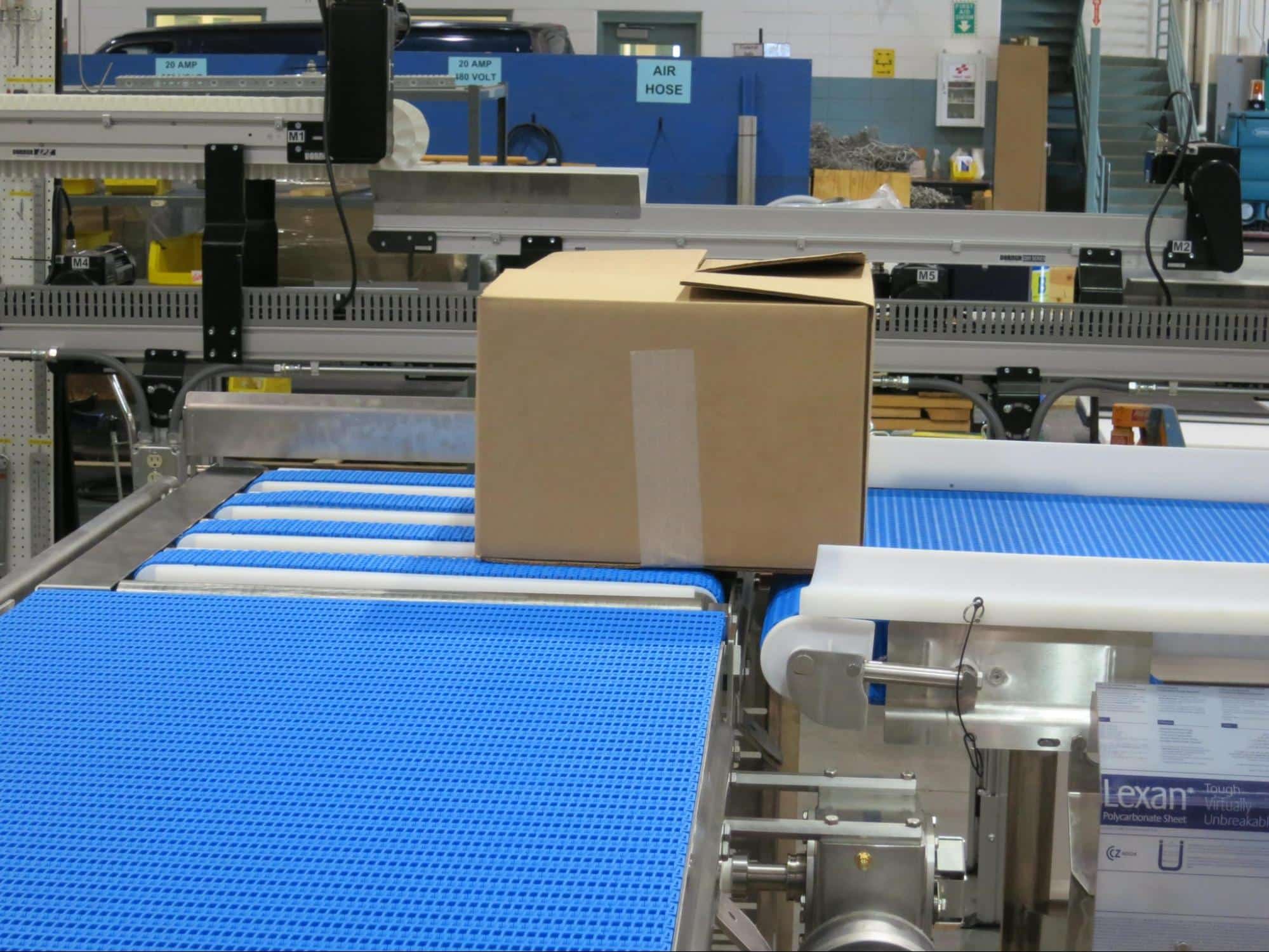 Conveyors are designed to ensure that products are moved safely and quickly without requiring as much strenuous manual labor. Combined with the need for meticulous shipping label placement, conveyors can provide repeatable results while keeping workers safe from potential hazards and reducing the risk of product damage or mislabeled items.
With an efficient print and label conveyor system working together with systems like an automatic box label machine, you can rest assured that your labeling process will be error-free and reliable from start to finish. 
Integrating printing and labeling conveyors on your warehouse packaging line can drastically reduce the time needed to manually label each product with exact precision. Automating the labeling process can help you increase production speed, which in turn will help you reduce costs and improve customer satisfaction. 
Accurate Placement of Labels
As one of the leading packaging conveyor manufacturers, Dorner offers a variety of solutions designed to apply labels accurately and precisely onto each product. Combined with automatic box labeling machines, our conveyors can position products and packages on the belt to ensure that labels are correctly placed and affixed.
Our custom systems can help ensure that the correct label is applied every time, without requiring any changeover for items of different shapes or sizes. 
Optimize Your Print and Apply Labeling Operations With Dorner Conveyor Systems
As a trusted printing, labeling, and packaging conveyor manufacturer, Dorner offers reliable and durable conveyors that are designed to help streamline your printing, labeling, packaging, and other material handling operations. Our custom label conveyor systems provide accurate label placement for maximum efficiency and customer satisfaction. 
The DCMove industrial conveyor system is a great tool to pair with your automated labeling and printing operations. With its ability to meet the needs of your facility's specific requirements, this conveyor can help increase productivity while reducing costs, ensuring that all labels are accurately placed and affixed on every item regardless of size or shape.
Ready to discuss your custom printing and labeling conveyor solution?