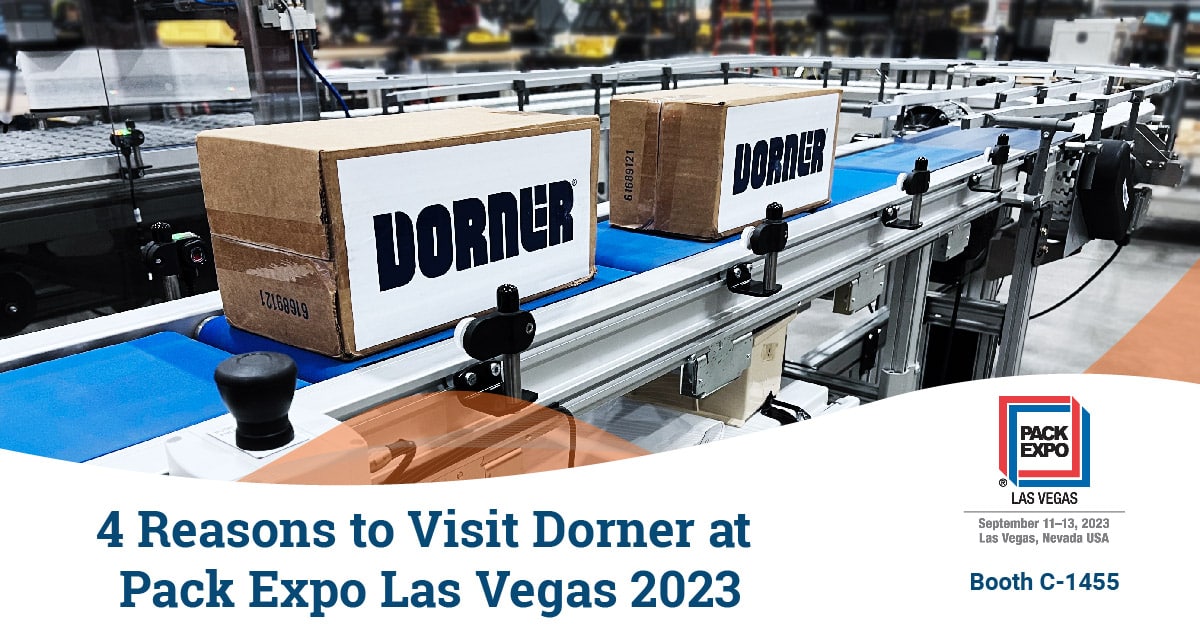 Pack Expo 2023 is just around the corner, and the Dorner team couldn't be more thrilled to showcase our latest innovations and cutting-edge solutions at our booth. This year's event promises to be even more impactful, with an array of groundbreaking technologies that will revolutionize the manufacturing and packaging industry, and we are excited to be a part of it!
Here are 4 reasons you won't want to miss our booth at Pack Expo this year.
1. Conveyors Designed for Every Industry
This year at Pack Expo, Dorner will be unveiling the latest in conveyor technology designed to enhance your productivity and reduce downtime. With displays showcasing our cornerstone systems, such as the low profile 2200 and heavy duty 3200 series, as well as never before seen conveyors, there will be something for every industry!
For the first time ever, our newest conveyor, the AquaGard GT, will be featured in a combined conveyance and accumulation system with technology from our partners at Garvey. This unique display demonstrates the easy integration and flexibility of the AquaGard GT as well as that of our FlexMove series. In an era of Industry 4.0, connectivity is key to optimizing your processes, and this new system demonstrates how our conveyors integrate seamlessly with your existing production setup and quality monitoring infrastructure.
2. Sustainable & Energy Efficient Solutions
As advocates for sustainability, we've integrated eco-friendly features into our conveyor systems. Learn how these initiatives not only benefit the environment but also positively impact your bottom line. Our team will be on hand to explain how these green solutions can optimize energy consumption, reduce waste, and lead your business toward a greener and more sustainable future.
3. Conveyance & Accumulation Experts in One Place
We are very excited to be combining our booth with Garvey for Pack Expo 2023. Conveyors and accumulators work hand in hand to improve line efficiency and throughput in manufacturing, packaging, and bottling applications. This combined effort will give you the opportunity to meet with both of our teams to find a custom solution to meet the needs of your production line.
4. Innovative Tools Tailored to Your Needs
Dorner's Pack Expo booth will also have a comfortable space where you can meet with our conveyor experts and get a one-on-one demonstration of our top-of-the-line CAD Configurator, DTools. With this tool, you can configure a customizable conveyor system and submit it for a quote in minutes! With some recent updates, DTools has new features that have made it easier than ever to use.
Stop by Garvey's team on the other side of the booth to learn about their unique line analysis tool to understand where your production line might have inefficiencies and how to improve it. Garvey's accumulation technology helps manufacturers maximize efficiency and throughput with strategically placed accumulators and conveyance systems. Their team can take you step by step through the line analysis process to understand the goals of your production and what accumulation solutions will help you get there.
Meet with Experts in Precision Conveyance Solutions
Pack Expo is the perfect opportunity to meet with experts from Dorner and Garvey to learn more about how we can help improve efficiency and throughput in your production line. Whether you're looking to add some conveyors to your existing line, or in need of a complete system for production and packaging, our team can help you identify the solution that is best for your needs.
Keep an eye out for future releases with more details on the conveyance technology that we will be featuring at the show and be sure to visit Dorner and Garvey at booth C-1455 September 11-13.