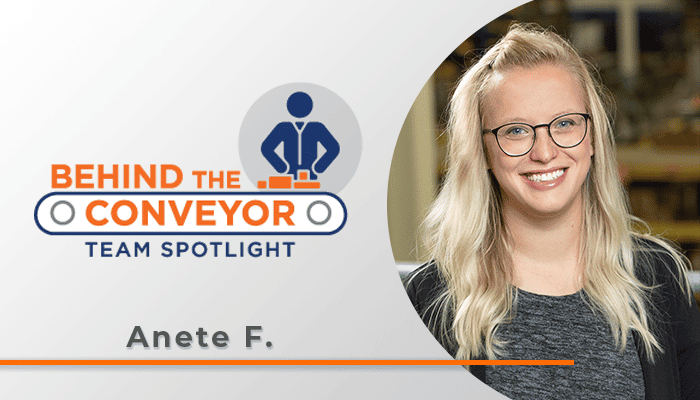 Behind the Conveyor – Team Spotlight
Dorner has become a global brand in conveyor automation – and that's all thanks to our team. In this blog series, we highlighted talented professionals whose dedication and passion are making a positive impact on your conveyor systems. These are the faces behind the brand who are helping to transform conveyor automation … and having fun doing it!
Meet Anete
For Anete F., working on projects that become tangible products is only one of the many enjoyable parts of working in manufacturing.
Anete has been a Mechanical Design Engineer in Dorner's New Product Development department for almost 3 years. Coming from the world of custom engineering projects, Anete has experienced the challenges of designing and building completely custom products, as well as designing standard catalog products that can be built and repeated again and again.
"I like to help create products that make life easier for other engineers and customers." The NPD group designs and modifies Dorner's standard conveyors and parts, which can then be used as the starting point for custom systems or built quickly as standalone conveyors for customers.
Most recently, Anete took the lead on one of Dorner's newest conveyors, the DCMove Belted Conveyor. This was the first time she led a new product development project from start to release. It's been a challenge as well as a great learning experience, and Anete is eager to take on more projects in the future!
When asked what she enjoyed about being a design engineer in manufacturing, she responded "making something that goes from a drawing to a product you can touch. I can show my kids a conveyor and say, 'Mommy helped make that.'"
The Dorner Difference
It's professionals like Anete that go above and beyond each and every day. Our global workforce takes pride in partnering with our customers to optimize efficiency and productivity in their applications. We accomplish this through the design, manufacture, support, and distribution of high-quality conveyor systems that meet our demanding standards.
That's the Dorner Difference