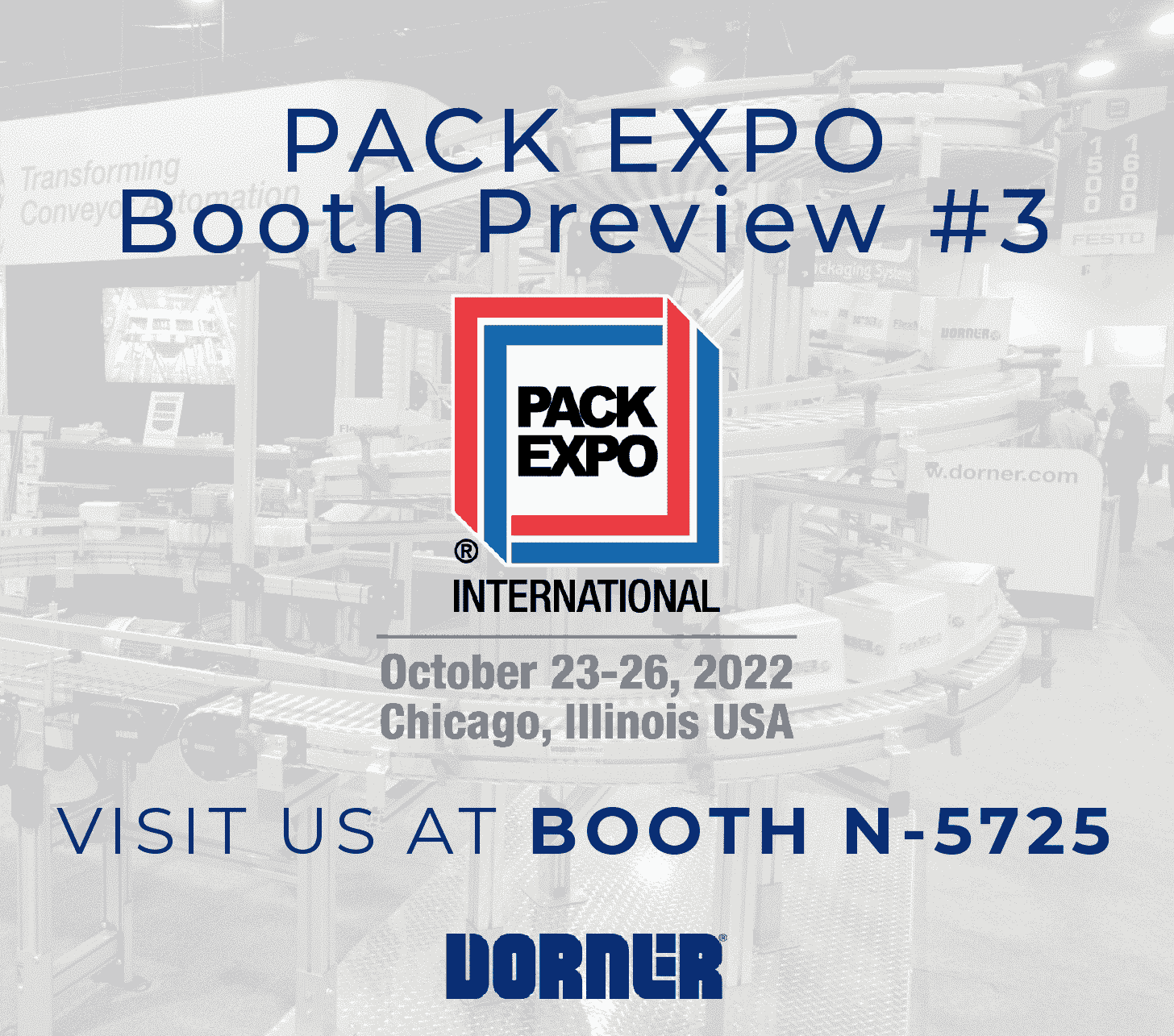 Only two weeks left until Pack Expo International! The Dorner team is working hard to prepare all of our innovative conveyor demonstrations for the show. Along with our full system loops, we have standalone displays of some of our industry-leading conveyor systems.
Shuttle ERT150
Dorner's Edge Roller Technology (ERT) offers a unique open frame design that is both durable and easy to maintain. Our patent-pending gearbox design gives operators the ability to remove and replace individual rollers, as well as create custom zoning with ease.
The ERT150 is our smaller edge roller conveyor system designed to meet the specialized needs of electronic goods and medical equipment manufacturing. The hydraulic-free design and frictionless rollers make this conveyor system ISO Class 4 verified for cleanrooms* to not add dust or contamination to a cleanroom manufacturing environment.
Specs:
80 mm to 480 mm wide
Lengths from 128 mm to 2432 mm (in 64 mm increments)
24 mm diameter rollers on 32 mm centers
Loads: up to 16 kg (35 lbs) per pallet or tray
Speeds: up to 37 m/min (121 ft/min)
160 to 320 mm pallets with static conductive HPDE skirt
AquaPruf Ultimate
The AquaPruf Ultimate conveyor is our heavy-duty sanitary conveyor, designed for high-pressure and chemical washdown procedures. Like the rest of the AquaPruf line, this conveyor is built with a tig-welded stainless-steel frame, tip-up tail for easy belt changeover, and belt lifters to make cleaning a breeze.
Our AquaPruf Ultimate also takes sanitization one step further with drive sprockets designed with a quick cleaning system to ensure cleaning can be done below the sprocket surface. Additionally, all surfaces on internal frame components are polished to 32 micro inches, and the system includes our gearless, oil-free iDrive2 motorized roller.
Specs:
3A certified for raw meat and poultry, dairy, and RTE foods
Loads up to 341 kg (750 lbs) or 98 kg/sq m (20 lbs/sq ft)
Belt speeds up to 78.6 m/min (260 ft/min)
Belt widths: 150 mm (5.9 in) to 1200 mm (47.3 in)
Conveyor lengths: 915 mm (36 in) to 25000 mm (984 in)
FDA-approved belting and plastic components
2200 LPZ
Our 2200 LPZ display shows one of the many options Dorner offers for elevation changes within a production line. This a low-profile z-frame conveyor that can easily fit under other machinery for easy integration into a production line while saving on valuable space.
Available in a variety of configurations with a flat or cleated belt, the LPZ is perfect for bringing product to the right level for processing, inspection, or interfacing with robotics.
Specs:
Loads up to 50 lbs (23 kg)
Belt speeds up to 250 ft/min (76 m/min)
Belt widths: 6″ (44 mm) to 24″ (610 mm)
Conveyor lengths: 24″ (610 mm) to 18′ (5,486 mm)
Fixed angle: 30˚, 45˚, and 60˚
Cleats available from 0.24″ (6 mm) to 2.36″ (60 mm) high
Material Handling Loop
Finally, we are displaying two brand new products from Dorner designed to meet the demands of eCommerce, logistics, and material handling applications.
2700 Medium Duty
The new 2700 Medium Duty conveyor offers a middle option between the lightweight applications of our 2200 series and the heavy-duty applications of our 3200 series. With a weight rating of up to 150 lbs and increased widths up to 36 inches, this conveyor can handle medium-weight or bulkier product.
Additionally, the low-profile, lightweight frame of the 2700 system means it can easily be mounted to AVGs without significantly affecting the weight of product the robot can carry.
Specs:
Widths from 10in-36in in 2-inch increments
Lengths from 2ft-18ft
2.4in roller diameters with 5/8in nose bar option to handle smaller packages
Loads up to 150lbs
Speeds up to 400ft/min
DCMove Belted Conveyor
For heavy duty industrial applications, our team has designed the DCMove Belted Conveyor. Featuring a painted steel frame and rubber belting options, this conveyor system offers the rugged dependability needed for industrial and material handling applications, while still maintaining the precision and accuracy that Dorner is known for.
Specs:
Widths from 6in-48in in 2-inch increments
Lengths from 2ft-40ft
3in roller diameters with 1-1/4in nose bar option to handle smaller packages
Loads up to 400lbs
Speeds up to 600ft/min
Stop by Dorner's Booth at Pack Expo
There's still time to register to attend Pack Expo 2022 and add Dorner's booth to your event plans! We have a lot of systems to show this year and are excited to help you find the conveyance solution that meets your needs!
Click here to register to attend Pack Expo and use code 88K41 for a discount.
*To verify clean room requirements, an unloaded base conveyor was tested and did not generate particulate that would be beyond the specified standards. However, the verification does not provide assurance that any or all applications will meet this requirement. Application testing is recommended to ensure clean room standards are being met. Dorner takes no responsibility in the clean room performance of the final conveyor or application.