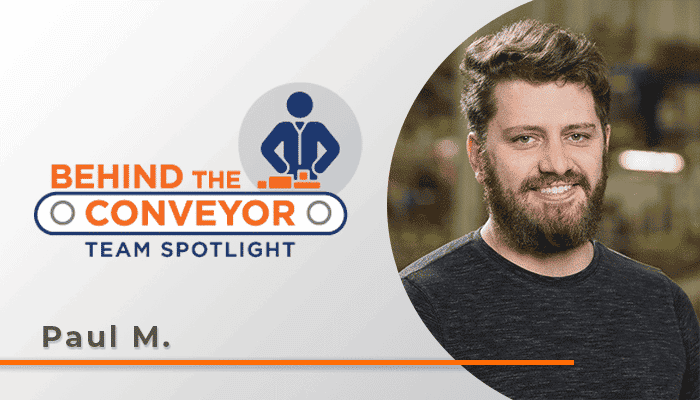 Behind the Conveyor – Team Spotlight
Dorner has become a global brand in conveyor automation – and that's all thanks to our team. In this blog series, we highlighted talented professionals whose dedication and passion are making a positive impact on your conveyor systems. These are the faces behind the brand who are helping to transform conveyor automation … and having fun doing it!
Meet Paul
Want to know what a project manager does? Just ask Project Manager Paul M.
"To really simplify it, solve problems," he said with a chuckle. "Whatever they are as they come up, whether it's something to do with engineering, scheduling in the shop, customer needs, changes, install schedules – you name it. Anything that comes up, it's kind of up to me to smooth it out and move forward."
A Dorner career spanning more than eight years working with both mid-tier and high-level projects, Paul understands the importance of adaptability and action.
"What I enjoy most here at Dorner is that we're doing custom projects all the time; we're always seeing something different," he said. "I'm a former engineer here before I moved into project management, so I have an appreciation for the design aspect.
"As an engineer or a project manager, it's all about solving problems, and if it's the same problem over and over and over, it gets boring."
When asked what kind of advice he could give to customers to help ensure their projects smoothly move forward, he said, communication.
"Knowing as much information as possible up front is the best way to streamline things," Paul said. "If you're looking to expedite the process and hit targeted dates, the clearer you can be about what you are trying to do and the expectations, that is key."
Paul said his team within the Engineered Solutions Group are close – which creates a great working environment.
"I'd consider all of us friends," he said. "We're all similar age, similar interests, we're all willing to help each other with any issues that come up. We are all willing to help each other."
The Dorner Difference
It's professionals like Paul that go above and beyond each and every day. Our global workforce takes pride in partnering with our customers to optimize efficiency and productivity in their applications. We accomplish this through the design, manufacture, support and distribution of high-quality conveyor systems that meet our demanding standards.
That's the Dorner Difference.