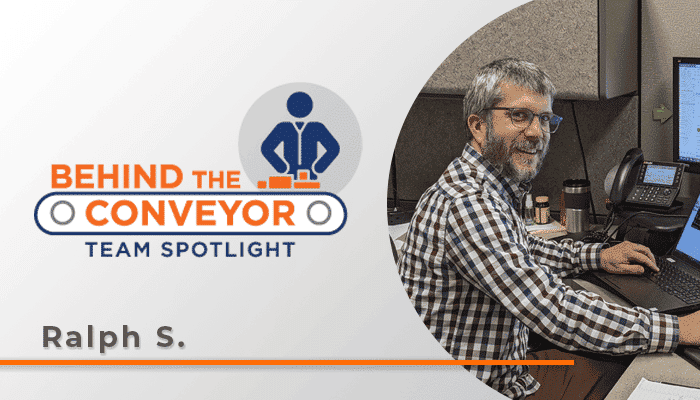 Behind the Conveyor – Team Spotlight
Dorner has become a global brand in conveyor automation – and that's all thanks to our team. In this blog series, we highlighted talented professionals whose dedication and passion are making a positive impact on your conveyor systems. These are the faces behind the brand who are helping to transform conveyor automation … and having fun doing it!
Meet Ralph S.
Many people may not associate the world of information technology (IT) like being a plumber … but Ralph thinks that's a perfect analogy.
"People expect to turn the water faucet and the water comes on, it's the same thing with IT. People turn on their computer and expect email to come through," Ralph said. "My job is to make sure that email is flowing through and doesn't get stopped."
Ensuring smooth email communications is just one of many duties Ralph performs everyday as Dorner's senior IT administrator. During his 11-year career at Dorner, Ralph is a jack-of-all-trades when it comes to IT functions, from helping people change printer toner cartridges, designing networks, coordinating shared servers with Dorner's international locations, and everything else in between.
"I enjoy the variety of work that I'm doing; when it comes to IT, you name it, I touch it," he said.
Everyone has a critical role to fulfill in making Dorner successful, and Ralph gets great satisfaction in doing his part to keep people connected.
"I think one of the keys to our overall success is that everyone is very helpful," he said. "We're always willing to lend a hand to somebody else, or give a little more information, or point people in the right direction to find what they're looking for. I think everyone has that teamwork mentality here at Dorner."
The Dorner Difference
It's professionals like Ralph that go above and beyond each and every day. Our global workforce takes pride in partnering with our customers to optimize efficiency and productivity in their applications. We accomplish this through the design, manufacture, support and distribution of high-quality conveyor systems that meet our demanding standards.
That's the Dorner Difference.