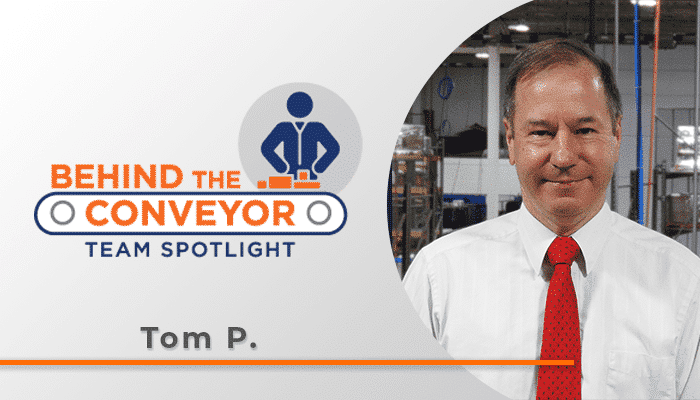 Behind the Conveyor – Team Spotlight
Dorner has become a global brand in conveyor automation – and that's all thanks to our team. This blog series highlights professionals whose dedication and passion positively impact your conveyor systems. These are the faces behind the brand who are helping to transform conveyor automation and having fun doing it!
Meet Tom
Mechanical Engineer, Tom P., has been a facet of Dorner's team for over 34 years. While he has seen many changes over the years, he has also been a key player in Dorner's growth as a premier conveyor manufacturer.
As a belting specialist, Tom worked on the equipment and method for welding cleats onto belts, and that method is still used today in our belting department. The ability for Dorner to cleat weld belts in-house was a vital development that allowed us to reduce lead times while still providing the highest quality product for customers' needs.
Being in manufacturing, it is rewarding to "see how the work that you do creates physical products" and how those products function to help people. Tom enjoys that his position in manufacturing provides the opportunity to utilize his skills and creativity to help both co-workers and customers every day.
Tom sees more energy-efficient and automated systems emerging as the conveyance and manufacturing industries continue to grow. Technology and sensors that provide feedback on equipment conditions and product quality as it passes through the manufacturing process will continue to improve and become a vital part of every production line.
The Dorner Difference
It's professionals like Tom that go above and beyond each and every day. Our global workforce takes pride in partnering with our customers to optimize efficiency and productivity in their applications. We accomplish this through designing, manufacturing, supporting, and distributing high-quality conveyor systems that meet our demanding standards.
That's the Dorner Difference