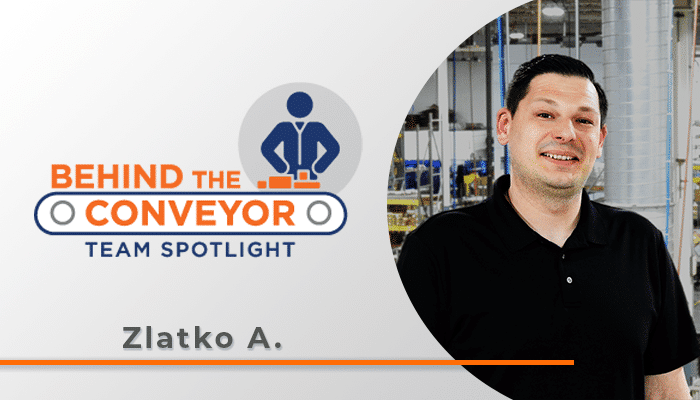 Behind the Conveyor – Team Spotlight
Dorner has become a global brand in conveyor automation – and that's all thanks to our team. In this blog series, we highlighted talented professionals whose dedication and passion are making a positive impact on your conveyor systems. These are the faces behind the brand who are helping to transform conveyor automation … and having fun doing it!
Meet Zlatko
For Zlatko A., being an order entry specialist for Dorner is more than just processing incoming conveyor orders. It's being an important part of taking a design and turning it into a finished product. "I like to think of us as Order Entry Heroes."
Zlatko started his career at Dorner on the shop floor as a FlexMove technician and quickly transitioned into a "flex tech" role where he shifted through multiple cells on the manufacturing floor to help where needed. Experiencing numerous aspects of building conveyors gave him a great understanding of the different conveyor lines Dorner offers and allowed him to work on many challenging projects.
Since shifting into the Order Entry Specialist position, Zlatko gets to see the other side of the business, learning how the finished products are used, what products are ultimately moved on them, and how they benefit customers. He likes having the opportunity to help customers better understand the ordering process from reviewing the conveyor system to logistics and fulfillment.
The phrase "manufacturing improves lives" is accurate in his eyes. Today, products can be produced faster for less money, and are more readily available thanks to innovative engineering and continuously evolving manufacturing technology. What makes Dorner special is that we're not just a manufacturer, "We manufacture for the manufacturers." While manufacturers who make consumer goods might touch only one or two industries, conveyors are used in a wide breadth of industries and are needed for the manufacturing and processing of almost any product. That's what excites Zlatko about being a part of Dorner.
The Dorner Difference
It's professionals like Zlatko that go above and beyond each and every day. Our global workforce takes pride in partnering with our customers to optimize efficiency and productivity in their applications. We accomplish this through the design, manufacture, support, and distribution of high-quality conveyor systems that meet our demanding standards.
That's the Dorner Difference