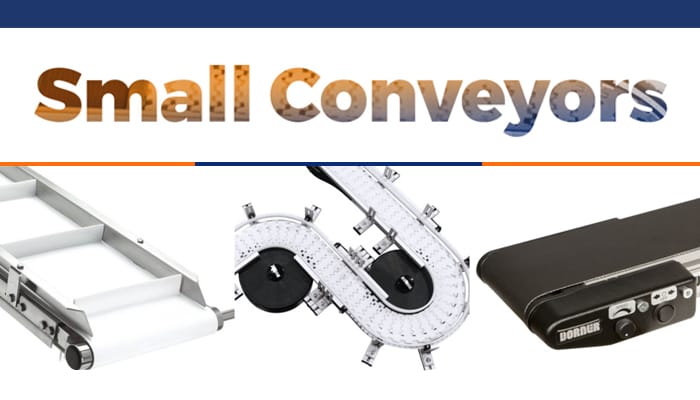 Dorner offers a wide range of small conveyors designed to move parts and product of all sizes, shapes and weights. Our small conveyors are available in belt widths as slim as 1¾ inches (44 millimeters), useful in conveying small product such as pharmaceutical drugs and perfume bottles, to larger widths up to the task of moving large boxes.
Our offerings are certain to meet your business' needs, with our small conveyors available in standard options as well as tailor-made customized conveyor solutions to meet your business' application needs. Small conveyors are also referred to as small part conveyors and small portable conveyors.
Features of Small Conveyors:
Available in ultrasmall to small conveyor belt widths.
Available in ultrashort to mid-size conveyor belt lengths
Portable, low-profile designs make them extremely valuable additions in tight places.
May significantly increase a business' efficiency and productivity.
Sleek frame sizes allow them to easily integrate into machinery and equipment.
Small Conveyor Offered by Dorner:
2200 Belted Conveyors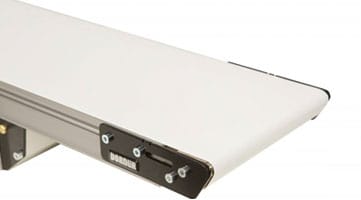 Featuring a rigid and robust single-piece frame that reduces the number of needed stands, Dorner's 2200 Series Belted Conveyors are designed for small- to medium-size part handling.
They are generally used for automated and manual assembly; inclines and declines; industrial applications; packaging; part accumulation, infeed and outfeed; precision part movement; and small-part handling, positioning and transfers.
2200 Modular Belt Conveyors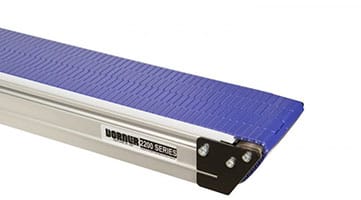 Our low-profile 2200 Modular Belt Conveyors, featuring a plastic chain, are suited for applications in the assembling, general manufacturing, metalworking and packaging industries.
Common small-belt conveyor applications include part accumulation, small-part transfers and small- to medium-part handling. With an open frame design, Dorner's 2200 Modular Belt Conveyors are ideal for water and chemical drainage as well as air cooling.
2200 Precision Move Conveyors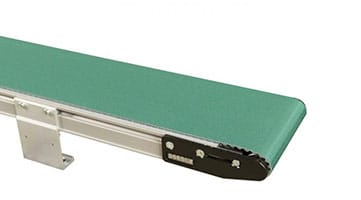 Dorner's 2200 Precision Move Conveyors are ideal for accurate small part handling and positioning, automated and manual assembly, machine integration, robotic pick-n-place, precision indexing, precision automation and part movement, and timed conveying.
These small conveyors are looked to when customers' applications require accurate alignment of time and distance.
FlexMove Conveyors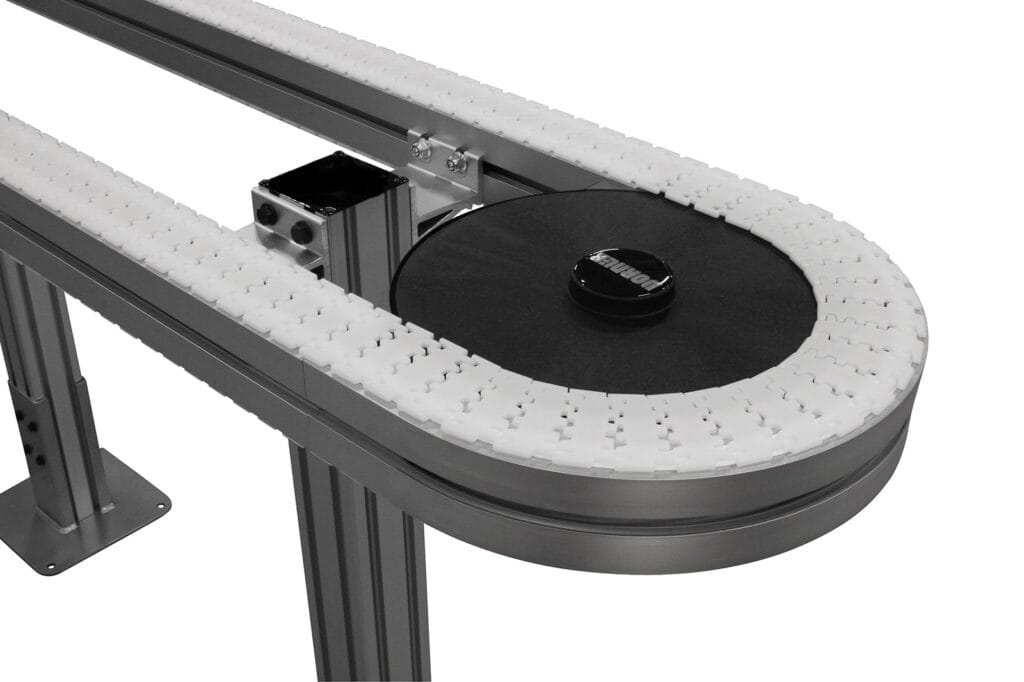 Dorner's FlexMove Conveyors are best for accumulation, assembly automation, buffering, complex configurations and curves, jogs, incline and decline.
These small part conveyors are also suited for elevation changes, long lengths, machine conveyance, packaging, part handling, transfers and tight spaces. FlexMove Conveyors are ideal for facilities in the assembly automation, medical, life sciences, packaging and processing industries.
AquaGard 7200 and 7300 Conveyors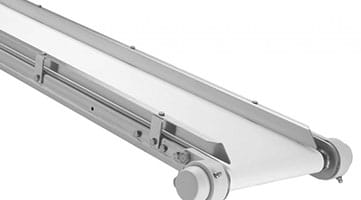 Dorner's AquaGard 7200 Conveyors and AquaGard 7300 Conveyors are sanitary conveyors, with the former rated for low-pressure washdown and the latter rated for high-pressure washdown, both with soap and water cleaners.
They are designed to withstand loads up to 60 pounds, with belt speeds reaching speeds as high as 264 feet per minute.
1100 Belt Conveyors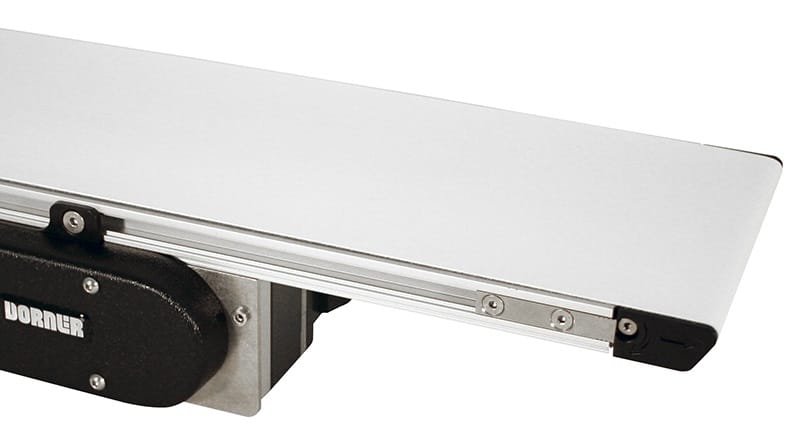 Dorner's 1100 Miniature Belt Conveyor is known for being North America's smallest-profile conveyor.
This extremely small portable conveyor is exceptional for small or lightweight product movement and is used widely in the medical, life sciences and pharmaceutical industries.
More Information
Find more information on our Small Conveyors page including:
Which of Dorner's small part conveyors work best for specific industries and applications
Common questions about small conveyors