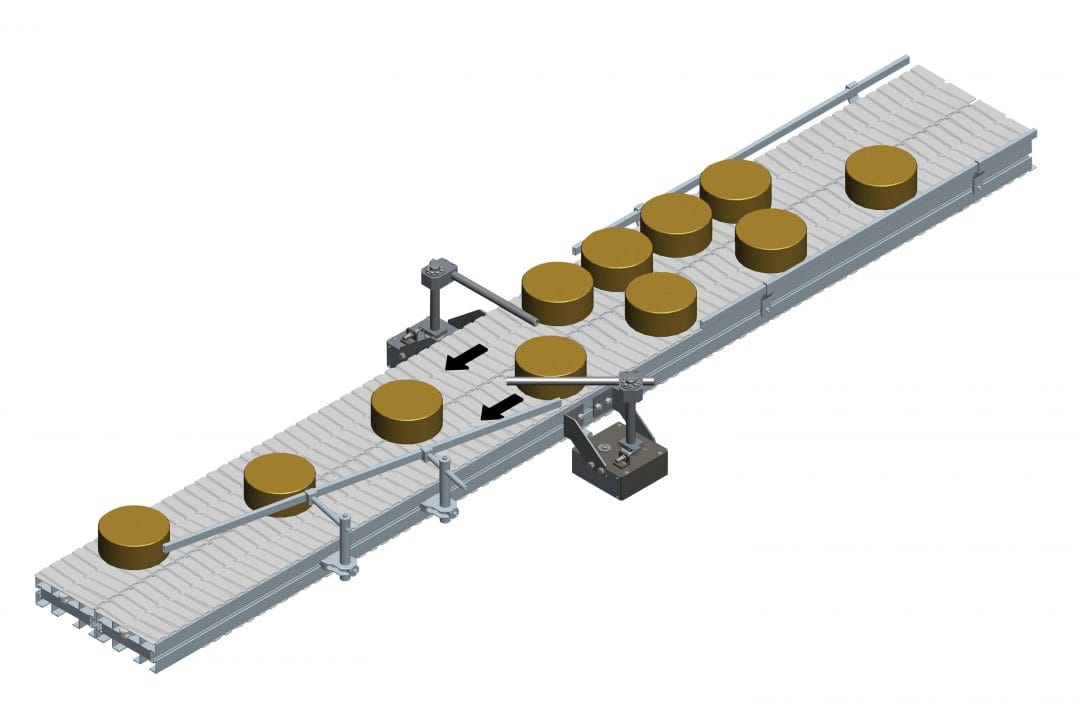 The new FlexMove Side Acting Merge Module from Dorner is a fully mechanical design to simply and easily merge products from two lanes into one on FlexMove conveyors.
The FlexMove Side Acting Merge Module is a mechanical dual merge gate that operates in a first-in, first-out style of merge. As products in lane one reach the gate, that gate opens allowing those products to pass through, while simultaneously locking the gate in lane two, preventing those products from moving.
When the products from lane one have passed and that gate closes, the gate on lane two opens, allowing those products to pass. This action creates diversion and activation necessary for merging products from two lanes down to one. Additionally, the FlexMove Side Acting Merge Module is fully mechanical, and does not require electrical components, programming or shop air to operate.
The FlexMove flexible chain conveyor brings the best engineering and performance standards in flexible conveying automation. These aluminum-frame, flexible chain conveyors are ideal when floor space is limited as they are designed to make tight 360° turns in and around machinery and equipment. FlexMove conveyors are ideal for packaging, part handling, product transfers, assembly automation, machine conveyance and tight spaces.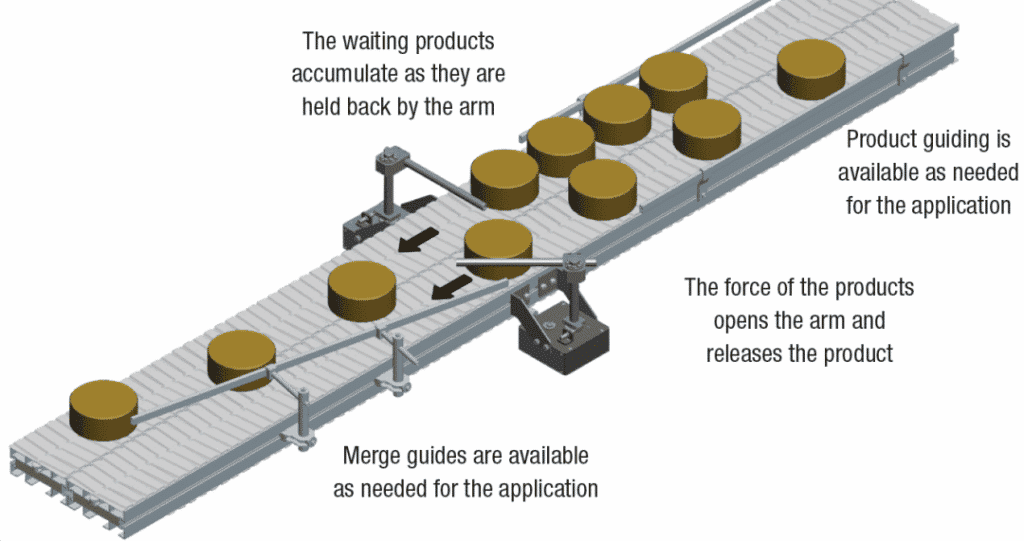 Features and benefits of the new FlexMove Side Acting Merge Module include:
Activate arms are adjustable in both height and length
The force required to activate the divert arm can be modified to adjust to different products; products must be able to withstand some back pressure
Designed for operator safety, no guarding required
Available on FlexMove conveyors

FS (65 mm), FM (85 mm), FC (105 mm), FL (150 mm), FU (180 mm) and FV (260 mm)

Side Acting Merger is not suitable for high-speed applications
Minimum single product weight: 0.5 kg
Maximum single product weight: 15 kg
Maximum product accumulation weight: up to 45 kg
For more information on the FlexMove Side Acting Merge Module from Dorner visit the Product Page.