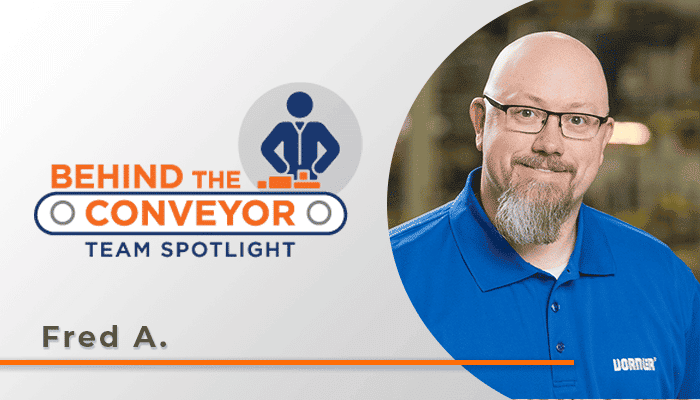 Behind the Conveyor – Team Spotlight
Dorner has become a global brand in conveyor automation – and that's all thanks to our team. In this blog series, we highlighted talented professionals whose dedication and passion are making a positive impact on your conveyor systems. These are the faces behind the brand who are helping to transform conveyor automation … and having fun doing it!
Meet Fred A.
During his seven-year career at Dorner, Fred has picked up quite a bit of knowledge around the company's conveyor solutions. It's this knowledge that drives Fred day in and day out.
He prides himself on being dependable, staying visible and helping everyone. Takeaways that would benefit anyone, but really shine in Fred's role as Application Organizer.
In this role, Fred works directly with customers on vetting out their conveyor projects for build out, quoting, and ultimately, viability through the Dorner manufacturing process. He's learned the series of questions, and timing on when to ask each, that provide the complete picture to his teammates in quoting and client services.
"Being on the front end of what turns into a big project is exciting and rewarding." A complex project sparks Fred's background in mechanical design. And it launches a project team that Fred relishes being a part of.
During the quick question and answer, attention turns over to Fred's unique Dorner shirt. A standard polo style shirt but it features a check mark icon next to the traditional Dorner logo. When asked, Fred smiles. Fred was one of Dorner's original internal auditors and this shirt is a symbol of that dedicated team.
Dorner's Quality Policy states, "Dorner's goal is to provide products and services that meet or exceed our customer requirements and applicable standards. Each of our employees is committed to that goal. Dorner is committed to satisfying and delighting our customers by providing them with high quality Engineered Solutions, products and support through continual improvement."
This, in essence, is Fred's motto at Dorner. He sees a need; he fills that need. He enjoys learning and he enjoys teaching. And most importantly, the quality of his work, his client relationships and his connections with his teammates is first-class.
The Dorner Difference
It's professionals like Fred that go above and beyond each and every day. Our global workforce takes pride in partnering with our customers to optimize efficiency and productivity in their applications. We accomplish this through the design, manufacture, support and distribution of high-quality conveyor systems that meet our demanding standards.
That's the Dorner Difference.