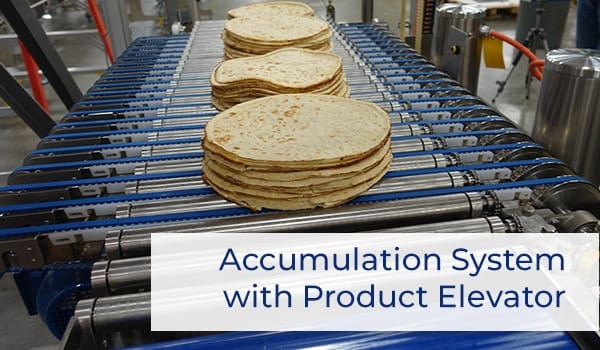 See the system in action at the end of the post!
When downstream equipment is non-operational, an accumulation system can provide storage space for product without needing to shut down the entire operation. And when dealing with food, it's important to consider product freshness in your accumulation method.
For a customer manufacturing pizzas, Dorner needed to create a first-in, first-out system to store the crusts. This was an upgrade from the previous manual method the manufacturer was using which was first-in, last-out.
When downstream equipment such as topping, packaging and labeling goes down, a robot will move the crusts off the regular line onto a conveyor leading to the accumulation system. The robot assembles the crusts into stacks with 20 crusts in each stack.
Dorner's Accumulation System
Using a sensor and servo controls, a Dorner conveyor will load 4 stacks at a time onto the elevator. The servo controlled elevator will then lift the crusts to one of four levels using heavy duty, reinforced timing belts.
There will be another elevator at the other end to offload crusts and take them down to the mainline conveyor. From there, a conveyor will take them back to the robot to be reintroduced into the system. This method allows the product to leave the accumulation system first-in, first-out.
The system runs at a rate of 400 crusts per minute. The elevator will be completely guarded for safety (the guards were removed for the video below for recording purposes).
Each elevator has an HMI (human machine interface) screen on the control panel for maintenance and sanitation modes.