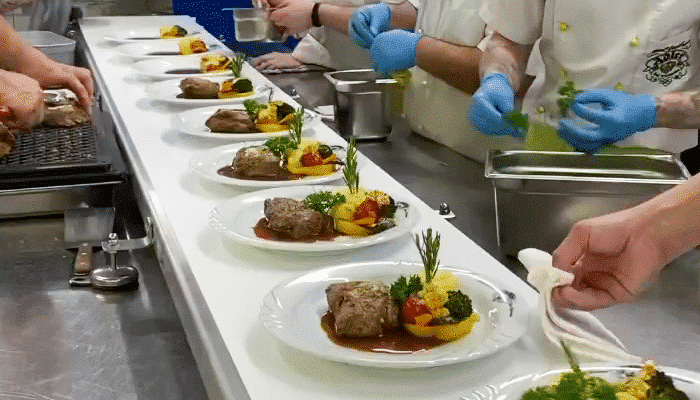 To provide the perfect evening for large parties at the Hotel-Gasthof Adler in Bad Wörishofen, Bavaria, it is essential to serve dishes at the same time.
The managers of the time-honored inn, built in 1492, turned to Dorner, the conveyor system specialist, for the optimization.
With the stainless steel belt conveyor, this is now possible in the best possible way: The arrangement of the dishes on the plates is now designed to be not only fast, but also particularly precise and aesthetically pleasing.
At the end of the conveyor belt, the finished and decorated plates can be removed. If no service personnel remove them, a light barrier detects this and brings the entire conveyor belt to an immediate stop.
Comment from the customer: "To ensure that we can always offer our guests a high standard, we are constantly optimizing our processes, among other things; after more than 500 years, now also with a conveyor."
In normal every-day operation – when there are not 100 guests to be served at the same time – the compact belt conveyor is quickly repositioned and the space can be used elsewhere.
Learn more about Dorner's sanitary, stainless steel conveyors.