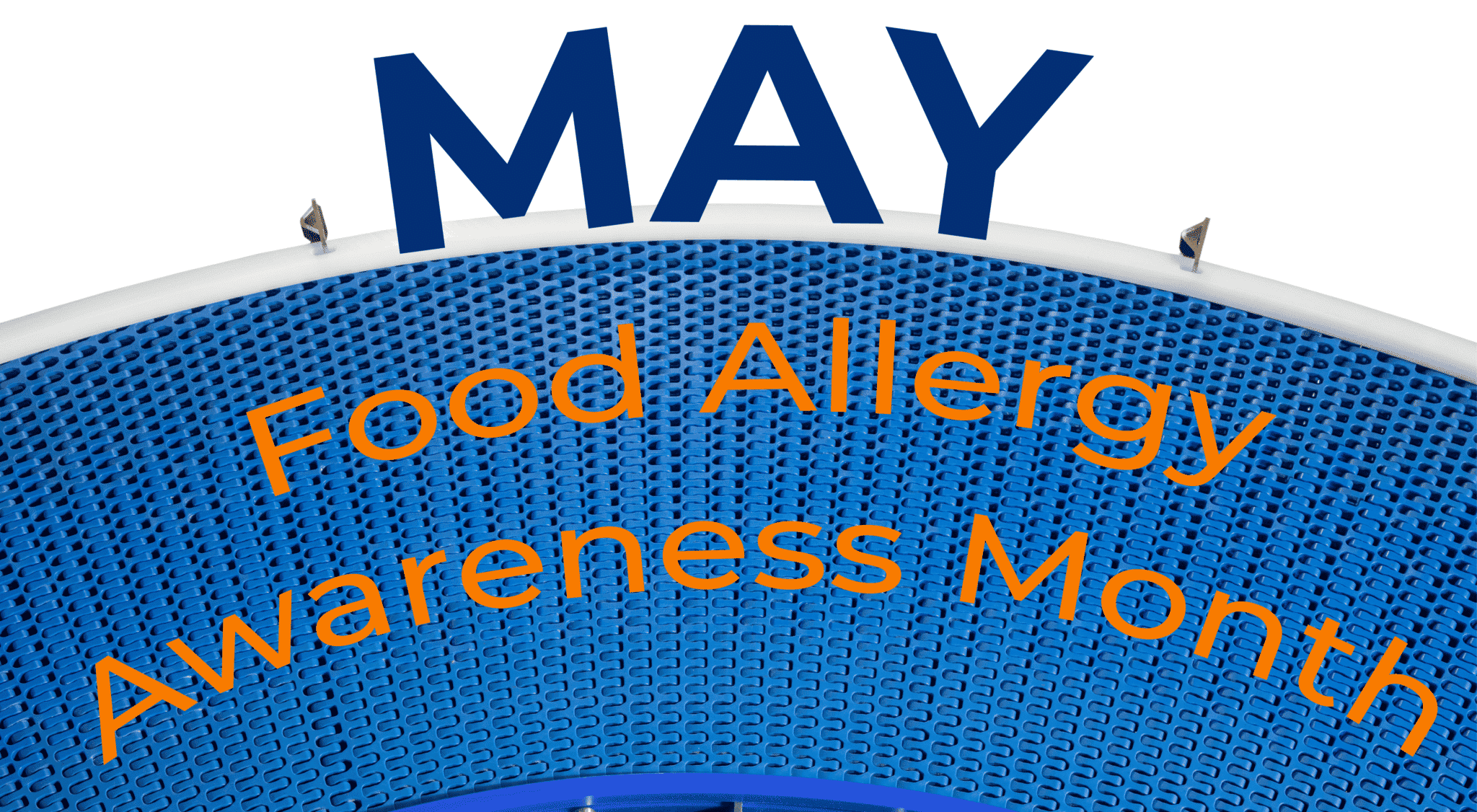 May is National Food Allergy Awareness Month. At Dorner, we are dedicated to creating quality sanitary conveyors to help our customers maintain the highest sanitary and decontamination standards to keep their consumers safe.
For approximately 32 million Americans, navigating food allergies is a daily challenge. The Food and Drug Administration has imposed strong regulations on food manufacturing, packaging, and labeling to ensure that consumers know what potential allergens might be in their food. Maintaining proper labeling and decontamination practices when using the same machinery for foods with and without allergens can mean life or death for many consumers with food allergies.
Increased Demand for Allergen-Free Products
The demand for allergen-free foods has been increasing in recent years based on preference as well as related allergies for consumers. Producing allergen-free foods and including that fact prominently on the label can be a big selling point for food manufacturers trying to get an edge in this competitive market.
Market reports are projecting that allergen-free foods, particularly those labeled gluten-free or dairy-free, could see a 9.5% growth between 2022 and 2027. Part of this rise is due to increased awareness of food allergies and sensitivities, but it is also caused by a change in perception of the negative health effects of foods containing certain allergens or other ingredients.
This is a win-win for the free-from food industry, as the increased demand provides an incentive for more companies to create allergen-free products, which creates significantly more options for those with food allergies.
Anti-Cross Contamination Practices for Manufacturers
With new labeling to market allergen-free foods, there must also be new practices during production and packaging to ensure those free-from labels are accurate. According to the FDA, "any product missing allergen information on the label, inadvertent allergen in food due to cross-contamination, or labeling disqualifying products as 'gluten-free' is considered misbranded or adulterated." So, companies MUST put allergen decontamination processes into their production line to be eligible for the market advantage of free-from labels.
This is an area where proper sanitization procedures, quality equipment, and standard safety practices by food processing companies are needed to ensure cleanliness in allergen-free production lines. A study conducted by the FDA on current sanitary wipe-down practices in food processing facilities found that "the cleaning of allergen-contaminated surfaces using a wash-rinse-sanitize-dry procedure" was the most effective in eliminating allergen contamination and preparing the work surfaces for allergen-free food processing.
Additionally, stainless steel surfaces reduce the chance of contaminating food material from sticking to equipment and causing cross-contamination. Dorner's lines of sanitary conveyors are made with specially welded stainless steel frames, designed specifically to reduce cracks and crevices where contaminants can collect.
Our sanitary conveyor lines are also engineered to be easily disassembled, cleaned, and reassembled by operators without the need for specialty tools or training. Not only does this reduce downtime while a conveyor is being cleaned, but it also means the entire machine can be decontaminated from foods containing allergens, thus reducing the risk of cross-contamination.
While foods without allergens are becoming a popular preference for consumers without allergies, they are necessary for those who do have food allergies. Simply because many decide to purchase these products when they don't have a food allergy, does not indicate that companies can be lax in their cleaning and decontamination processes.
With Dorner's stainless steel sanitary conveyors and FDA approved cleaning practices, all of us in food production and processing can do our part to keep consumers healthy and safe.