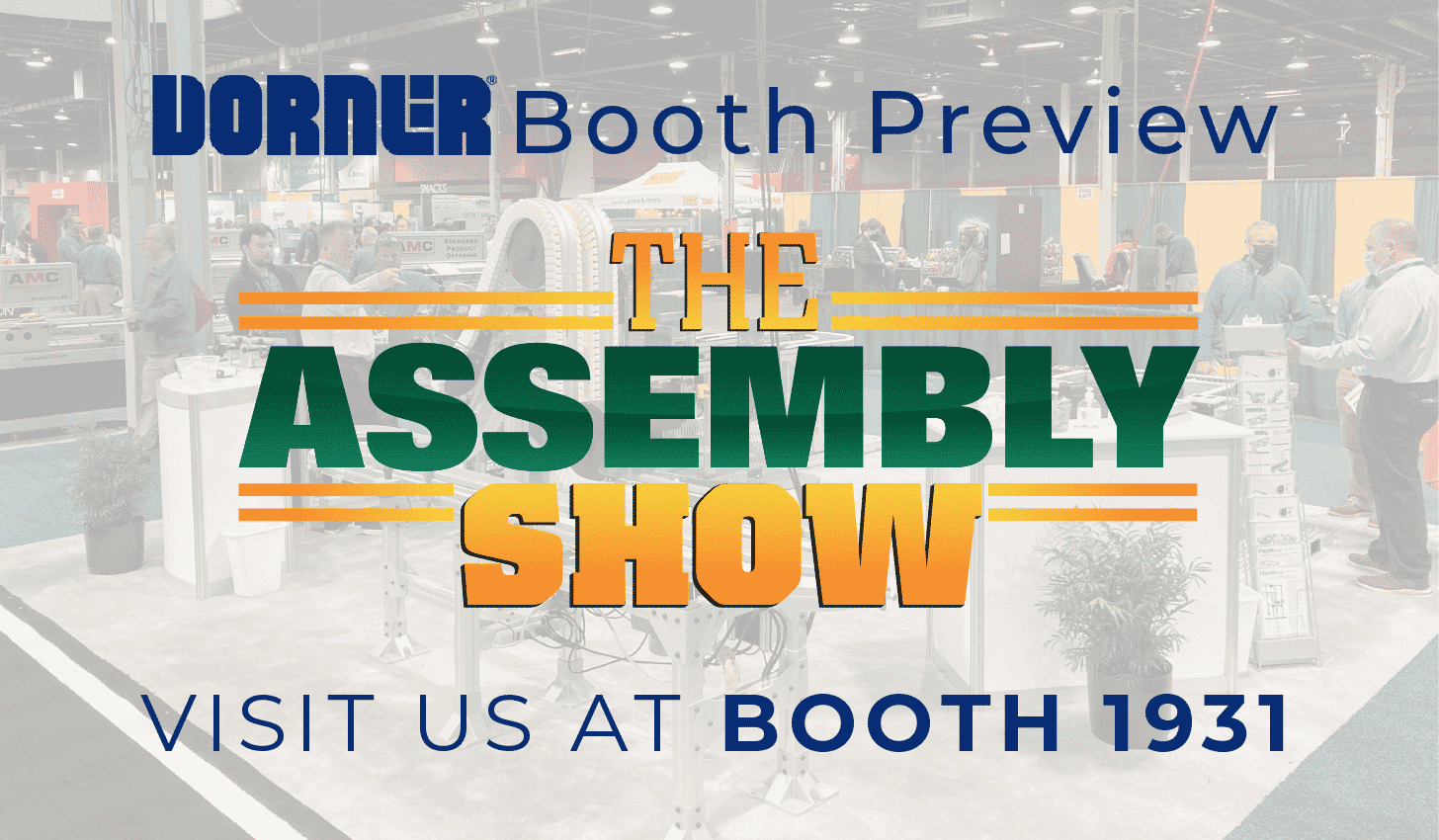 Assembly Show is coming up in less than a month! This year the show will be hosted in Rosemont, IL, from October 25th-27th.
Dorner's booth will be packed with demonstrations of our automation and precision conveyance systems, including two Precision Move conveyors, and two pallet system conveyors. Our conveyance solutions are designed to meet the needs of automated assembly production lines and offer the precision needed for accurate, repeatable interfacing with robotics and human operators.
2200 Precision Move
Our 2200 Precision Move conveyor is designed to achieve the highest degree of accuracy and repeatability, making it an ideal option for small parts conveyance and automated assembly. This precision move system can load up to 200lbs and run at speeds up to 370ft/min while maintaining mechanical accuracy +/- 0.02″.
Features:
Reverse v-guide provides positive tracking along entire length of conveyor
Positively driven belt ensures belt does not slip and allows for higher load capacity
1″ width with tip up tail to allow for easy belt removal
23 unique gearbox interfaces with support for 158+ motors
Applications
Accurate Small Part Handling and Positioning
Automated and Manual Assembly
Robotic Pick-N-Place
And more!
3200 Precision Move
Dorner's Precision Move technology is also available in the heavy duty 3200 conveyor line. With a weight capacity of up to 750 lbs, the 3200 Precision Move is perfect for a range of applications from automated and manual assembly to parts handling and more!
The 3200 Precision move belt is available as a flat belt or with custom fixtures to mount product or parts to the belt, keeping it in perfect position for interfacing with robotics during the assembly process.
Features:
Loads up to 750lbs
High load capacity urethane belting with Kevlar cords (True Timing Belt)
No capacity drop when pushing belt
All widths feature a single belt for increased mounting flexibility
Positive drive no slip belting and side guides provide worry-free belt tracking
Use optional cleats to create pockets for controlled part flow
Applications:
Precision Part Movement
Part Handling and Positioning
Automated and Manual Assembly
Machine Integration
Robotic Pick-N-Place
ERT150 Pallet System
The ERT150 Pallet System features an open frame design and edge roller technology, eliminating pinch points and the possibility of jams from small parts falling within the conveyor. The patent pending gearbox is designed to allow operators to customize zoning and easily change the configuration during production. Additionally, each roller can be individually replaced as needed, greatly reducing maintenance costs and downtime.
With the clean, open-frame design and no hydraulic controls, the ERT150 is verified for ISO Class 4 cleanrooms*, making it an ideal option for medical equipment assembly, and electronics manufacturing.
Features:
Non-contact zone control provides simplified traffic control, eliminating costly pneumatic valves
Low back pressure slip rollers can be used for full length with conventional pneumatic pallet stops
Individual rollers can be replaced if damaged without affecting the remaining portion of the conveyor
No belts, reducing product contact and debris
The drive shaft can be moved to any roller zone
Applications:
Pallet & tray handling
No & low back pressure accumulation
Cleanroom applications
Medical Device Manufacturing
Electronic & Consumer Goods Assembly
FlexMove Pallet System
Our FlexMove Pallet System combines the flexible chain conveyor with pallets for accurate product routing and control. Components and pallets are sold as kits, making for an easily customizable and reconfigurable system to accommodate a wide variety of production needs.
These pallet systems are ideal for assembly and inspection applications and are designed to easily interface with robotics during the manufacturing process.
Features:
Max product load = 9 kg (20lbs)
Aluminum pallet base
Pin tracking system
Many modules available including merging, diverting, lift & locate, and lift & rotate
Applications:
Manual and automated assembly
Inspection
Automotive parts assembly
Electronics manufacturing
Visit Dorner at Assembly Show
Click here to register for Assembly Show, and visit the Dorner team at booth 1931. Our conveyor experts will be ready to show you the latest in precision conveyance technology and find the solution to fit your needs.
*To verify clean room requirements, an unloaded base conveyor was tested and did not generate particulate that would be beyond the specified standards. However, the verification does not provide assurance that any or all applications will meet this requirement. Application testing is recommended to ensure clean room standards are being met. Dorner takes no responsibility in the clean room performance of the final conveyor or application.