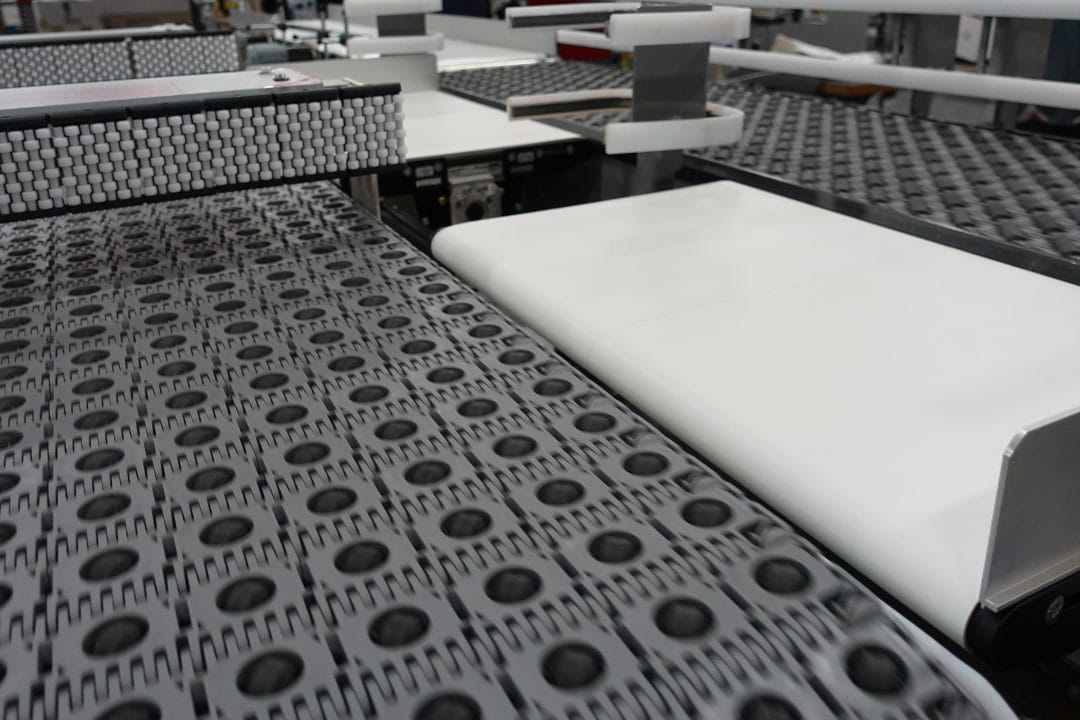 A version of this story originally appeared on MachineDesign.com
It only takes a few minutes walking through any modern manufacturing facility to see the incredible level of technology that exists today. The integration of robotics alone to manufacture, process and package goods is just one example where the boundaries of machine design is almost limitless. It's really a great time to be a design engineer!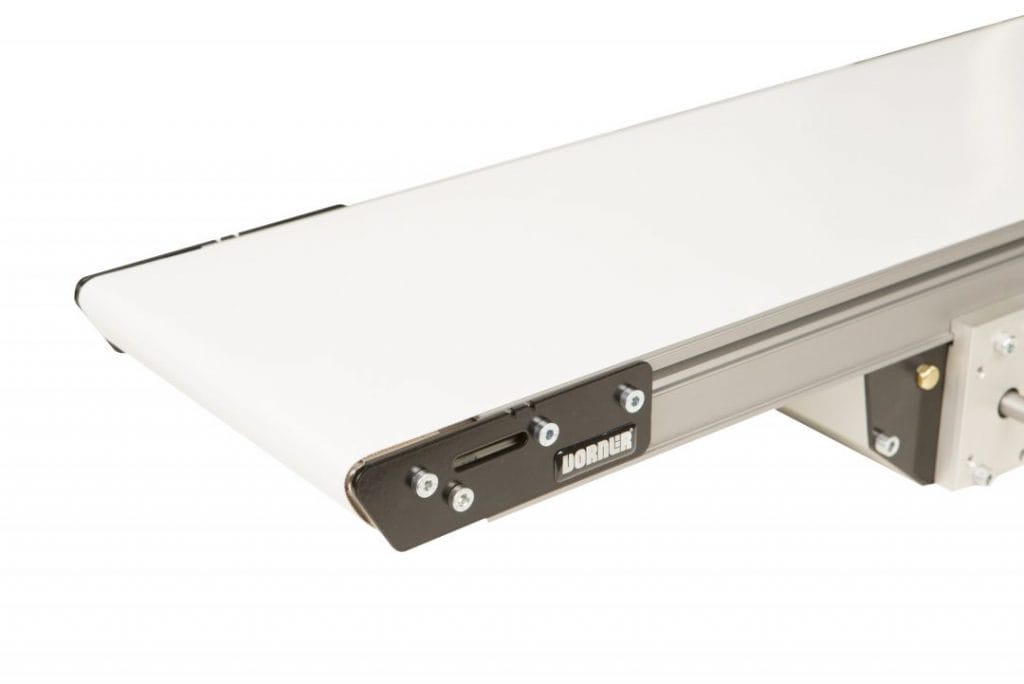 And then there are conveyors.
The sometimes overlooked, occasionally forgotten piece of equipment that's added in the final stages of projects – that's the fate of conveyors. Moving product in…and taking product out. A simple role for an unpretentious cog, forever cast in a supporting role.
Is that really all they do though?
As you walk through those state-of-the-art facilities, take a closer look at the operating conveyors; you might just be surprised at exactly what they're doing. They're taking product from Point A and performing highly detailed interactions before delivering it to Point B. Conveyors have evolved to become integral components of packaging, assembly and automation systems both large and small. Conveyor systems are smart and have proven themselves to deserve a rebranding.
Past Perceptions
How exactly did conveyors get relegated to afterthought status? The answer is rooted in its decades-old elementary design of merely moving products from one point to another.
"Too many people have the idea that they're just a dumb conveyor; no need to pay attention to it," said John R. Henry, of Changeover.com and author of The Packaging Machinery Handbook. "And honestly, some conveyors are just pieces of machinery put together with aluminum angles, just dreadful homemade-looking stuff."
He says many people just see conveyors as simple machines consisting only of a frame, belt and motor. Conveyors historically have performed well for the tasks asked of it, and because of that, their designs haven't changed much through the years.
"But the reality is conveyors really need to be thought of as critical pieces of equipment," Henry said. "They can do so much more than they're given credit for."
Several years ago, Henry participated in a roundtable discussion about conveyors, where one of the panelists commented, "Conveyors have become intelligent bridges between islands of automation." That observation struck a chord with Henry.
"When I think about conveyors, they're the bridge between a filler and the capper, or the capper and the labeler, or the labeler and the cartoner," Henry said. "But, if you don't have a good bridge and the movement over that bridge isn't smooth and controlled properly, it interrupts the flow."
"Just as machinery and equipment are becoming more advanced, so too are conveyors, otherwise they'll be left behind," said John Kuhnz vice president – Engineered Solutions, Dorner. "Manufacturing and packaging systems today are extremely complex, and the supporting conveyors are being asked to do so much more than their earlier predecessors. With sleek, low-profile designs; faster, accurate performance; and small footprints to fit into tight spaces, today's conveyors contribute greatly to improving the performance and efficiency of the whole system."
A Re-Education in Conveyors
The push to have conveyors seen in a different light is taking shape in colleges and universities, where students are getting new exposure to them in their packaging studies.
Kevin Lipsky, a packaging machinery lecturer at the University of Wisconsin – Stout, echoed Henry's comments that his incoming students don't realize the role conveyors play because it's not on their radar.
"I would say in general most students don't realize or forget about conveying and moving package materials from one process to another," Lipsky said. "I think it's because they have a lack of production experience. If they saw it more and heard from production engineers about the intricacies tied to moving things from one process to another, they would have a better feel for conveyors."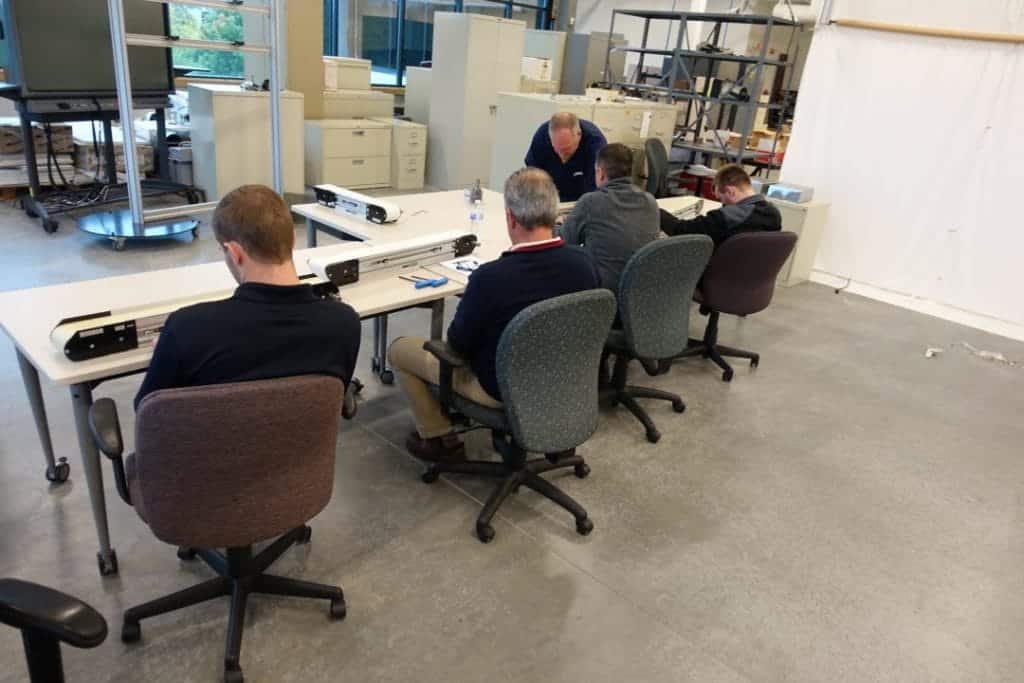 UW-Stout's Bachelor of Science degree in packaging aims to prepare students for technical or management responsibilities in the packaging industry, and places emphasis on the application of theory to strengthen problem-solving abilities relating to the industry. Lipsky said their program emphasizes hands-on engineering skills for improving processes and developing packaging materials.
Lipsky said he has some smaller conveyors in his classroom for his students to work and gain an understanding of their role in manufacturing.
"It's vital for students to handle conveyors and see what capabilities they bring in moving product and syncing up with various inspection systems," Lipsky said. "Support from the industry is important; donations of well-designed conveyors are always welcomed as a way to invest in their future workforce. If you can put a tool in the students' hands, they have fun with it and come up with creative solutions."
The Power of Conveying
As students enter the workforce and begin designing the next generation of packaging and assembly machinery, they'll encounter conveyors that are engineered to do more than ever before.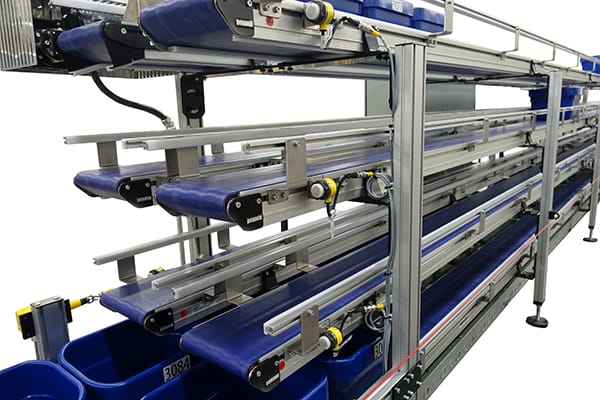 Conveyors today are critical components in all phases of packaging, automation, assembly and industrial markets. And while some of the dominant global brands have been the early adopters to embracing the full potential of conveyors, more companies of all sizes are taking a closer look at how they too can better integrate conveyor systems to ultimately improve the entire line.
Pallet System Conveyors
The manufacturing environment inside facilities is much different than what it was a generation ago. Automation is now a prime driver behind the way products are being produced. Many applications include both manual processes and robotic interaction, and as such, conveyors today need to be engineered to meet these challenges. That's why pallet system conveyors have become a popular choice.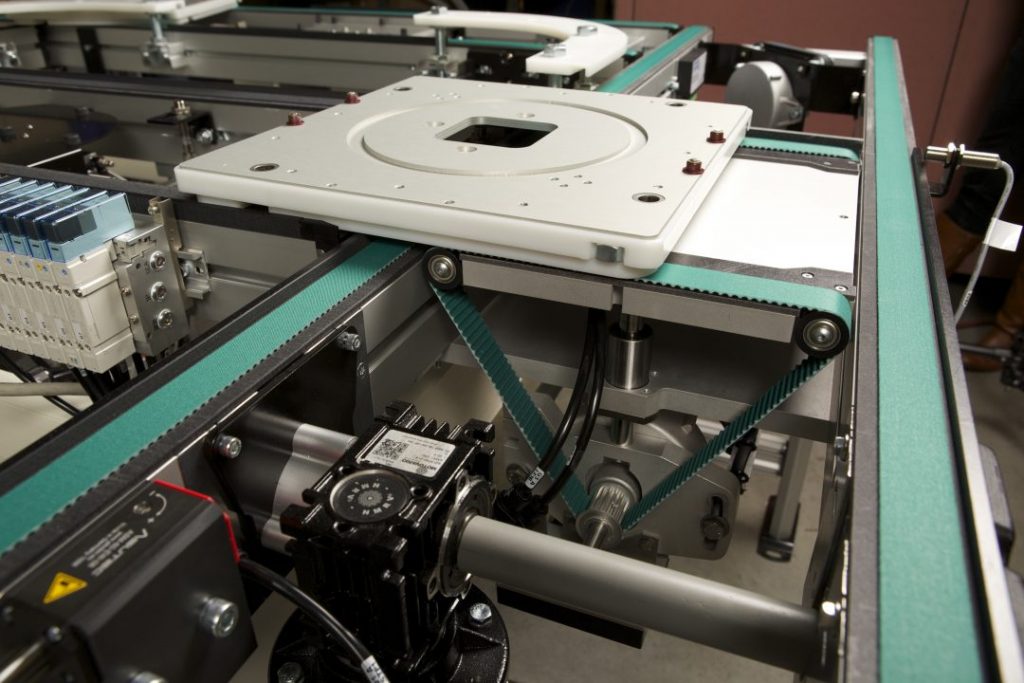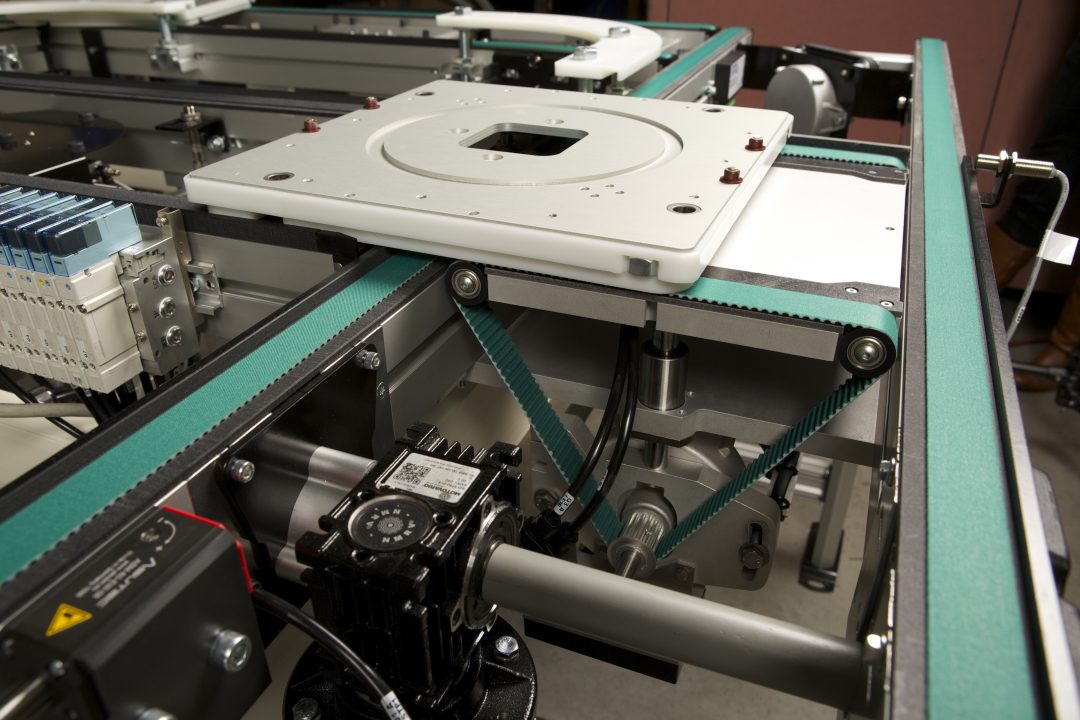 Pallet system conveyors are ideal for many automation-focused applications that require exact positioning of parts, as they can be setup or programmed to start and stop at specific locations to sync up with robotic interaction or other processes.
These types of conveyors dominate in automotive component manufacturing, as well as other industries including medical devices, electrical and electronics, and product testing/inspection that call for automated and manual assembly or handling of products.
Pallet system conveyors typically come on three different platforms to convey the pallet, either a dual belt configuration powered by a common drive, on a flexible plastic chain belt design, or a linear motor. The pallets can stop, raise up off the belts, and rotate the pallet 90° or 180° to reposition product as necessary.
Companies using a pallet system conveyor are also doing so for the accuracy. They need their product at an exact location, and the conveyor's lift and location station deliver repeatability of 0.002" and strong holding forces for manual and automated assembly processes. Pallets can come in either square, rectangle or octagon shapes, can make tight turns, and travel in elevators to maximize floor space.
---
Flexible Chain Conveyors
Some application designs dictate product to be moved in and around equipment and machinery. To accommodate this need, conveyors need to be flexible and make tight turns – which is ideal for flexible chain conveyors.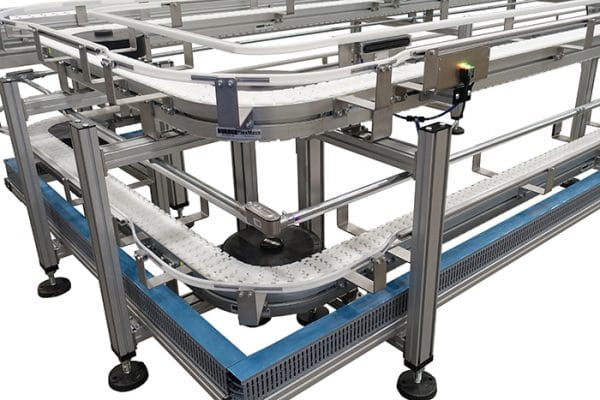 Automation applications within many industrial environments have tight spaces or elevation changes – these are good uses for flexible chain conveyors.
The flexibility of these conveyors extends past the platform itself. Their ability for long runs, as well as twist, turn and snake around tight places gives design engineers and plant managers the flexibility to easily integrate the conveyor with existing equipment.
---
Z-Frame Conveyors
Sometimes the best way to navigate an obstacle is to go up and over. These types of conveyors, commonly known as Z-Frame conveyors, are designed with one or two pivot points, allowing the conveyor to be adjusted at different angles. When operational, Z-Frame conveyors are an effective solution when space is tight, as they act as a bridge to divert product flow up and over an obstacle (or conversely down and under).
Z-Frame conveyors are commonly used in both industrial and food manufacturing (sanitary environments) industries. Typical use involves positioning the conveyor under a hopper to receive product, which is then moved to a higher elevation for further processing.
---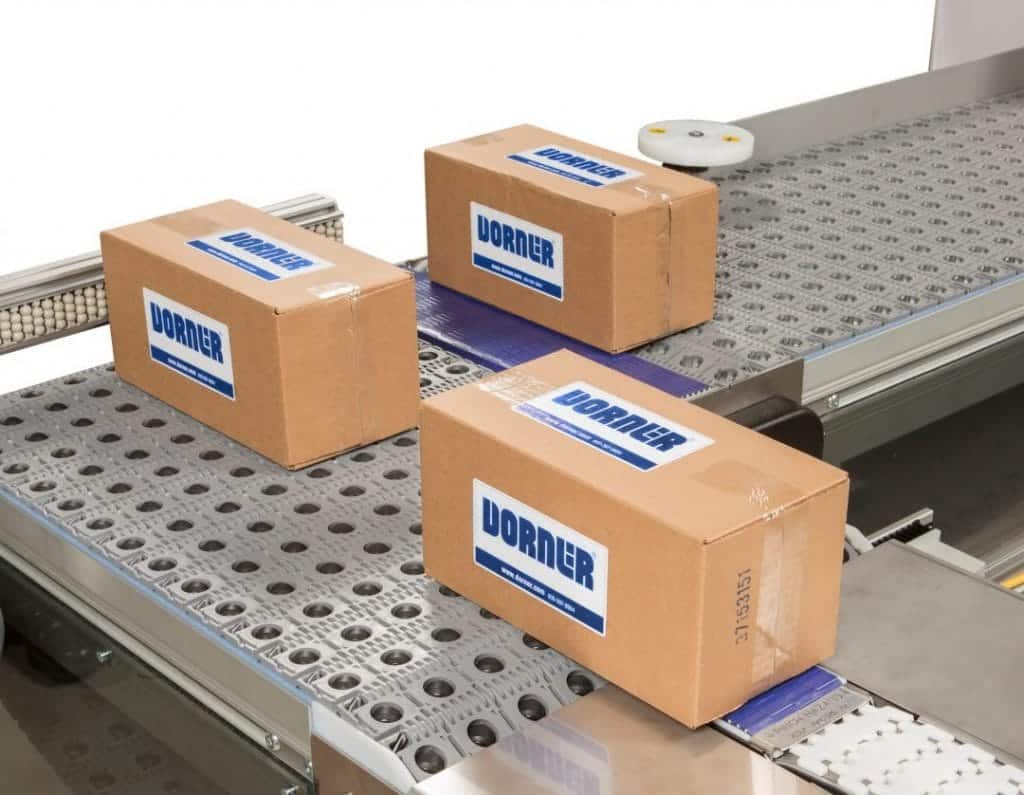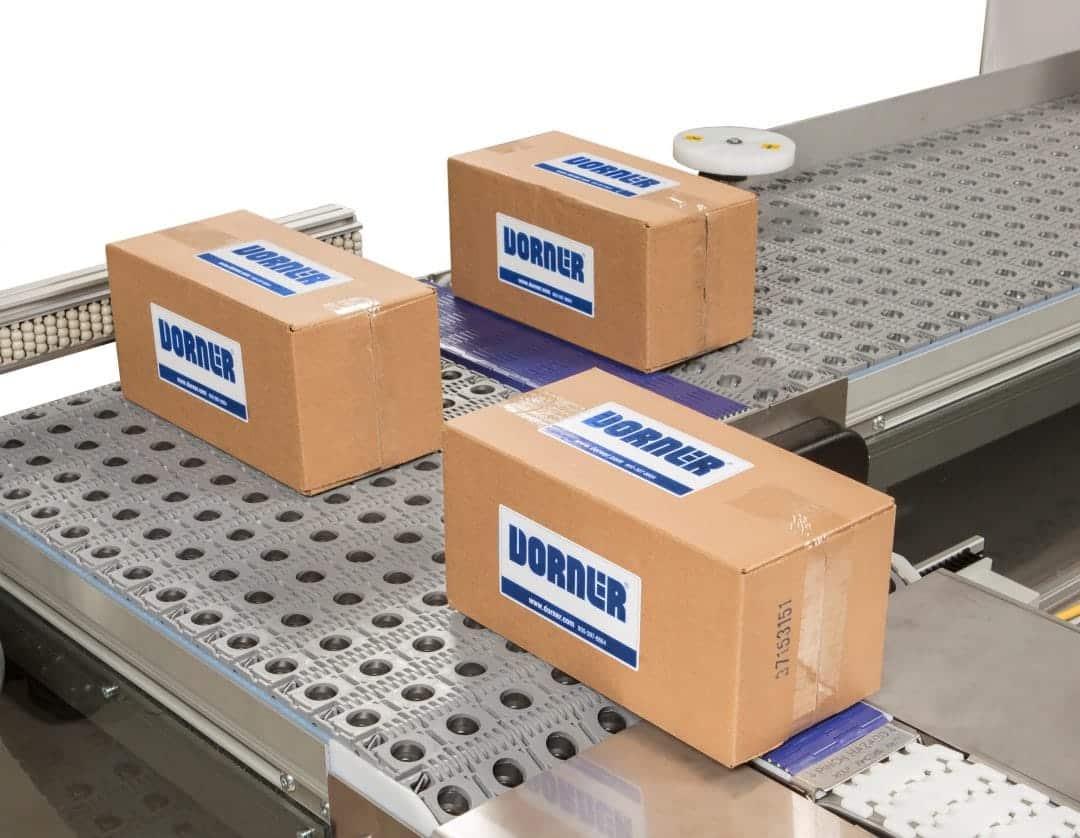 Roller Ball Conveyors
The belt itself can move packages in merging, diverting and aligning applications. Roller ball conveyors uses low- and high-friction angled rollers within the belt to help smoothly guide and align items of all sizes.
This conveyor brings flexibility to applications by being able to handle multiple product sizes on a single belt. Additionally, the technology in the conveyor minimizes floor space, increases system reliability, eliminates costly system controls and provides a safer work environment.
---
Precision Timing Belt Conveyors
Many industrial automation, product assembly, manufacturing and packaging applications require product to be in an exact spot on the conveyor at the right time. The right choice here is precision timing belt conveyors.
Powering the conveyor to deliver accurate alignment of time and distance are servo motors that provide indexing repeatability of +/- .040", all at a rate of 100 indexes per minute. This level of precision is critical, especially for robotic applications.
"Robots are becoming smaller and faster, which make them easier to integrate with conveyors into applications found in automation, food handling and processing, medical, pharmaceutical, life sciences and other industries," Kuhnz said. "Robotic solutions have found great acceptance within these industries because of their required clean room processing. New advancements in robots see them operate cleaner and more efficiently, which complements clean room standards."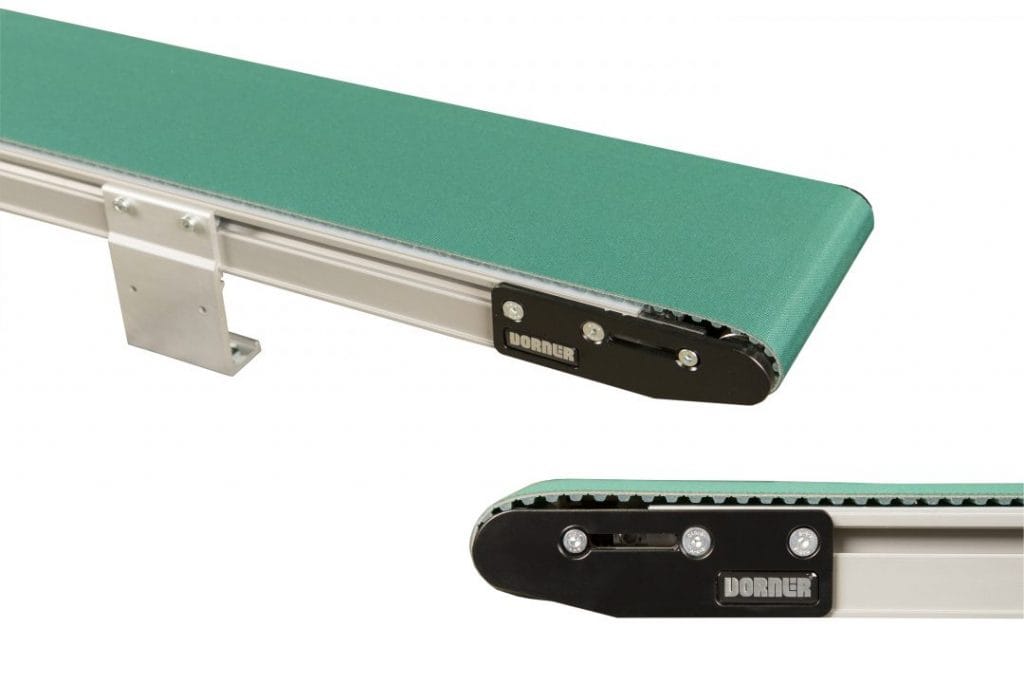 He described a recent application in which 22 conveyors were integrated with 13 vision-guided robots to pick and place coins for packaging. The conveyors were a mix of servo-driven timing belt models, which were responsible for indexing respective coins to downstream locations. Working in conjunction with the robotics, the conveyors helped identify, orientate and package coins using cameras and other inspection devices before the finished assembly was transferred downstream.
---
Accessories
Adding to conveyor capabilities are accessories. For example, shaft encoders can be mounted to the conveyor's drive shaft to sense rotations, count pulley revolutions, and control the belt in feeding or indexing applications. Diverters and gates manage the product's continuous flow on the conveyor. Controlled by proximity switches, photo eyes, or counters; they guide and change product direction to single or multiple locations. In addition, diverters and gates meter flow to specific areas or separate products based on attributes.
Depending on the product and required stroke length, pushers mount overhead or on the conveyor's side to remove items flowing perpendicularly from the conveyor. Servo drives accurately stop the conveyor to provide precise part location. They help control acceleration and deceleration and assist in assembly operations.
Conveyors have certainly grown up and evolved from their early predecessors. Conveyors today are dynamic, exciting and greatly contribute to adding efficiencies to a packaging or assembly line. But to do that, you need a good understanding of exactly what conveyors bring to the equation. They can be fully automated to work in conjunction with a processing or packaging line, receiving and delivering information to other systems along the product flow's path. Now is the time to give conveyors their due respect – it's 2022, they've earned it!